My First Flight Experience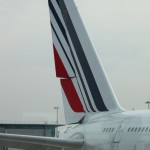 I admit: I am more of a car travel person, but it is not possible to go everywhere by car. Plus, an airplane takes you faster where you want to go. Thus being said, here's my first flight experience.
My husband and I were going to Paris (we went there late March this year). We chose to go by plane for a number of reasons. We didn't go for a low-cost airline, so we booked a flight operated by Tarom and AirFrance – they are SkyTeam partners.
On Sunday afternoon we got to the Otopeni airport in Bucharest, Romania. We were early – the check-in was only about to begin. There were 2 couples in line, but we first went to wrap our suitcase in plastic – to avoid deteriorations. We got back and, since my husband is a frequent flyer due to his job, we went to the priority check-in (at that moment he had the blue card with silver card waiting to be delivered (it was already issued), now he's just a few flights away from platinum ;)).
We were first in line, so there was no trouble. As it was Sunday afternoon the airport wasn't really crowdy. And then I set foot into the unknown. Yes, for me it was the unknown, my first time in an airport.
We ate something while waiting, then we went to our gate and waited some more. As the moment approached, we were announced that there will be a 10 minutes delay – it was rather clear as the airplane arrived 15 minutes later.
Minutes seemed so long, but I was really enjoying everything. Yes, I am afraid of heights, but I love ferris wheels for instance. So I know what it is like not to feel the ground beneath you. I was sure I won't have any problems flying – especially since my husband chose a window seat for me. Yup, he gave me the honour, usually that's his place when he travels alone.
And then the announcement came. The check-in was open.
We showed our papers and we were invited into the tunnel – not a long one.
After a few steps – less than a minute – there it was: the entrance into the AirFrance's aircraft.
A steward welcomed us and invited us in the plane.
The crew was made out of French people – it was a flight operated by a French airline. I know French so that wasn't any problem for me, and of course they anyway had English translation for anything.
The flight was suppose to take around 3 hours – as we had some really powerful wind blowing from the front we were announced there will be 10 minutes delay from the initial estimated time of arrival.
Engines started. Great sound! My husband gave me some headphones he bought and he usually uses, some that cut all the noise made by the engines! But I admit I wanted to hear those engines, as it was my first time in airplane!
After a brief taxiing, the plane prepared for take off. We were speeding and in no time we got off the runway. And we got further and further away into the night! Cities were getting smaller, lights were disappearing and all that was left was the darkness of the night.
As we took of at 8:25 PM and it was still only the beginning of summer, the whole flight went on during darkness. I was unable to enjoy the sunset or to see anything, but I was prepared: I had a book with me.
I did some reading – from the book and I also read the magazines provided by AirFrance and even two newspapers we received at some point in the airplane. Yup, it is great to know foreign languages!
Between reading, the excitement of the first flight, the snack break the time flew too:)
So there we were, approaching the airport.
We had a really smooth landing – and I must admit the take-off and flight itself were also really smooth. That's, I think, really important for someone taking her first flight 😉
All in all everything was really great. We landed perfectly, passed to passports' check-up (OK, ID cards check-up, as we are in the EU – and I don't have a passport, at least yet:D), retrieved our suitcase and then took a taxi and went to our hotel.
The flight back was with Tarom – and that was also smooth. We had some turbulences – but really, really small ones. The good part about this return flight was that it was during the day and since it was a sunny day I was able to admire mountains. Peaks with snow and amazing landscapes made my day!
I also liked the smiles on our flight attendants' faces;)
On that day I also saw the new huge Airbus A380 whose "tail" (rudder, actually) illustrates this article:)
I liked my first flight and I must say I am really glad it all went well. I plan to fly again in the future – but I still love travelling by car. Each travel way has its charm! I admit I don't think I would have been just as confident in taking new flights if my first experience wasn't a good one!