Colosseum's dungeons opening for the first time in history to visitors
Last Updated on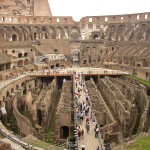 Next week seems to be a great week for traveling and new discoveries. The Roman Colosseum's dungeons are opening for the first time in history to visitors.
The Colosseum is one of the greatest Roman relics. In 1970s a part of the monuments was closed for public access – but now it will be also reopened next week, along with the dungeons.
These dungeons are the places were gladiators were kept until fights. According to the officials, the dungeons are in good condition (much better even than the part of the ancient monument that is visiting now).
I think people all over the world will go there to visit it. I must admit I've never been to Italy, let alone Rome, but I hope I'll get there soon. When I'll go to Rome, I surely want to visit the Colosseum.
I cannot but wonder however if opening the dungeons to the public is such a great idea. I mean yes, it will bring money, but will that help preserving this great monument?
The visits in the dungeons will only be allowed as a guided tour and for groups of only 25 people at a time – as we find out from the official news.
Will you go visit the Colosseum and its dungeons?