When people think of Rome, they imagine famous landmarks such as the Colosseum, the Spanish steps and the Fountain of Trevi. But there is so much more in Rome than meets the eye. Here are just 5 of the hidden gems of the Eternal City.
Porta Portese street market
The market is named after the square it is situated in the Trastevere district of Rome. It began as a black market, but now has more than 1,000 stalls. The market is open every Sunday from 6am to 2pm, take just a few euros as you are bound to get a bargain at this flea market, just make sure you haggle them down on price. There is a mixture of old and new items for sale.
Borghetto Flamino market
If you like markets but happen to miss the Porta Portese, The Borghetta Flaminio will not disappoint. There is a 2 euro entrance charge but it is more than worth it when you discover all the hidden treasures (what is one man's junk is another man's treasure) inside the market. Held in a former bus depot, this market is open every day except Sunday.
Scavi Tour
The Vatican Scavi (excavation) tour needs to be booked months in advance of your trip to Rome. There are only 120 visitors allowed each day to the tour which goes under the St. Peter's Basilica to St Peter's tomb. The tour, lasting 60 minutes, takes you through the streets of Necropolis which is the City of the Dead, ending at St Peter's grave. Space is very limited and therefore very difficult to get tickets.
Scala Santa
The Holy Stairs consists of 28 marble steps (now encased by wooden steps) and are the stairs that were in Pontius Pilates house which Jesus climbed. Emperor Constantine's mother, St Helena brought the stairs to Rome in the 4th century. Christians flock to this stairway and kneel up the stairs saying a different prayer on each of the 28 steps. The stairs are opposite the Basilica of Saint John Lateran. The stairs lead to the Sancta Sanctorum – The Holy of Holies which was a personal chapel of the early Popes.
Baths of Caracalla from 217AD
These baths covered an area of 28 acres and are located by the ancient Appian Way, named after the emperor Carcalla. The ruins of the baths have been well preserved and many of the mosaics are partially in tact. The baths are like many bathhouses in Rome, consisting of a frigidarium (cold pool), tepidarium (lukewarm pool) and calidarium (hot pool). There was also an Olympic-sized swimming pool, 2 different gyms. The baths could hold up to 1600 people. There are sometimes guided night tours.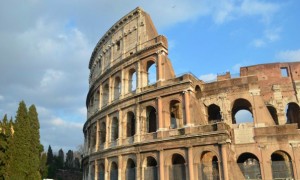 If you are heading over to Rome, one of the best ways to sample the life of a Roman is to live like one. Renting of the short term apartments in Rome gives you the flexibility you need on holiday.