5 Best US Beaches for Your Family Vacation
With summer already showing its sunny and occasionally-humid head, it's time to think about which beaches are the best to visit this season. And while it's tempting to rank just about every qualifying U.S. beach in our top five list, we have to remember that those with familial obligations might want to keep their beach outings at a PG rating. So which are the five best beaches in the U.S. when you add the caveat that they should also be family-friendly and primed for all ages to enjoy?
You end up with the following list, in no particular order:
North Beach at Fort De Soto Park, Tierra Verde, Florida
Not far from the familiar name of St. Petersburg, this is a clean-water beach that more resembles a Caribbean getaway than the traditional expectations we have of the U.S. coast. There are plenty of family-friendly activities nearby (such as a kid's playground) and the swimming is fun because of a protective sandbar that keeps the waters nearby friendly.
Sunset Beach, Cape May, New Jersey
We know, we know – when you think "family-friendly beach," you're not necessarily thinking about New Jersey. But before you start having nightmares about MTV's "Jersey Shore," it's important to remember that Cape May is actually located on New Jersey's southern end. In fact, the entire thing is part of a National Historic Landmark so you know that there will be a lot of other families visiting and that the entire area will be clean and ready for activities for all ages.
York Beach, Maine
Named for both the town and the beach, this beach might actually refer to a few around the York area, including Harbor Beach, Long Sands Beach, and Short Sands Beach. What makes the beaches so family-friendly? Well, for one, we didn't want to miss out on recommending a nice breezy Maine beach to complement the overly-humid and sunburn-inducing beaches of the south. Additionally, these beaches have a sort of Atlantic charm that you simply can't get at all the beaches in Florida.
Kama'ole Beach Park III, Maui, Hawaii
Here's where you want to go if you're a family in search of more exotic sea life; it doesn't hurt that the beach itself is surrounded by Maui. But if you do ever turn your attentions to the beach, you can find sea turtles, puffer fish, and for the older family, scuba is always an option. Essentially, this is one of those beaches that simultaneously pleases both old and young alike, which is not an easy feat, to say the least. Leave it to Hawaii to do beaches right.
Myrtle Beach, South Carolina
For families, there's really no mistake to be made when visiting Myrtle Beach, one of the country's most iconic places to access the Atlantic Ocean for a variety of leisurely activities. The entire coastal town has enough to offer that any family will find plenty to do – whether it's an older family with a few kids in college or simply a family starting out their beach experience for the first time.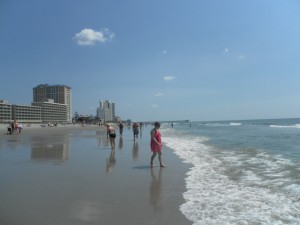 Lindsay Marsh is an avid fashionist and keeps herself fit and healthy be swimming regularly. When not in the pool swimming and trying out the newest swimming goggles, she enjoys going shopping or socializing with friends.