Your complete guide to scuba diving in Cozumel, Mexico
alt=Planning a trip to Cozumel, Mexico? Do you like scuba diving? Then here's your complete guide to scuba diving in Cozumel, Mexico from a local. This article shows you what you need to know before visiting Cozumel, the best time to visit Cozumel, and the best Cozumel dive sites. This Cozumel scuba diving guide will help you plan a perfect trip!
Your complete guide to scuba diving in Cozumel, Mexico
There are many destinations to choose from in the world, and it seems like more than ever. Everyone has a camera in their pocket and can share their experiences as easily as clicking a button.
Access to information that we have is higher than ever. GoPro has given us footage from the average thrill-seeker, and now we have high-quality drones zooming around the hardest to reach places on the planet.
I am from the US and live in Cozumel. I fell in love with Cozumel while I was on a scuba trip. After the best time of my life, I decided to sell everything and get into the scuba business as diving has captured my imagination and given me new reasons to live.
I lucked out and partnered up with a successful, small, boutique dive operation called ScubaTony Cozumel and have never looked back. The best scuba diving in Cozumel.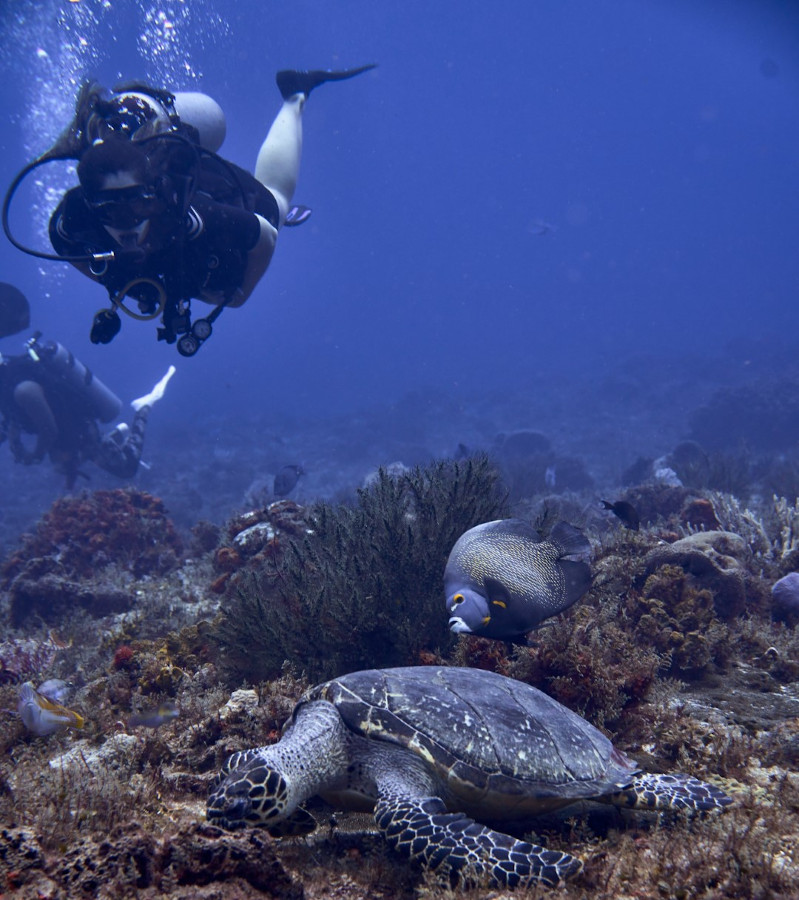 Things to know about Cozumel
Cozumel, Mexico is an island located 12 miles across the sea from the very well known Playa del Carmen in the Caribbean.
Cozumel was a sacred Mayan fertility site. Young Mayan women would make a long pilgrimage to visit their fertility God Ixchel to bless their new marriage. You can see this small ruin where they would make the sacrifices for fertility. It's called San Gervasio.
In the sixties, a man by the name of Jaques Cousteau came to the island with a film crew. He is responsible for making scuba diving a recreational activity enjoyed by millions. Before he redesigned, the underwater breathing apparatus known as a regulator scuba was only a military operation.
Cousteau traveled and dived all over the world and had a TV show about scuba diving that was in everyone's living room at the time. The rumor on the island is that he proclaimed Cozumel as his favorite scuba diving experience in the world at that time.
That is why there are over 125 active dive operations on the island. There is plenty to do on the island, but it is truly a diver's destination.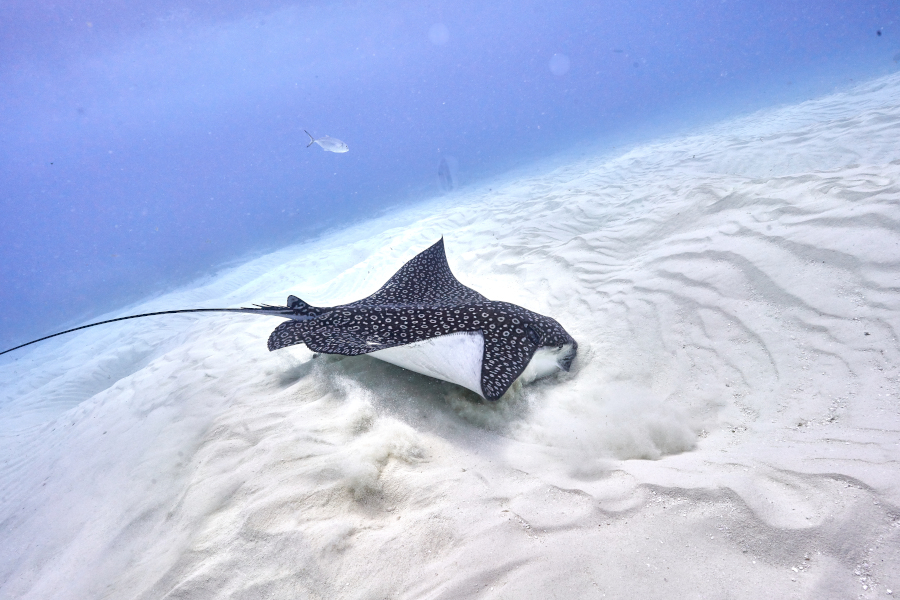 When can you dive in Cozumel
Divers come to Cozumel all year round. It's warm inviting waters to boast a 100+ foot average visibility and coral reefs structures that are of grandeur in stature.
Cozumel is part of the second-largest reef system in the world called the Meso-American reef. This reef stretches around 690 miles from Mexico down to Honduras.
It hosts hundreds of species — over 75 types of coral and 500 types of fish. Hawksbill turtles, Loggerheads, eagle rays, nurse sharks, green moray eels and seahorses are the highlights of marine life found on a dive in Cozumel.
Cozumel Scuba Diving
Scuba Diving is an extreme sport that doesn't require someone to be young and in great shape. You can try scuba diving without being certified by signing up for what is called a Discover Scuba experience. It's a brief overview of the skill that you need to know when you're diving, so get a basic understanding of what scuba is all about.
Students then go in waist-deep water and practice the skills that were covered in the overview, so they know the dive basics. For example, if a little water gets in your mask, you will know how to get it out without going to the surface.
Once you learn the skills, we dive to a reef that is situated no more than 40 feet by PADI safety standards. This reef is called Paradise reef and is full of snorkelers and beginner divers getting their gills wet for the very first time.
Cozumel has a protected marine park. This protected marine park of Cozumel is where 98% of all Cozumel diving happens. There are about 27 dive sites in the marine park.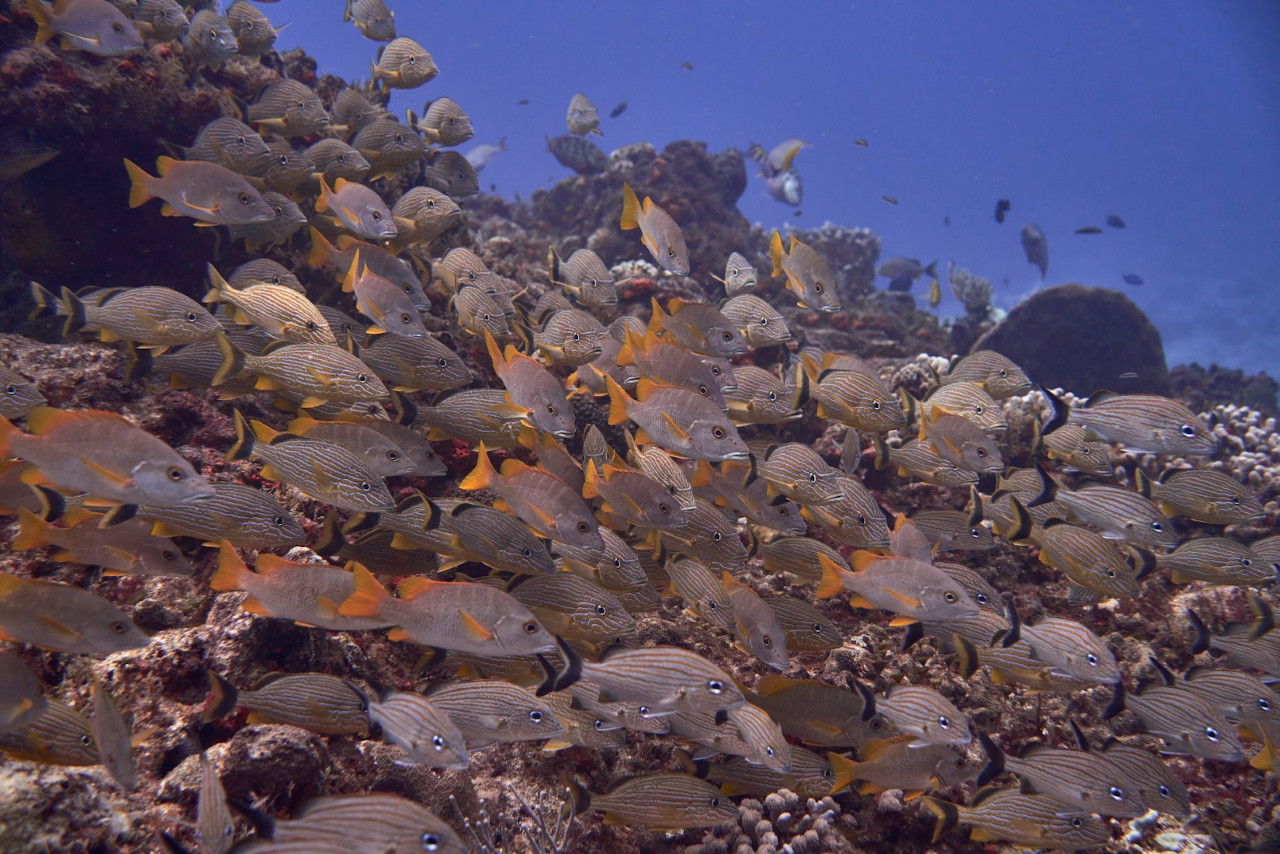 Where can you dive in Cozumel
Going further with this Cozumel diving guide, let's see the best places to go diving here. The marine park of Cozumel is located in the Southwest section of the island and is roughly eight miles in length. There is a little current here in Cozumel that runs South to North.
Diving in current is called drift diving. Most dive sites in Cozumel are a beginner to intermediate level, but there are a couple more advanced dive sites.
Deeper dives are considered Advanced, and the famous Devils Throat doesn't disappoint. Divers enter a coral passageway at 90 feet and continue down a shaft and exit the throat at130 feet. Scuba diving in Cozumel is an unforgettable experience.
Colombia Deep is one of my favorite dive sites in Cozumel and it's also one of the best Cozumel dive sites. It is considered an advanced dive site due to its depth. Colombia deep is 70 to 90 feet. Every time I am there, I feel like I am seeing the Grand Canyon.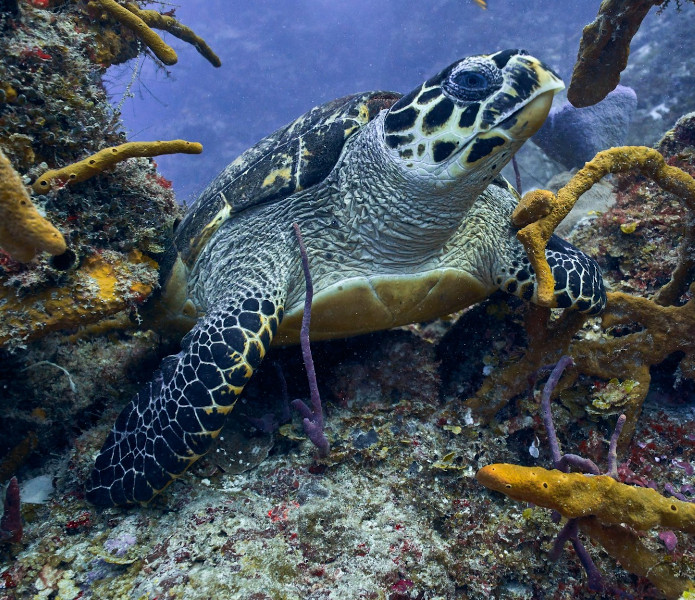 There are four dive sites in a section of reef called Palancar.
When you ask most dive professionals what their favorite dive sites are, they will most likely name one of the Palancar dive sites. These are some of the best place to go scuba diving in Cozumel. The Palancar sites are all relatively easy.
What makes them so amazing are the elaborate maze-like paths that divers can explore throughout each dive site. It's truly a unique dive destination, and that's what undoubtedly made Jaques Cousteau love Cozumel.
It's hard to say what the best dive site is. Every dive site in Cozumel has hosted someones favorite dive of there life.
Night diving in Cozumel
A night dive is also very popular in Cozumel. The Caribbean octopus puts on a show. They dance around the reef and change colors. Their eight legs moving one over another are quite a sight. I could spend an entire hour watching one octopus.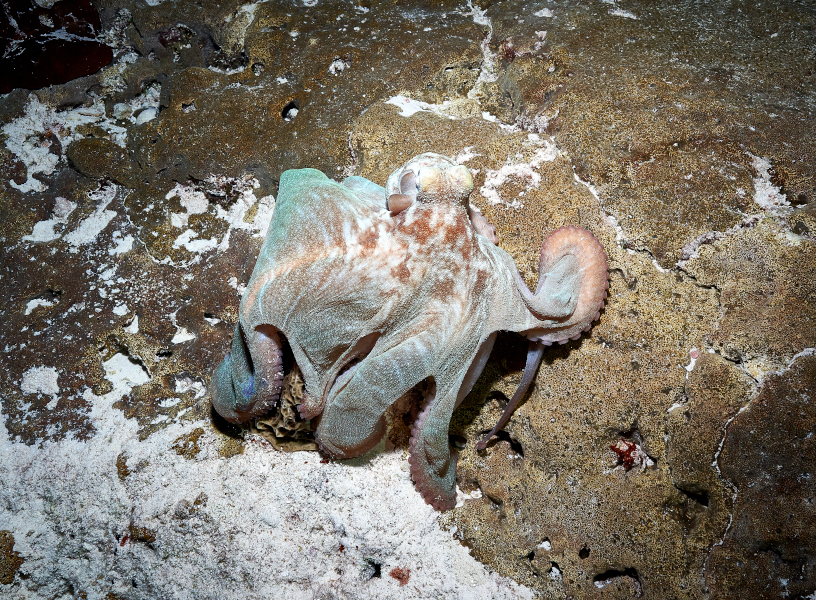 When to visit Cozumel
The high season in Cozumel is from December to April. The main reason there is a spike during these months is due to people escaping the bitter winters of the North.
It's a remarkably accessible destination for Americans. There is an airport in Cancun and an airport in Cozumel. Southwest Airlines just announced flights to Cozumel from Houston in 2020. So getting to Cozumel has never been easier.
Safety has always been a worry for Americans when they consider traveling to Mexico. It takes common sense, but Cozumel is one of the safest places in Mexico. If Cozumel were in the US, it would be considered very safe.
There is every branch of Mexican military located in Cozumel making it extremely safe. I haven't ever heard of a violent crime against a tourist since I have lived here.
Sargassum and seaweed have been a real problem in the Caribbean and the Gulf. Mountains of it are on popular beach tourist destinations such as Tulum and Cancun, parts of Belize and Florida. Cozumel has been sargassum free due to the West facing beaches.
I hope you come to Cozumel if you try scuba or not. It's truly a Caribbean paradise. If you decide that you want to try scuba diving or if you're already certified then look us up here at ScubaTony.com.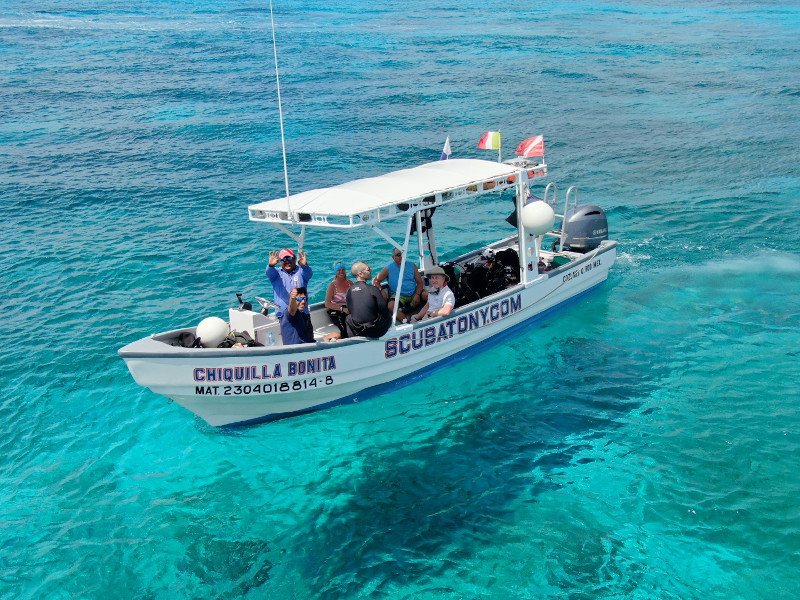 Things to do in Cozumel outside of diving, in no particular order:
Sailing, Jetskis, Fishing, ATV or Jeep Tour, San Gervasio, Tour around the island, Baby turtle hatching, Going out for drinks, SUNSETS, Snorkeling, Getting dental work done, Medical beauty treatments, Punta Sur Federal Park, Chankanaab Park, Taco tour, Golf, Pirate ship for dinner, drinks and games, Massages, Jewelry shopping, Chocolate tour.
Where to eat in Cozumel
This Cozumel scuba diving guide wouldn't be complete without including the best restaurants in Cozumel.
My favorite restaurant on the island is Buccanos at Night. It's a "must eat" establishment. They have an incredible Caribbean sunset view and atmosphere. Their service is stellar.
They always have a fantastic appetizer, main, and dessert specials that locals always order. They have a great wine menu and specialty cocktails.
Accommodation in Cozumel
Cozumel has everything. I suggest getting an Airbnb and get a more authentic experience while you are in Cozumel.
There are so many restaurants that it would be a shame to stay in an All-Inclusive resort and never get to try the food that Cozumel has to offer.
Transportation in Cozumel
Next on this Cozumel guide is transportation.
Once you are on the island, there are many options in terms of transportation. You can take one of the many cabs that are on the island. You can get around using taxis for less than $25 per day in you're moving around a lot.
You can also rent a scooter for around the same price $25 per day. Renting a car or a jeep is a little more expensive — $ 40+ per day for a car or a jeep rental.
Money – Currency in Cozumel
Cozumel is in Mexico. All businesses will accept the Mexican peso.
There are so many American tourists here that restaurants and shops will also take dollars as well. They will have a reduced exchange rate, however.
The best exchange rate that you will get is by going to an ATM at a bank or in a grocery store and withdrawing pesos through your debit card.
They may ask if you accept the ATM's exchange rate; you should always decline that. Exchanging money at an exchange house will always result in you losing money.
Drinking the Water in Cozumel
I always get asked if it's okay to drink water in Mexico. Usually, Americans will order bottled water as they have heard stories about Montezuma's revenge, and they want no part of it.
Every restaurant and Airbnb will have 5-gallon bottles of filtered water that they serve guests for drinking water. You can order a glass of water at a restaurant and not buy a plastic bottle.
The Coral Reef do's and dont's
Scuba diving in Cozumel is an amazing experience, so let's see the Coral Reef do's and dont's that will help preserve the area.
You should never touch anything in the ocean. The coral reef is a living organism, and the oils in human hands aren't good for the animals of the sea. There is a popular scuba saying, "Leave only bubbles and take only memories."
It's recommended not to use sunscreens because coral everywhere is stressed and dying. Wear a rashguard and if you have to wear sunscreen, make sure it doesn't have oxybenzone or octinoxate.
Zinc oxide based sunscreens are the "reef safe" sunscreens, but even those cause stress to the corals.
Please don't buy any conch shells, shells, or starfish from a street vendor. They are killing endangered species for wall ornaments, and it's irresponsible to support an industry that should be illegal.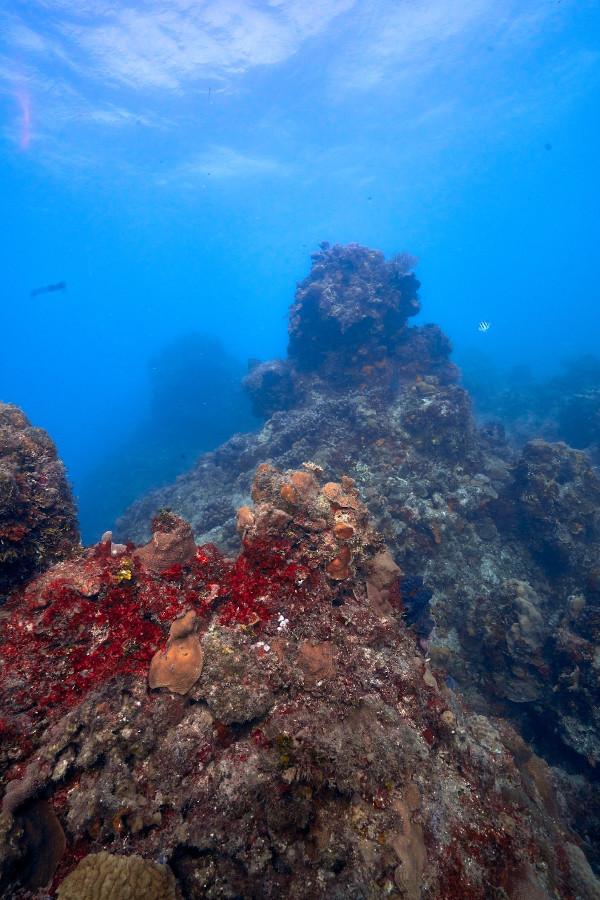 Conclusion
That's all I have about Cozumel. I love it so much that I did, in fact, sell all my stuff and move here. My friends and my family thought that I was crazy but I wanted to live in this tropical paradise surrounded by kind and generous people. I do not regret it at all.
I have discovered that so many Americans and Canadians retired here and there is quite the "expat" community in Cozumel because it's so safe and inexpensive. Now my mom is talking about following suit and moving down here for her retirement dollar to go further.
Let me know if you're coming to Cozumel. I'd love to help. Maybe you'll even try scuba diving in Cozumel or if you have any suggestions that I missed in the comments below.