If you're not from UK you can no longer take a tour of Big Ben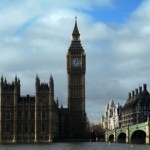 There are some monuments in the world that you can visit. One often travels to a city having in mind the famous buildings and trying to take as many visiting tours as possible. If in London then you most probably want to visit Big Ben. Guess what: if you are not from UK you can no longer visit this famous monument.
The reason behind this measure is security of the monument. There is a mounting fear over terrorism actions that may affect the monument, as we can see here.
Now, let's analyze a little bit the situation. Of course, as a traveler, you simply feel you are denied from now on the access to a monument, one that you knew you can always visit. You know what it's like: it's there and you'll visit it sometime. Than again you wouldn't want to be part of a group with a terrorist detonating a bomb right? Also you wouldn't probably want for the famous clock to be damaged, right?
What do you think of this measure? Have you visited Big Ben already? Were you planning to visit it soon?