Hotel Guests Bothered the most by Dirty Bed Linen and Bath Towels, Survey Shows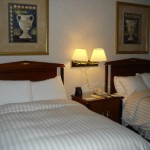 A poll conducted by The Direct Line insurance company revealed that people consider dirty linen and bath towels to be hotels' biggest bugbear. Hotel guests also complained about drunk or noisy next-room guests.
The third most important reason to complain was building work going on close to the hotel. The survey which queried over 2,000 British adults also found that people don't have time for poor quality food and they don't like travel reps continuously and annoyingly getting in touch with them to go on excursions.
Apparently only 31% of the respondents are bothered by the "custom" of claiming the best pool sides or places on the beach with a towel.
Indeed, the poor weather or flight delays aren't something a tourist or traveler loves, but these are far less important as not having clean sheets and towels.
The conclusions of this poll are somewhat logical, because I don't think there is a person on this earth who would like to sleep in a bed with dirty linen or who would like and have no problem with dirty towels. I can in fact remember that when I was little and I was going on vacation with my mom, she always took a towel especially for me (being a kid and all) so that, if towels provided weren't clean, I wouldn't suffer (get dermatitis or other skin problems).
How about you: what do you dislike the most at hotels?