Guest post by Ela Krawczykowska
Forget about the ice-cold stereotypical Canada for a moment and welcome to the urban, sexy and modern Ontario! When it comes to rich, fascinating culture and great natural settings, this province is the best in Canada.
One-third of Canadians live in Ontario. Most Ontarians live in the south of this part of the province, next to the border with the U.S. Finding the perfect accommodation for your vacation in Ontario can be a challenge, because there is a number of choices. The biggest cities of Ontario offer numerous luxurious hotels, B&Bs and budget hostels for every pocket. You can click here for more information on accommodation in Ontario.
Major cities of Ontario include Toronto, Ottawa, Hamilton and London. Toronto in the largest city in Canada. It's a relatively modern place and offers a lot of great places to see. Some of the most popular tourist attractions include Canadian National Tower (transmission tower and observation deck), Rogers Centre (world's first sporting arena with a retractable roof), Casa Loma, (a castle overlooking downtown Toronto), Yonge-Dundas Square (a new public square with a huge shopping mall), the Toronto Islands (accessible by ferry and include a public park and an amusement park), St. Michael's Cathedral, St. James' Cathedral, Toronto Zoo and Toronto's City Hall. If you're a culture freak, you have to put the Art Gallery of Ontario and the Royal Ontario Museum on your list.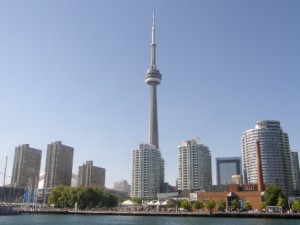 Ottawa is the capital of Canada. There, you have to see the Parliament Buildings, visit Parliament Hill, go to the popular Byward Market, shop in Sparks Street Mall and chill in numerous Ottawa's clubs and bars. Again, for art lovers, the top destinations are the National Art Gallery, Canadian War Museum, Canadian Museum of Nature, Canadian Museum of Civilization, and many more. There are also plenty of walking and biking trails and in winter you can go ice-skating on the Rideau Canal, which is the world's longest skating rink.
And don't forget about the Niagara Falls – the falls are located 121 km south-southeast of Toronto and are spectacular and powerful.
Ontario is truly a great place to visit. It's a combination of modern cities with wild life and many places that you wouldn't imagine to see in Canada. British Colombia might be wilder, Quebec might be bigger, but Ontario still wins for me!
About Ela
Ela is a London-based freelance journalist from Poland. She loves learning languages, travelling, music and exploring different cultures