Lake Havasu, Arizona… and the London Bridge
by Brad Shorr
Last week, my daughter and I were in Phoenix, Arizona – a major city in the southwestern United States. One day we took a four-hour ride through the desert to Lake Havasu, a resort town in the far western part of the state, on the California border.
The big attraction in Lake Havasu – you'd never guess – is none other than the London Bridge. That's right: the London Bridge was bought by an American entrepreneur in the 1960s. It was moved stone by stone and reconstructed near the lake, when the resort town was just being developed. Transportation costs alone were around $5 million U.S. – a huge sum in today's dollars.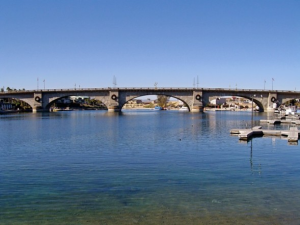 The bridge crosses a canal built especially for it. Beneath it is a concrete walkway with souvenir shops, English style pubs, and a few nice looking hotels with outdoor, terraced bars. It's a pretty setting, with palm trees, Lake Havasu, and good sized mountains in the background. I guess we were there in the off season, because there weren't many people around and some of the shops were closed.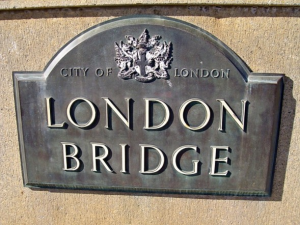 The London Bridge is a magnificent structure – simple, solid, and perfectly proportioned.  It didn't seem as out of place as I thought it would, although visitors from the UK who come to visit may beg to differ. In the tourist office there is a big map where people can put a pin on their home town. There are lots and lots of visitors from the UK, but people from just about everywhere you can think of have stopped by to see the legendary bridge.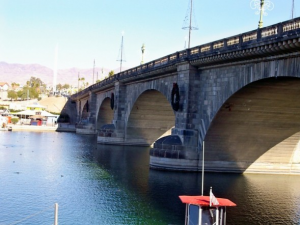 People also come to Lake Havasu for golf, boating, fishing, and perhaps just to enjoy the sun, scenery, and hospitable climate. It also appears to be a popular destination for corporate outings. It's a long drive from Phoenix, but I'm glad we made the trip. To see a piece of European history in the middle of the desert is an opportunity that doesn't come along every day!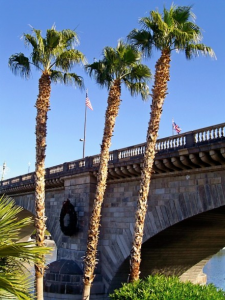 Brad Shorr is a content strategist, blog consultant, and SEO copywriter. He works with b2b firms and specializes in the packaging industry. He lives near Chicago, Illinois, USA. Follow Brad on Twitter.