Travel Tip: Read the local newspapers to find out more about a place and improve your language skills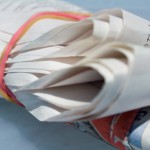 I admit: I like to read. A lot. I also like to discover a place I am travelling to in depth. There are various ways to do that and one that I particular like and recommend is reading local newspapers and magazines.
I loved reading two French magazines and a newspaper while in the airplane toward Paris. And I read a lot more when I got there. I love to read various newspapers my husband brings home from his business trips.
It's an interesting way to find out more about the local concerns and even to see different angles of the same issue. Those are not tourist materials, so they are true, created for the locals.
Moreover, reading local newspapers helps anyone exercise and improve their language skills. I loved reading some stuff when in Vienna, in Germany, and I admit I consider myself lucky to be able to understand more than one language. My native tongue is Romanian, but I am fluent in English and I get around well in French, while also understanding Italian and Spanish and some German. True, I don't exercise a lot, but it is always great to be challenged by a magazine to understand an article 😉
So yes, I do recommend you to read local newspapers if you know a little bit the local language. It will give you perspective and will help you practicing that language.
As for ways to better know a place, I'm recommending you this article with Tips on How to Really Know a Place you are Visiting.
Do you read newspapers/magazines while travelling?