Smart Tips for Saving Money When Travelling In Europe
Travelling in Europe can be costly, but it doesn't have to be. The key to unlocking savings which make the cost of European travel more manageable is planning ahead. This means utilizing the World Wide Web in order to find the best deals before you book.
People who don't spend a bit of time comparing deals on flights, accommodations, rental vehicles and attractions may end up spending a lot more than is necessary.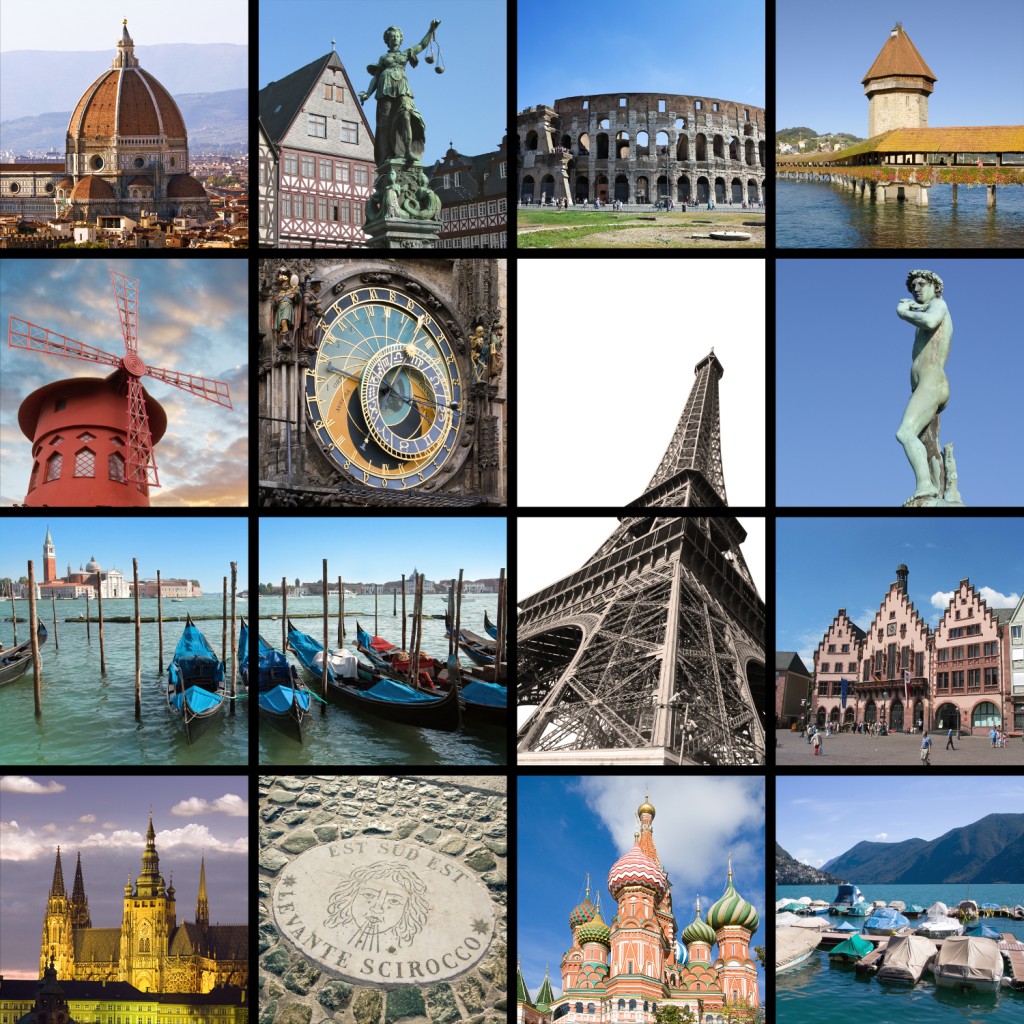 European landmarks collage, photo by N.Minton , Shutterstock
You can have tons of fun in Europe on a shoestring budget – it's all about isolating awesome deals before you book a single thing. Our tips are designed to help you get started…
Find Cheap Flights in Europe – Flights are one of the biggest expenses. If you want to flit from country to country (or city to city) via jet, which is just so easy and convenient, you'll benefit from finding the right airline. Some offer truly economical fares, while others are more expensive.
One great option is Vueling Airlines. This European airline is renowned as the continent's fastest-growing airline and it offers Basic fares which are some of the most inexpensive around!
Choose from a host of destinations in Europe, from Belgium to Ireland to Portugal and beyond. Make sure to google for a Vueling discount code before finalizing your purchase.
Get a Room with a Kitchenette – The cost of food in some of Europe's most impressive destination cities, such as Paris and Milan, may be very expensive. You can save money by choosing accommodations which feature kitchenettes or full kitchens. Prepare your own meals in your room when you can and then treat yourself to restaurant meals when the mood strikes. By preparing at least some of your meals in your room, you'll save a lot of money.
While it's fun to eat out, the cost of doing so may take a huge bite out of your travel budget. In most cases, the higher cost of a room with a kitchenette will be a smart investment, as you'll have the freedom to prepare meals and save big on the cost of cuisine.
Avoid Tourist Traps – You may be tempted to hit every tourist trap around. However, you'll find that some attractions are very expensive and they don't always provide exemplary value. You may explore Europe in a different way by avoiding tourist traps and exploring only the best attractions.
For example, if you're in Paris, pay for the Louvre and skip the Eiffel Tower, as waiting in endless lines in order to climb the tower will probably be more tiring than it is fulfilling.
If you want a ride to the top of this tower, you'll need to spend fifteen Euros! You may read articles on tourist traps in various cities (or on tourist traps in Europe) in order to get a sense of what to avoid. If these articles come from authority websites, they probably offer a lot of sensible advice!
Hopefully, this guide has helped you to get organized as you prepare to save money on the cost of a European tour. We advise researching flights first and then going from there.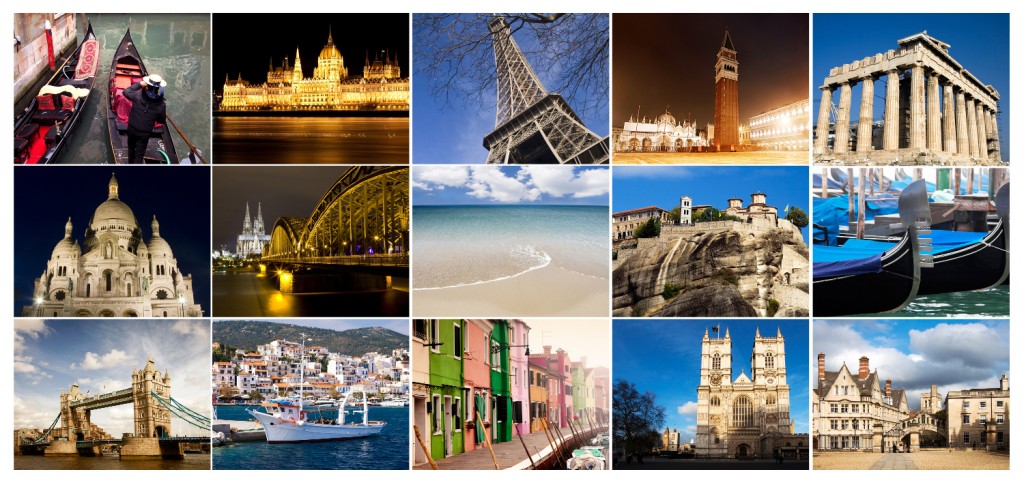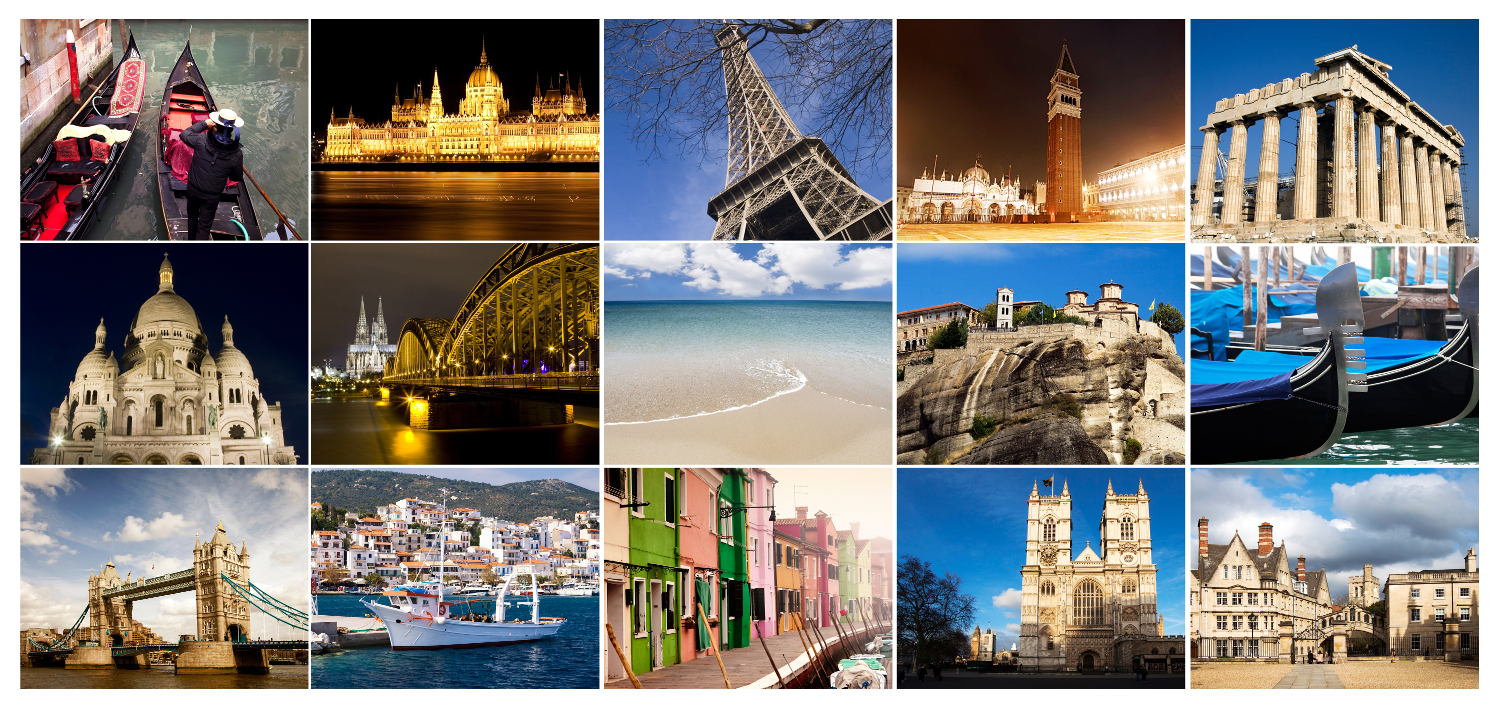 Famous places in Europe – collage, photo by melis,  Shutterstock