Taj Mahal to be saved from collapse or in real danger?
I think I'm not mistaking if I say that today's news is the fact that Taj Mahal could collapse in five years if measures are not taken. The problem? It seems that the foundations of this mausoleum, built by Mogul emperor Shah Jahan as a funeral monument of his wife Mumtaz Mahal, who died in childbirth, "have become brittle and are disintegrating" (as the article on DailyMail points out). Taj Mahal has become the symbol of love – though it is actually a mausoleum.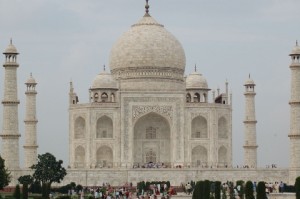 So the idea is that "cracks appeared last year in parts of the tomb, and the four minarets which surround the monument are showing signs of tilting.". OK, I agree, this doesn't sound good.
From an article on Huffington Post we find out that "Apparently the Taj Mahal stands on the edge of a now dried-up river, and the foundations are rotting due to lack of water.". Thus the problem.
It seems however that it is not something meant to be. It doesn't necessarily mean that Taj Mahal, this 358-year-old iconic monument will collapse.
Giving the fact that it is part of UNESCO's World Heritage, that the Indian government already set up a body to deal with this problem I don't think in the imminence of the danger, nor in real problems for taj Mahal.
I do believe however that it is also a good opportunity to attract tourists – say that a monument may disappear and many-many tourist will come to see the building in cause. So, I think it is actually a too much fuss around this issue.
What do you think?