Stay.com: A Cool and Valuable Trip Planner
Travel sites: there are so many, it's hard to keep track, but when you find a cool one, that adds some value on top of everything else, you cannot help but bookmark it, for later use. Stay.com is such a cool, yet valuable tool. A travel planner, yes, like many others, including Tripwolf (which offers pretty much the same features), that lets you create your own travel guides.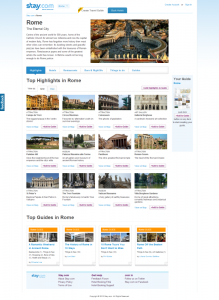 You can browse some 50 cities, and select only those attractions you really want to see (or plan to visit). With a single click on a "add to guide" button, you collect them in your personal guide for the respective city. You can add a hotel too (independent if you book it or not), restaurants, bars and nightclubs – whatever you want. I browsed and I saw a number of "theme" guides, created by other users who were interested to see only attractions for kids, for example, or who took an "eco" trip somewhere.
The cool factor resides in the social aspect, where you can create a community of ideas around your trips, ask for feedback, share your custom guides via Facebook, Twitter and the like. The value is implied by the way you can use the guides in a real life situation. Because you add only what you really want to see, when you print out your guide you'll have something compact, instead of a leafy booklet. Most of the guides I saw can fin on two-three pages tops. Then, let's say you print your custom guide on recycled paper: not only you get a free, personal, guide, but you also save money, save paper and help save trees as well. These are the reasons why Stay.com is bookmark-worthy: value and coolness, two-in-one.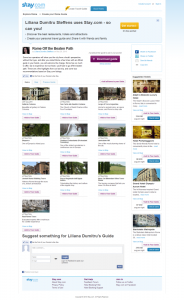 In the future, according to press I read, Stay.com will add more features, (like allowing users to add their own attractions; an iPhone app; Facebook connect; more cities; more attractions; and etc.)so keep an eye on this site. You never know when you need a personalized guide. Maybe to plan a business meeting? Maybe a group trip? How would you use it?