Need a Life Shakeup – Go Backpacking in OZ and NZ
Guest post by Boyana Peeva
You are bored out of your mind and you can't remember the last time you actually did something that took your breath away. The challenges in your life have been cut down to zero as you've been tightly stuck into your comfort zone. This same comfort zone once gave you a feeling of safety and comfort, but it has now turned into a trap keeping you away from the joy of living.
What you need is a real shake-up to wake your senses and trigger your desire to live. Go backpacking and you will you face the biggest challenge of your life – to be free.
Backpacking
Actually, a little courage is all you need, and backpacking will become your life-changer in a good way. What's more, as this activity is growing in popularity, it is also becoming more affordable than ever. So, if you are really tired of the boredom and monotony of your life, get a backpack and hit the road. The best thing about backpacking is that you can never be ready for it, and will never know what to expect.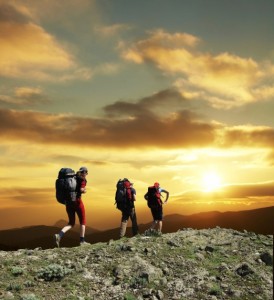 Where to Backpack
Two of the most popular destinations for backpackers undoubtedly are Australia and New Zealand, especially among first-timers. Here's why:
Language: As language is usually not an obstacle for backpackers, it makes it a lot easier for those planning to stay in a particular country for a longer period of time. Backpackers survive on the lowest budget possible which is part of the challenge (to see more on the less), and if they wish to explore a country to the bottom of it, they will have to find temporary employment and the language barrier could be a problem. Since the language in Australia and New Zealand is English, that makes it quite easy to find a temporary job and to simply communicate with locals.
Culture: The backpacker has a thirst to see the world from all possible sides. The more the culture differs from his, the bigger the challenge. However, sometimes the cultural differences may affect the overall experience and prevent travelers from seeing major sights. That happens when backpackers are unaware of the place they are going to. They may get into trouble for doing things that are prohibited in that part of the world. In contrast, OZ and NZ cultures are easy to understand, which enables the travelers to relax and focus on exploring the beauties of these countries.
Backpacker industry: The backpacker industry in Australia and New Zealand is one of the best developed in the world, as there are plenty of amenities related to accommodation, employment, entertainment and more. This way, the backpackers are predisposed to mix with the locals, get to know them and their lives better. This experience usually ends with great friendships and unforgettable moments. A new market for used cars specifically for backpackers has even opened recently in Sydney, to help them sell their used cars, and to help the newcomers find cheap automobiles for their trips. There are also convenient Australian Work and Holiday programs specifically for US citizens, or Working Holiday for other nationalities. As far as employment, backpackers are wanted for temporary jobs especially in the outbacks. Some popular jobs include fruit picking, working in diners and hostels, clerical and admin work, nursing, harvesting, and more.
Nature: The OZ and NZ natures are simply breathtaking. The wide beaches, green landscapes, rare animals, national parks are worth crossing half the world for. Where else playing with a kangaroo on the beach is part of the everyday lives of the natives?
Or swimming with sharks and dolphins? The Ningaloo Reef, where this is possible in Australia, is a fringing coral reef and one of the most beautiful marine spots in the country. And, speaking of reefs, let's not forget the world-famous Great Barrier Reef – this spectacularly diverse underwater area of marine life is long 2,600 kilometers with colors so bright that it can be even seen from space.
While on the road, you will see what "to be free" really means. Once this is over, you will never be the same person again as your mind and spirit could never be tamed again.
If you still have doubts whether to hit the road, I suggest watching the movie Into the Wild J, or listening to what others have to say about backpacking in Australia and New Zealand.
About Boyana Peeva: My name is Boyana Peeva and I am originally from Bulgaria. My biggest passions are traveling and music – I discovered the first in 2004 when I went to the United States to do my bachelor's degree in Journalism. After 6 years living abroad and traveling, I can say – traveling opened my eyes and made me love my sweet home even more.
I am now working in Bulgaria, at an Irish company that provides visa and travel support services – Visa First. A huge number of our clients are young people from Ireland and UK who go backpacking in Australia and New Zealand. Based on their travel stories and feedback I can say that OZ and NZ really are a magnet for backpackers. Also, based on their needs and queries, we created the Visa First blog where we share tips and travel stories for the travel junkie and prospect emigrant.