L'Aquàrium – Barcelona, Spain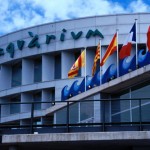 Aquariums are special places to visit in different countries. Recently a friend of mine visited L'Aquàrium in Barcelona, Spain. She told me it was quite an experience.
First of all she was impressed by the size of this aquarium. There are 11,000 animals and approximately 450 different species in the Mediterranean and tropical tanks. There are also two permanent displays Planeta Aqua and Explora!
You can choose to walk near the aquariums or take a walk with a moving walkway. If you walk at your own pace you can take as many pictures as you want, stay as much as you want at a tank and watch a fish species. However, sooner or later your legs will hurt. If you use the walkway it is much easier – you stay and admire the view – but the pace is determined by this means of transportation. And here's a tip for you: if you planned to visit more touristic objectives, not only the Aquarium in a day, you should take the walkway. Oh, and allow yourself several hours for a complete visit and to be able to admire all the species.
A special attraction here are the sharks. Oh, and one more and tip: you can even swim with the sharks. On the official website you have the info on this! Seeing the sharks is quite an experience: you go through an 80 metres long glass tunnel and you are literally surrounded by sharks.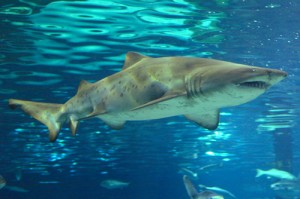 My friend was impressed by the octopus: they were in the mood for playing ;).
But you can say only so much. This is a place you have to experience yourself! My friend looks forward to getting back there and recommended L'Aquàrium as a must visit in Barcelona, Spain.
From the official site we find out some pricing and visiting hours info:
Visiting hours:
Open all year round
Opening: 9.30h
Closing
Of Monday through Friday: 21.00h
Weekend and public holidays: 21.30h
June and September: 21.30h
July and August: 23.00h
(Ticket offices and accesses open until one hour before).
Prices
Adults: 17.50 €
Children from 4 to 12: 12.50 €
Adults over 60: 14.50 €
There is also a pass available option – you can find out more on site or at location.
Since a picture is worth a thousand words, I'll let you enjoy some of the photos she made in this aquarium.