Parkhotel Herrenhaus, Germany – my experience
Last Updated on
Parkhotel Herrenhaus and restaurant is located in 123 acres of park in a peaceful countryside location of the fresh-air health resort in Bensheim-Auerbach – and it is a place I've visited.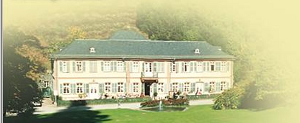 First I must tell you that the parking is at the base of a hill, part of the domain. So yes, you have to climb up in order to get to the hotel. But don't think everyone is absurd. If you need to leave the luggage you can go with the car and then get it back in the parking.
Nature. This is the first word you'll associate this place with. There were some guests at the hotel that, even after several days of wondering around the domain, said they didn't get to see it all. And that they loved that.
And indeed, having a special place to wonder around is a great thing. Being able to just go, sit somewhere, hear the whisper of a small river, see some animals, have as much privacy as desired and take fresh air all day long – or as much as you want – is a great offer. You can go hiking, biking, jogging and walking. You can take your car and visit nearby cities and sights – or just stay in the hotel.
Elegance. Old style sobriety. This is the second notion that will pop-up, in time, when speaking of Parkhotel Herrenhaus. As I understood, the managers of this hotel and restaurant have to preserve it as it is. This means taking care of the furniture, decorations and the construction itself. I have to admit this wasn't the biggest hotel room I stayed in, but it was OK. I had all I needed, all clean, a bathroom with all that is necessary, a bedroom with a comfortable bed, other pieces of furniture and a rather small TV. But I am sure all those coming here enjoy more the nature and the view.
The hotel has telephone services, access to wireless internet connection – didn't had the time to test it, though:). The breakfast is included – choose from what they serve. It wasn't the most varied breakfast I had, but it included as I recall cheese, fish, scrambled eggs, salad, and I think there was a cake too. A good thing is though that all the food served is prepared in house, in the restaurant.
All in all it was a nice experience. An unforgettable one too, if I mention that I was stung by a wasp – but all by accident, as it was getting cold, my husband put its jacket on my shoulders and didn't see the wasp in my hear so… you get the point 😀
I do recommend this place for all those wanting to enjoy nature, to stay in an elegant place and be able to do all sorts of things outside.