Kyiv is a fascinating historical and fast developing city. It is located in the Eastern Europe and is one of the most visited places in Ukraine. Thanks to its history that is more than 1,500 years old, it has an absolutely stunning architecture and culture.
Kyiv is very beautiful during spring. Several beautiful parks and gardens made it to the top list of the greenest cities in Europe. As Kyiv is situated on 7 hills it gives a picturesque view to all parts of the city. The symbol of Kyiv – chestnut tree that is planted almost in every corner of the city that gives it a wonderful atmosphere.
Besides the nature the city has absolutely wonderful architecture. Historical center "Podil" is simply filled with hundreds of historical buildings and monuments. The best way explore the city is to use Kyivs'kyi funicular that was the only transportation from the lower to the upper Kyiv a hundred years ago.
When on a top, there are several places to be visited, such as St. Sophia cathedral that is about a thousand years ago. Cathedral has fantastic frescos and mosaics that will leave a lasting impression, especially if it is visited during the day. Another must see place is Pecherskaya Lavra that is a small religious city in a middle of a busy magapolis. Pecherskaya Lavra has amazing Domitian cathedral and caves that were built in the 6th century that keep holy hallows that are believed to be healing. One more attraction of the lavra is museum of Miniature. The museum has a unique collection of minimal art like a world smallest book and a tiny rose that is put inside a human hair.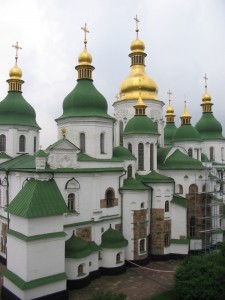 Besides the architecture Kyiv will easily fascinate anybody by its cultural spots like Opera House and museum of western art. This museum has the richest collection of paintings and sculptures in CIS. Works of Rubens, Rembrandt together with a luxury design will help you feel the cultural spirit of the city.
Kyiv is also very famous for its wild and fun nightlife. Countless pubs and nightclubs are open almost 24 hours. The best example of such is O'briens pub that is situated in the center of the city. The sport pub provides live music and a great variety of high quality whiskey and beer.
Moreover, this year Kyiv will have the most exciting event for football fans – EURO 2012 football championship. This championship is held every 4 years and for two hosting countries- Ukraine and Poland it will be a wonderful opportunity to show what they are worth.
Today Kyiv is in the center of attention because it will host the most important event- the final of EURO. NSC Olimpiyskiy stadium was under the reconstruction for three years and finally was estimated by UEFA as one of the best stadiums in Europe.
All in all Kyiv is absolutely gorgeous, it has it all: ancient churches and fashionable nightclubs, interesting museums and noisy bars. And what is the most important is that it has its people: friendly, fun and hospitable.