Impressive 360 degree panoramic view from Dubai's Burj Khalifa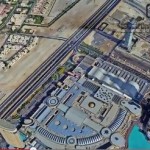 It is amazing what technology can offer us today. Here's such an example: a 360 degree panoramic view from the very top of the tallest building on earth, Dubai's Burj Khalifa.
This image was taken 828 metres above sea level and captured in high resolution using some of the most advanced techniques in digital photography bringing all of us an incredible panorama from the pinnacle of Dubai's Burj Khalifa. The image was made of more than 70 individual photos.
There is a reason for which this panorama was released now: it announces and celebrates the second Hamdan Bin Mohammed Bin Rashid Al Maktoum Photography Award (HIPA), which will take place in Dubai in March. This contest is in fact the world's richest photography award, with prizes totalling $389,000 (the grand prize offered by HIPA totalling $120,000.)
"This is an extraordinary image taken from an extraordinary location. It reflects the goals of HIPA, to extend the boundaries of photography and celebrate images of unusual beauty and quality that are truly outstanding," said His Excellency Ali bin Thalith, the General Secretary of the award. The panorama takes in Dubai's many landmarks, including the iconic Burj Al Arab hotel, the world's biggest mall, the Dubai Mall and the Meydan Racecourse and shows the remarkable growth of a city still on a fast track to developing as a business hub and tourist destination.
You can enjoy the panorama here and below is a video 🙂