Egypt is a popular holiday destination with a lot to offer. Whether you choose to visit Sharm-el-Sheikh to lounge by the pool or travel around sightseeing, there's plenty to do, so here are a few of Egypt's best bits.
The Pyramids
No holiday to Egypt is complete without a trip to see the Great Pyramid of Giza. Dating back to 2584 BC, the impressive pyramid is the oldest of the Seven Ancient Wonders of the World and should be top of anybody's to-do list when visiting Egypt.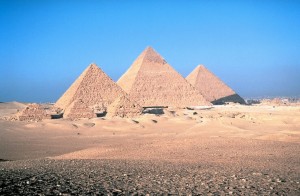 Photo source
Scuba Diving
Scuba diving in the Red Sea is a once in a lifetime experience that's not to be missed if you're holidaying in Egypt. The stand out dive has to be the one that takes you over the submerged ancient ruins surrounding Alexandria; it's one (slightly unusual) way to combine diving and sight-seeing! With dives to suit everyone from professionals to beginners and children to adults, anybody can experience the reefs and wrecks that lie below the Mediterranean waters of Egypt's coastline.
Desert Safari
Booking a desert safari is one of the most exciting ways to cover the main tourist attractions Egypt has to offer. You'll stay overnight in Bedouin camps and travel through the surreal scenery of the Egyptian desert in a Jeep. Different tours cover different attractions, and you can tailor your trip to cover everything from the Pharaohs to the Valley of the Kings. If this sounds like something you fancy, then visit Egypt Uncovered for booking details.
Specialist Tours
Egypt is a country with a history steeped in religion, and specialist tours will guide you through the religious heritage surrounding Egypt's famous past. If you're interested in learning something out of the ordinary during your trip, then a special interest tour could be a good option.
Camel Safari
If travelling across the desert in a Jeep for a few days doesn't appeal to you, then you could opt for a single day safari riding one of Egypt's famous camels. Many packages finish the day with traditional Bedouin tea, meaning you get a real taste of Bedouin culture.
To ensure you make the most of your time in Egypt, check out these Trip Advisor tips before you go for some advice on local currency and tipping, language and culture. If you're unsure about the political unrest in Egypt and want advice on where's safe to visit, check the UK government's website.