5 Must Visit Places in Barcelona
I think it would be safe to say that Barcelona is one of the most beautiful cities in Europe, especially if we take in consideration all the buildings and incredible work of Gaudi. But Barcelona is also the city that had a special connection to Picasso and hosts a museum dedicated to this incredible artist. The city has also a famous boulevard – Las Ramblas – and many-many interesting places to discover, museums to visit and people to see. If you are in a hurry when visiting Barcelona, here are 5 landmarks of the city you shouldn't miss.
1. La Sagrada Familia
This is a masterpiece of Gaudi, left unfinished unfortunately. Even so, La Sagrada Familia is truly impressive. It has numerous towers decorated with flower and fruit symbols portraying the four seasons, and it should be said that La Sagrada Familia was included in the UNESCO heritage sites, also being the landmark of Catalonia. Words are perhaps not enough to truly describe this impressive church, and not even photos do it justice. Lavinia mentioned in a previous post here what it is like to visit La Sagrada Familia and, reading her post, you can only want to go to Barcelona and be mesmerized yourself by this special church.
2. The Picasso Museum
This museum is quite interesting as it is the very first museum dedicated to Picasso and open since the painter was alive. Over 3,500 works by the painter are housed in The Picasso Museum in Barcelona, and that's perhaps enough to make you want to visit it. I should add that this museum occupies five large houses or palaces of the Calle Montcada Barcelona, dating from the 13th century and 14th century.
3. Parc Guell
I admit that this is the first landmark I associate with Barcelona when I think of this city. And how could I not, since all my friends who visited it said it is truly impressive and that all the details of each piece of work are amazing! Park Guell, presented on this blog in a previous post, was designed by the Catalan architect Antoni Gaudí and built between 1900 and 1914 and it is part of the UNESCO World Heritage Site "Works of Antoni Gaudí". Park Guell was commissioned by Eusebi Güell who wanted to create a stylish park for the Barcelona aristocracy.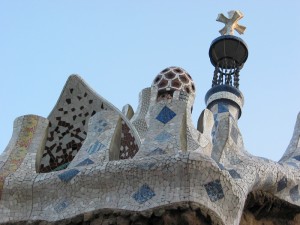 4. L'Aquarium
Another must visit in Barcelona, Spain is L'Aquarium. This aquarium is indeed quite impressive as there are 11,000 animals and approximately 450 different species in the Mediterranean and tropical tanks. As I presented here, the aquarium can be visited on the run, or you can book several hours and take the walkway, admiring all these amazing species hosted here.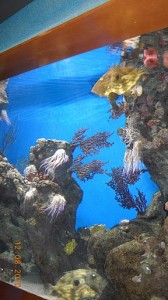 5. Las Ramblas
La Rambla is primarily pedestrianised. There are two narrow one-way traffic roads on each side, but this is a place made for walking. And there's a pretty good reason for that: it is an area with many shops, some museums, the Christopher Columbus monument and Modernist Boqueria Market. On your walk through this street you could end up seeing one of the various street performers – including those who choose to be human statues. You can find out more about this area from the Barcelona's tourist guide.
Barcelona is a city to visit more than one time. It has so many beautiful places to be discovered, so if you want to get to truly know the city, you should think of a longer vacation here and maybe look to rent an apartment in Barcelona with Oh-Barcelona for your stay.