Herastrau Park After a Rain
It was Saturday in the afternoon and we had plans to go to a theatre show hosted in Herastrau Summer Theatre (open area). I noted that the play started at 7PM, but, as we arrived there, we realised it was 9PM. My bad, but then again we had 2 hours to spend in this lovely park. So we decided to take a walk especially since it had rained for almost 40 minutes before our arrival.
Yes, it was a summer rain, but one with water simply pouring from the sky – along with some ice.
As we arrived in the park, the rain had just stopped and the park was almost empty. Only few persons were there, and that was a pleasant view. Here's a photo we took close to one of the entrances in this park. A small alley, a flower arrangement, grass and a beautiful view. (click on the photo for a larger view)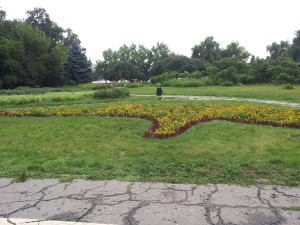 More than that, it is the smell of a park – the trees, the grass – after a rain that makes it all very special. I love inhaling this scent! Too bad the photos cannot keep it and send it over when publishing them!