10 Tips for Lodging with Your Pet on Summer Vacation
People are increasingly choosing to take along their cats and dogs on summer vacations. Hotels, resorts, campgrounds, and other public lodging sites around the country and the globe are meeting this trend by welcoming pets; some are even specifically marketed to people traveling with pets.
Trips can be an exciting change from routine for pets, and their presence removes some of the worry while you're away and can make for more fun. You can also save on boarding or pet sitting services if your summer trip is stretching your budget a bit thin.
The following tips help ensure vacation runs smoothly for you and your dog or cat, and for those around you, wherever you're staying.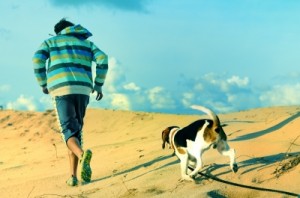 1. Call ahead to make sure your pet will be welcome. Many places that accept pets have size, weight, or breed restrictions. Find out if there's any reason your particular dog or cat might not be permitted. Also, inquire whether there are extra fees or deposits required when lodging with an animal so supplemental expenses don't surprise you.
2. Carry current certifications of vaccinations and a clean bill of health. It's not uncommon for pet-friendly hotels, campgrounds, and other sites to require proof your pet is healthy and up-to-date on vaccinations.
3. Bring along familiar items. Travel and a new environment can be stressful for a pet. Supply her with her favorite toys wherever you stay. Regularly feed her the same food and treats you give her at home.
4. Maintain routines from home on your summer vacation as well as possible. Try to feed, play with, walk, and otherwise attend to your pet on the same schedule as at home. This helps reduce stress, too.
5. Don't leave your pet alone. Just as bringing a child on vacation requires partaking in family-friendly activities, taking your pet along on summer vacation means committing to pet-friendly activities. An anxious pet alone in an unfamiliar place like a hotel room is prone to being noisy and acting destructively.
6. Research pet-friendly options ahead of time. Since you can't leave your pet behind in the room, find pet-friendly restaurants and other activities before you leave home. This way, you won't get stuck trying to figure out what to do once you reach your destination.
7. Keep your pet quiet. Other hotel guests don't want to spend their summer vacations listening to your dog bark and yelp. Be attentive, offer crating for comfort, bring something with you that eases your pet's anxiety, and be prepared to take her outside if she's too noisy.
8. Attach a helpful ID tag. Hotels and resorts that cater to people traveling with pets often provide tags with their contact information. See to it that your pet has a tag that will allow someone local to reach you should your pet get lost.
9. Find out where to walk your dog. There may be a dog park near your location, or there may be a designated area on site. Also, be considerate of other guests in hallways and elevators; not everyone wants to be approached by an unknown dog, while others may have allergies that can be set off by sharing an elevator with an animal. Keep your dog leashed and exercise caution when other animals are around.
10. Clean up after your pet. It's common courtesy to leave your lodgings tidy, even where maid services are provided. Appropriate behavior in hotels and other public areas helps ensure pets remain welcome.
These helpful travel tips for pet owners were provided by VetDepot.com.