Guest post by Ela Krawczykowska
Think about Ibiza, Spain and associate it with one word… And don't tell me it's not PARTY! Summer ends in October on that beautiful Spanish island, so don't miss your chance to go there this year.
It is the biggest and the most popular of the Balearic Islands. Catalan and Spanish are the main languages of Ibiza, but English is widely understood and spoken. When it comes to choosing accommodation on Ibiza, it depends on your budget and likes. The island offers many youth hostels, great value apartments and the finest hotels.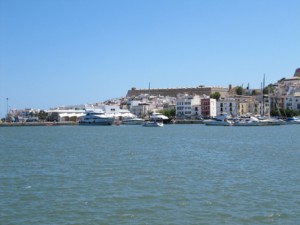 Let's get to the most important part though: nights out. Ibiza has a wicked party scene, with numerous bars, cafeterias and bars opened all night. Remember, the Spanish eat & drink very late, so don't expect clubs to be full before midnight! One of the most popular clubs on Ibiza is the world's famous Pacha. It's a huge club (it can hold 5000 people!!!) with many levels and outdoor space. It has a really cool design and organises parties with the best DJs in the world. For the attractions, you pay the price… The entry on big nights it 30-60 euros (20-30 euros on smaller events).
What to eat and drink on Ibiza? If you haven't tried Sangria before, then definitely do it there. It's basically red wine, other spirits (usually gin, rum or vodka), fruit juice and chopped fruits… but it really depends who makes it, people tend to change the recipe a lot. Some are stronger, some sweeter… well, all have one thing in common – they are delicious and refreshing on a hot day!
Food in Ibiza is… Spanish food. Restaurants are open for lunch from 13:00 to 16:00 and then usually from 20:00 to… whenever. If you're familiar with Spanish food, then just get your favourite dish, if not, ask a local, they are happy to help you choose. Traditional dessert of the island is Flaó, a round cake made with eggs and soft cheese. Very yummy!
About Ela
Ela is a London-based freelance journalist from Poland. She loves learning languages, travelling, music and exploring different cultures.