Tenerife: the best of Las Canarias
Guest post by Ela Krawczykowska
Tenerife is the largest and the most populous of the Canary Islands. It has more than 5 million tourists every year in all seasons. Tourism is the most important industry on Tenerife, so you can come anytime without disappointment!
The island hosts one of the world's largest carnivals and aspires to be Europe's Rio. The best place to go is the southern part of the island, because it's generally better developed, hotter and has popular resorts such as Los Cristianos and Playa de las Americas. The area around this resorts is called Costa Adeje and offers sandy beaches, warm sea, large golf fields, water parks, quality shopping as well as great bars and restaurants. This part of the island also offers the best accommodation on Tenerife, with the most popular 5 star hotels. For more information about accommodation options on the island visit Mydestination.com/Tenerife.
Tenerife is an amazing destination for sport lovers. As you can dive in the waters round the island all year long, it is one of the favoured destinations for scuba divers. Those who like water sports will find plenty of windsurfing and surfing schools (especially in the south). Costa Adeje is also popular within hikers. The most popular path for hikers is Barranco del Infierno with a small waterfall in the end.
Of course some people just want to spend time sunbathing, partying and doing nothing. But those visitors should at least visit one of Tenerife's restaurants with local food! The cuisine is a mix of traditional Spanish, African and Latin American food. It is based mostly on fresh vegetables, fruits and fish, generally light meals, because of the hot weather throughout the year. Traditional meal is called "gofio", which is basically a substitute for bread or rice (it's pretty bland on its own).
The cheapest flights for October and November are available now. Why not look then? Have a good trip!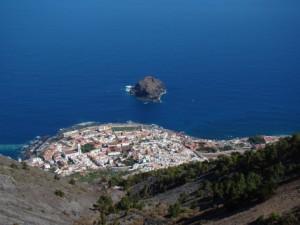 About Ela
Ela is a London-based freelance journalist from Poland. She loves learning languages, travelling, music and exploring different cultures