Study: 77 percent of Americans stay connected during travel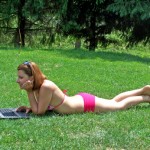 I woke up this morning and at some point I opened the computer. I started reading the news – and although I didn't plan to write something today I found a study showing that 77 percent of Americans stay connected during travel – by phone, social media or other channels – for different reasons.
It seems that travelers look now for places where they can stay connected, updating their Twitter or Facebook accounts, posting info on where they are, what they are doing etc.
89% want to remain connected and talk to families and friends; 20% update their social media profiles while traveling. You can read the entire news here.
Now… what do you think? Is it a high percentage, or a low one?
I think that it's natural to want to be able to connect if you want. It is all right to be able to contact your family, friends or anyone else you like if you want to or need to. But it's bad when it becomes an obsession, when you cannot do anything without sharing it on Twitter or Facebook. That's why when I wrote "Stay connected during travels?" I mentioned that I like to take a break from the Internet if possible, if I don't have an emergency or need to update my profiles, blog etc.
How do you act? What do you prefer? And what do you think about the study: does it show a trend for travelers around the world?