Photo: Rotterdam: Holland Amerika Lun seen from the Sea
When in Rotterdam, a trip on a boat is a must. You'll see the impressive harbour, some of the Rotterdam's buildings and also you'll notice the beautiful headquarter of Holland Amerika Lun (Holland America Line, cruise line).
I hope you'll like this photo – click on it for a larger view.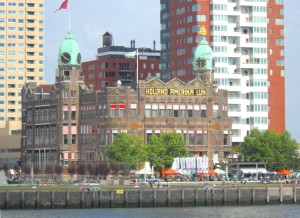 Photo from a  friend who was recently in Rotterdam