Maxie, our Adorable Outdoor Getaway Companion
One of the things I like doing the most is to go outdoors with the entire family. That means our son, Eric, Maxie, our dog, my husband and I. Until Eric came into our lives, we used to go with Maxie, and we even took her with us on one of our vacations (in the Apuseni Mountains, Romania).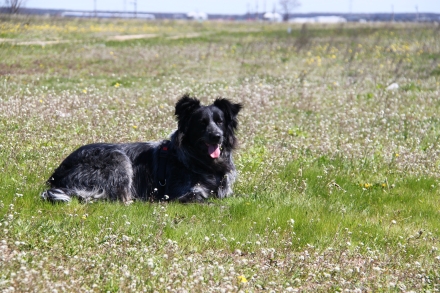 Maxie is a dog we first encountered in the back of the block we were living at that moment in. we know her since she was just a puppy. Andrei named her Max, as we thought she was a he, but… when we realized our mistake – and since she had already gotten used to being referred to as Max – we adapted the name into Maxie.
She is an amazing 5 years old dog. She is very lovely, clean, she loves us all and, since Eric was born, he became the center of her universe. If we go somewhere without Eric, she goes further, tries to explore the new territory, but when Eric is with us, she is always in close range to him, protecting him. And Eric loves her as much as possible, as do we all.
Of course she isn't a saint. She is a hunter – not pure, but with Australian Shepperd genes – so she does all the things a hunting dog does, including masking her natural smell in everything she can find in the woods. But those small incidents are nothing compared to the joy she brings into our lives, to the laughters she brings to our faces.
It is almost a tradition in our family during spring and autumn – and even winter, when not freezing and not only ice on the ground – to go outdoors, let her free and just take long walks, the four of us. So, meet Maxie, our beautiful and lovely dog!
Click on the photos for a larger view 🙂