Last Updated on
Las Vegas is an exciting place to visit. From the jaw dropping stage shows to the amazing attractions up and down the strip, Sin City is sure to please visitors of all ages. There's something for everyone to do, and if you're looking for a place to kick back and do a little shopping, you'll especially love this city. Read on for an inside glimpse at the glitz and glamorous shopping you can explore when you visit!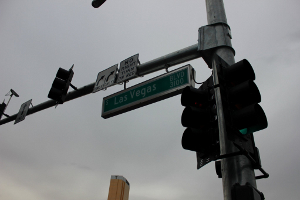 • The Shoppes at the Palazzo. The Palazzo is one of the most beautiful casinos and hotels in Las Vegas, and it's also home to some of the most beautiful boutiques and eateries. If you're searching for a place to do some upscale shopping – or even browsing – you'll find the clothing shops, jewellery stores and beautiful restaurants. The Palazzo is a 450,000 square-feet mall. It boasts a lovely two-story waterfall inside the mall and you will find famous names in the world of fashion that have set up shop here. You'll love every minute of this lavish shopping experience, even if you don't make a purchase!
• Miracle Mile Shops at Planet Hollywood. If a wide variety of dining options sounds appealing to you, then hop on over to the Miracle Miles Shops. Located within the Planet Hollywood area where Harmon Avenue meets the famous Strip, you'll find everything from old-fashioned hamburgers to upscale sushi bars. There are over 170 shops, 15 eating venues and a massive water fountain where colorized shows are performed in the evenings. Don't feel like walking? No problem! The shopping centre also boasts a people mover that can transport you from one end of the mall to the other. The fountain show also runs during the daytime hours, every hour on the hour.
• Mandalay Place. Mandalay Place is a little bit more low-key than the rest of the shopping centres in Las Vegas. You will find specialty shops and boutiques along with relaxed dining venues that you can enjoy with your friends or that special someone. One of the main draws of Mandalay Place is Minus 5, a lounge filled with ice sculptures. The drinks are served in glasses made of frozen ice, and visitors are actually given parkas before they enter the restaurant. There is also a sky bridge that connects Mandalay Place and the Luxor, which makes for a great view.
• Le Boulevard at Paris. This is truly one of the most unique shopping experiences you could ever hope to have. Le Boulevard is modelled after the quaint Parisian shops that are famous in French movies. Everything from the brass streetlamps to the leaded windows has been replicated, creating an authentic atmosphere. Make sure you visit the hotel casino at Le Boulevard and take a look at the replica of the Eiffel Tower. It's an amazing sight to behold!
Find flights to Las Vegas online and book your reservations now. Cheap tickets to some of the most exciting shows are easy to find, and you can enjoy the wide variety of shopping and dining options. Have fun and explore this glamorous city!