England's Riviera is world renowned for its beauty. The 300 miles of coast – all accessible on foot – hold plentiful attractions for sightseers of all ages and interests. From an imposing Tate gallery to exhilarating surf, there is something to stimulate your body and your mind in this beautiful stretch of coastline. This helpful guide will help you decide what to see and do in the cosy county of Cornwall, which has inspired artists and writers for centuries.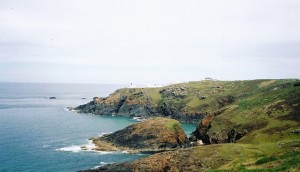 photo by john47kent
Less than two miles from Land's End, and right at the toe-end of Cornwall, Sennen beach is a surfer's mecca. The promontory gets as many waves as the more exposed North Coast beaches, and has the bonus of catching the southerly swells that wrap around the coast from the channel. Adventurous souls brave the Cowloes reef, located about 100 metres offshore though it's also a good beach for novices on the board, as the waves are regular but forgiving – and you can hire a board on the beach.
On the negative side it does get pretty busy in the summer.
Bustling Fowey (pronounced "foy" to rhyme with "joy") is an historic town and working seaport. Ferries run between Fowey and the village of Polruan and Bodinnick on the other side of the river and the natural harbour is a haven for yachtsmen. Fowey port is also a major export route for china clay and a popular destination for several cruise liners, so the occasional large ship sometimes dominates this small harbour town. Yet Fowey is idyllic enough to have inspired the many writers who have lived there, including Daphne Du Maurier, Kenneth Grahame, Leo Walmsley and Sir Arthur Quiller-Couch. The forts and blockhouses dotted around the countryside are a reminder of the romantic seafaring past of smugglers, pirates and explorers who came from these shores.
Porthmeor beach, just north of St Ives, is close enough to the town to be a bustling seaside resort, but sheltered enough to feel like a cosy cove. If you're more into culture than sandcastles then don't miss the Tate Gallery and the Barbara Hepworth Museum and Sculpture Garden, just a short walk away from the beach. Bronze, stone and wood sculptures are on display in the Trewyn studios – Hepworth's former Cornwall home – and the surrounding gardens.
'Finding Trewyn Studio was a sort of magic', wrote Barbara Hepworth. 'Here was a studio, a yard and garden where I could work in open air and space.' The artist designed the garden herself, with help from her friend Priaulx Rainier, the composer. Some of her most prolific and creative periods of work took place in these very walls and grounds.
The sea air and beautiful views have inspired many artists through the years. There is something about Cornwall's quality of life, dramatic climate and beautiful scenery that feeds the soul. If you are looking for property, houses for sale in Cornwall are surprisingly good value – with 300 miles of coast to explore, seafront homes are not hard to come by.
Vanessa is a writer who loves the beach and recently purchased a flat in Cornwall with breathtaking sea views. In her spare time she likes to surf and walk her two dogs along the coast.