Top 10 Unusual Hotels in Asia
Want to experience the ultimate in Asian travel, with an amazing story to tell your friends and family afterwards? Then you cannot miss the chance to stay in one of the top ten unusual hotels that are located in and around Asian nations. The Far East offers more than the average vacation stay. From the boathouses of Thailand to the Great Wall of China, there are spectacular Asian hotels that will truly give you a stay to remember.
#1 Helga's Folly in Sri Lanka
For the lover of the eclectic, Helga's Folly, based near the town of Kandy in Sri Lanka, is a delightful expression of the 1930s. Enjoy the peace of staying on a densely foliated hillside community, while taking in the brightly colored interior décor, antique artwork, and the sounds of soft jazz heard throughout the hotel itself. At just $100 USD per night, Helga's Folly is one of the best values in Asian accommodations you will find.
# 2 The Imperial Boathouse in Thailand
Love the Asian waterways, but not so sure you want to stay on it overnight? Then the Imperial Boathouse located on the splendid Cheong Mon Beach area of Thailand is the perfect spot for you to relax in luxury. This unique hotel features 34 teakwood rice barges that have been converted into beachfront suites, bordering a huge boat-shaped pool. You'll enjoy gorgeous views of the natural landscape, sunny relaxing areas, and even elephant rides on the beach.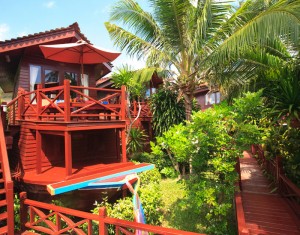 #3 Safari Land Treehouse Resorts in India
Deep in the mountains of India, you will find solitude among the trees in your very own tree house resort, built 15-feet off the jungle floor. By using locally sourced bamboo and other materials, the Safari Land Treehouse Resort offers affordable eco-accommodations, while providing a spectacular view of nearby mountains and plenty of outdoor adventure activities.
#4 The First World Hotel in Malaysia
No vacation to Asia can be complete without a stay at the second largest hotel in the world, the First World Hotel in Pahang, Malaysia. What makes it unique is the vibrant color, theme park, family friendly lounges, casinos, and superb shopping center that is sure to please the world traveler.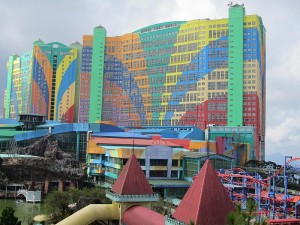 photo by Eqdoktor
#5 Crazy House in Vietnam
One look at the Hang Nga Guesthouse in Dalat, Vietnam and you'll understand why locals call it the Crazy House. Built in the 1990s, the Crazy House includes a curvy stone exterior and interior, with huge sculpted animals and an almost mythical feel. Stay there for just $60 USD per night, or take a tour to get a look at this one-of-a-kind unusual hotel.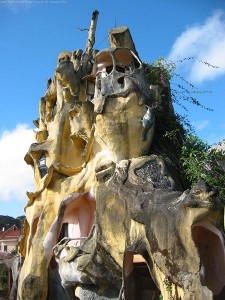 photo source Wikipedia – Kelisi
#6 Flush Hotel in South Korea
Shaped like a huge toilet, the Flush Hotel was built by millionaire Sim Jae-Duck to raise awareness about proper sanitation in Asian communities. To stay here however, you need a hefty sum of $50,000 USD per night a donation that goes to a good cause.
#7 Hotel of Modern Art in China
For the ultimately unusual stay in Asia, check out the Hotel of Modern Art in Guilin, China. A statement to modern art, you'll find this 46-room hotel all that you can imagine with over 200 masterpieces by world-renowned artists. The most spectacular feature, however, is the 10-meter high interior cave, which is perfect for events and gatherings.
#8 Capsule Inn in Japan
The Japanese are known for being top in technology and invention, and the Capsule Inn is no exception. A 4-star hotel that features human-sized capsules stacked on top of each other, a communal bathroom and dining spaces, and you'll have a cozy stay at affordable rates while you get close and personal to your fellow man.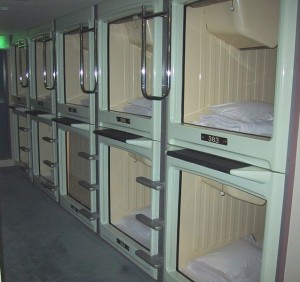 Photo by Chris 73
#9 Earth Building Hotel in China
Another unusual place to stay in China, the Earth Building located in Fujian is locally managed by the traditional Chinese people of Hakka. Sleep on 120-yr old beds in circular sleeping huts and enjoy traditional Chinese meals around a communal campfire, while listening to ancient stories told by elders. A definite "bucket-list' item.
#10 Oberoi Udaivilas in India
Built in the heart of imperial Udaipur, India, the Oberoi Udaivilas gives you the experience of life as an emperor, without the exorbitant costs. This unusual but very beautiful hotel features massive sandstone walls and gilded leaf domes in a palatial space that overlooks the old kingdom landscape.
About the Author: Adam Franklin is an avid traveler with a passion for the American Southwest. He recently visited and reviewed hotels in Scottsdale, Arizona.