One of the greatest treasures of Asia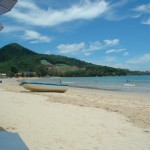 Guest post by Ela Krawczykowska
Phuket is Thailand's largest island and one of Asia's most popular destinations. It's famous for its spectacular scenery, stunning sunsets, warm sea, silky soft beaches and nightlife. The first thing you will experience when you arrive there is the real relaxing atmosphere… Perfect!
The best time to visit Phuket is from December through March. The temperature in that time is around 25-35 degrees. There are lots of options when it comes to accommodation in Phuket. But for the more popular hotels and resorts in the best locations you really should book at least a few months in advance!
For cheaper lodging in Phuket, check Centara Karon Resort. They have great offers throughout the year! It is centrally located in the heart of Karon, 5 minutes from the beach. Rooms are bright with views of the surrounding hills, which looks really amazing.
The most famous beach resort though, is Patong. It offers a variety of activities, great places to shop and relax. The town is also amazing by night with tons of bars, restaurants, clubs and famous cabaret shows. No wonder Phuket has a reputation as a partying hotspot…
Now let's take a break from sandy beaches and partying and concentrate on what is there to see on Phuket! Main tourist attractions include the National Museum Talang, which exhibits things connected to traditions of local people; Karon View Point, which is a cool spot to take a photo as a souvenir; Phuket Aquarium, offering a variety of corals and fish; Phuket Zoo, with various kinds of animal shows and a great place for a day with your family; FantaSea, which is Asia's Disneyland and other places, such as the famous Crocodile Farm, Butterfly Farm and Phuket Fishing Park.
Still a long time to plan perfect vacation in Phuket, if you want to go in the best season, but this place is definitely worth considering if you like spending your Christmas or Spring break in a hot country!
About Ela
Ela is a London-based freelance journalist from Poland. She loves learning languages, travelling, music and exploring different cultures