Famous dishes: Sarmale (Romanian cabbage rolls) and salata de boeuf (Beef salad)
"Sarmale" – cabbage rolls (made out of pork or pork and beef meat) is a traditional meal for Christmas and other religious holidays (including Easter or special gatherings of the family).
I must admit I like sarmale – they are exceptionally prepared by my grandmother each year! 🙂 As you can also see on Wikipedia, this dish is found in the cuisines of the former Ottoman Empire from the Middle East to the Balkans and Central Europe.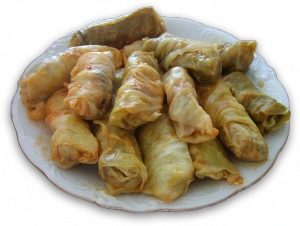 I also have to add that during the summer, when there is no sauerkraut, we have sarmale in vine leafs 😉 always served with cream for an amazing taste. Both types of these cabbage rolls – in sauerkraut or vine leafs – go amazingly well with polenta (mămăligă).
They are indeed a really must try when in Romania!
In the video below you'll have the recipe and how to make sarmale directions 🙂
Salată de boeuf is a traditional Romanian dish, generally served during all festive and special occasions. It is a combination of finely chopped beef and root vegetables, folded in mayonnaise and finished with pickled vegetable garnishes. The dish is usually made up in large quantities for the whole party. It's eaten as a side dish/salad to fried meats or as an appetiser/entree. Slight differences exist in quantities and these vary according to taste.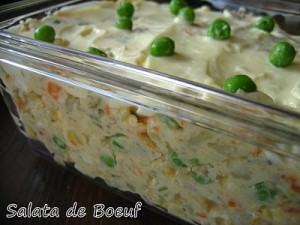 The name may suggest a French culinary influence as the word boeuf is French for beef, but is of Russian origin, from Salad Olivier or Russian salad. This is in fact the information you'll find also on Wikipedia, and it really synthesis the content of the salad. It is a very tasty meal and yes, I must admit I like boeuf salad a lot!
I like it with or without meat (my grandmother and my mother use chicken meat – breast) – but it is very tasty as well without meat. In my home it is usually prepared for big holidays like Easter or New Year's :).
You can see a post with more details and a recipe here, on Home Cooking in Montana blog, from where the photo is too – so I can tempt you to check the recipe 😉
Here is a video with recipes and hot to make both of these dishes. I'm truly recommending them to you – to prepare them or to at least taste them!