Top 5 Pancakes (Clatite) Recipes – Famous Dishes
I truly love clatite – pancakes. I liked when my grandmother made them for me, I like preparing them for my family now. I discovered a great recipe, easy to bake, and I'll present you this great and very simple pancakes recipe plus top 5 stuffing for clatite (pancakes). You simply have to try them! You, your family and friends will love them!
The pancake (clatite) recipe
Ingredients:
300ml milk
3 eggs
150 g flour
a bag of vanilla sugar (or a teaspoon)
a pinch of salt
baking oil for cooking
Tip 1: for lovely, more fluffy pancakes split the milk in 2 parts, one part milk, the other sparkling water! – so 150 ml milk, 150 ml sparkling water.
Tip 2: in order for two persons to have some pancakes and not just 3-4 / person, double the quantities in the above recipe. I always do that, so I end up with:
300ml milk
300 ml sparkling water
5-6 eggs
300 g flour
two bag of vanilla sugar (or 2 teaspoons)
a pinch of salt
baking oil for cooking (less than 500 ml – you put just a teaspoon for each pancake and use a Teflon pan)
For more than 3 persons increase ingredients quantities.
How to prepare the mixture
Put the flour into a big bowl. Make a hole in the middle.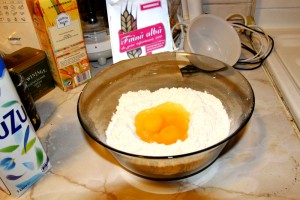 Add eggs.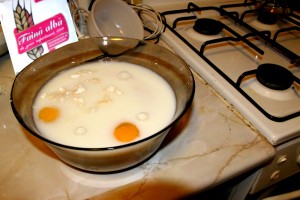 Add water and milk and salt and than mix it all (with a mixer or manually)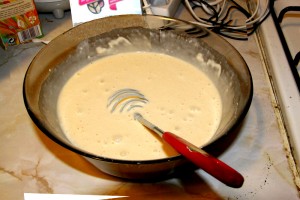 Than you can put into the fridge this composition for 30 minutes, and than start making pancakes.
You take a small ladle and pour the composition into the pan and spread it to cover the entire pan. You let it bake on one side and than you turn it and bake it on the other side. That is all!
Now you have a big pile of pancakes (if people didn't eat them while making them).
How you serve them – recipes
Pancakes can be used as a main dish, or as a desert.
As a main dish you have to prepare the stuffing. Here are some recipes.
Chicken stuffing
You need:
500 gr. minced chicken
1 big onion
cheese
spices
cream
a pinch of salt
oil for baking
You cut and peel onion and then fry it. Add minced chicken and the pinch of salt – and continue to stir the composition. When the meat is almost done, add cream and spices (dill, a little parsley, pepper) and some cheese.
When all is done, take this stuffing, put it on the pancake, then roll the pancake and there you go. Serve 3 such pancakes and all will like it – for a lovely impact you can add some cheese on top.
Chicken and mushrooms stuffing
This recipe is similar to the one above, though you add also some 200 gr of mushrooms along with the minced chicken. I recommend it too – it is a great mixture.
Pancakes (clatite) as desert
You have the pancakes and there are so many ideas to serve them as a desert. You can choose to fill them with:
ice cream – refreshing for the summer, choose whatever ice cream you want and have a great contrast between the hot pancake and ice cream 🙂
chocolate cream – in-house made or bought (such as Nutella, Finetti). Sweet and lovely.
bananas and ice-cream – it's a madness 😀 You an also use different other fruits you love – peaches etc.
cherry, blueberry, cherry or berries jam – incredible!
Here are some pancakes from my last cooking session – filled with blueberry jam.