Your 3-day Itinerary for Toulouse, Southern France
Wondering what to do in Toulouse in 3 days? Here's your perfect 3-day itinerary for Toulouse, France that will help you make the most of your visit here.
Numerous activities ideas included, along with how to see the Toulouse points of interest and, of course, where to eat in Toulouse and tips for your trip, all shared by Cathy from Cathy Travelling. Use this itinerary and plan an amazing visit in Toulouse.
Included in this 3-day itinerary for Toulouse:
Day 1 in Toulouse

River Garonne
Wander through the historic centre
Walking along the River Garonne at night

Day 2 in Toulouse

Crossing the bridges of River Garonne
La Place du Capitole
Le Petit Tourist Train seeing Toulouse points of interest
Jardine Pierre Goudouli
Py-r

Day 3 in Toulouse

The Church of the Jacobins
La Fleuree de Pastel
Saint-Cuprien Market
Take a boat along Canal du Mil
Your 3-day Itinerary for Toulouse, Southern France: what to do in Toulouse in 3 amazing days
A 3 day itinerary for Toulouse, in the Occitanie Region, Southern France is filled with time walking along the River Garonne, exploring the historic centre and so much more.
Toulouse is approximately half way between the Mediterranean Sea and Adriatic Ocean. It is the fourth largest city in Southern France. It is known as La Ville Rose. The Pink City, due to the colour of the terra-cotta bricks, used in many of the buildings. When the sun shines the city of Toulouse shines pink.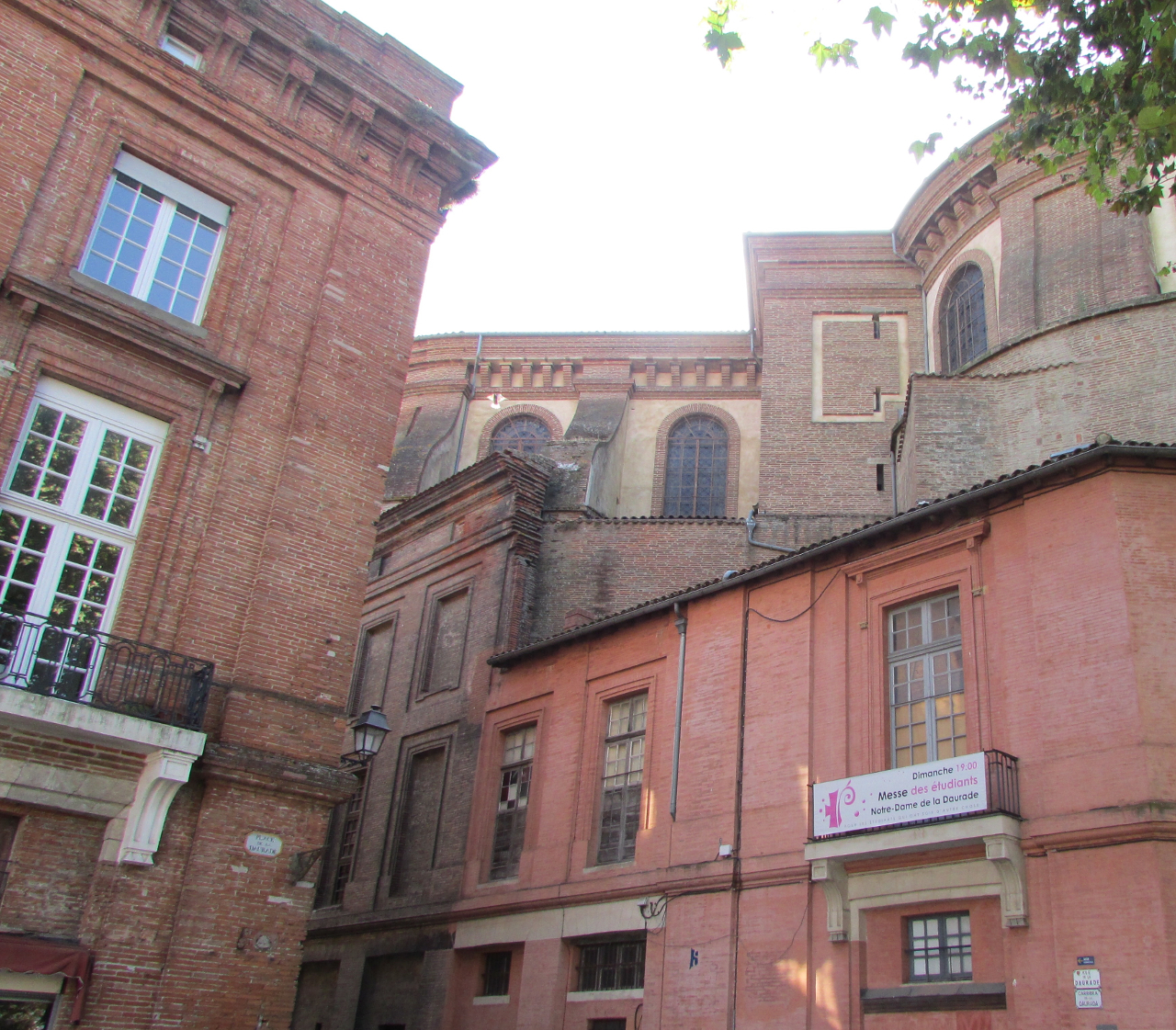 We are travelling in Toulouse during September with an average high temperature of 25 degrees celsius and a low of 19. It is sunny with fluffy white clouds. Perfect for wandering and exploring.
You can explore Toulouse by car as well – and you can easily rent a car in Toulouse to go everywhere you want easily!
Day 1 in Toulouse
We arrive mid-afternoon, settle into our accommodation, La Boutique Caronne by Occitania Hotels, located near the River Garonne. We walk along the east bank in a northerly direction with the sun shining and colours that are soft and muted.
The buildings along the river show the history of this city with names of streets representing the various trades, crafts people and professions. There were millers, blacksmiths, bleachers of fabric, parchment makers, butchers and washerwomen. Sand fishermen were an important part of river life taking sand and pebbles from the riverbed to construct buildings.
And then a wander through the historic centre– one of the best things to do in Toulouse; only referring to our map occasionally. The city is peaceful with many restaurants and beautiful brickwork on many of the buildings. We are getting a feel for this pink city with buildings from the 17th century, cobblestone streets that curve and locals getting on with their life.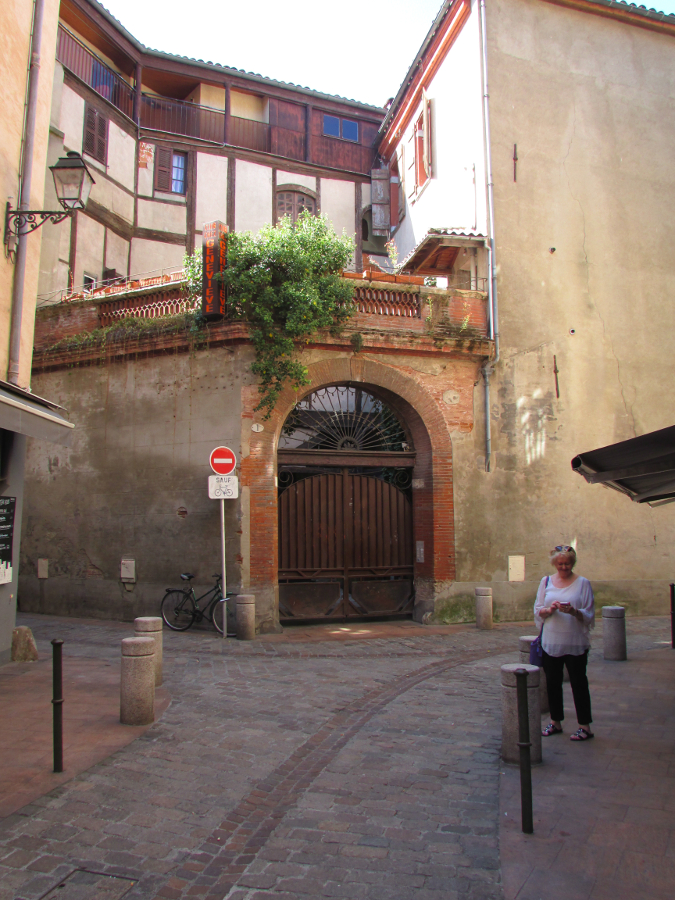 We walk for a couple of hours and find a modern French bistro for dinner. Walking along the River Garonne at night is a must do.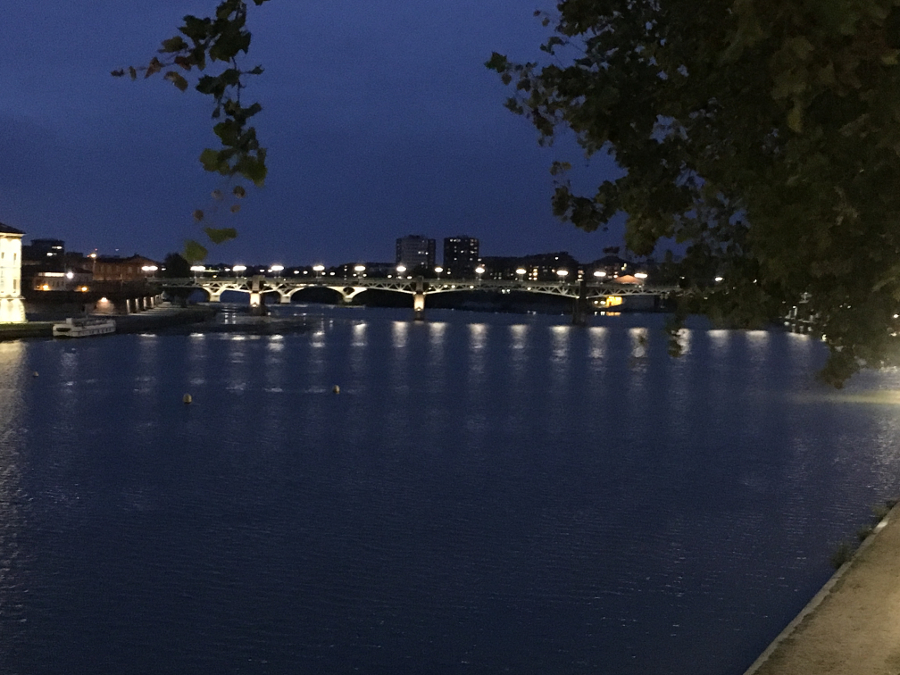 Day 2 in Toulouse
A morning walk or run along the River Garonne with a soft mist gives a different feel to Toulouse. I begin on the east bank, crossing bridges as I run: Pont Neuf, Pont Saint-Pierre and Pont des Catalans, only stopping to take photos. The sun shines with the blueness of the river distracting me from the intensity of running.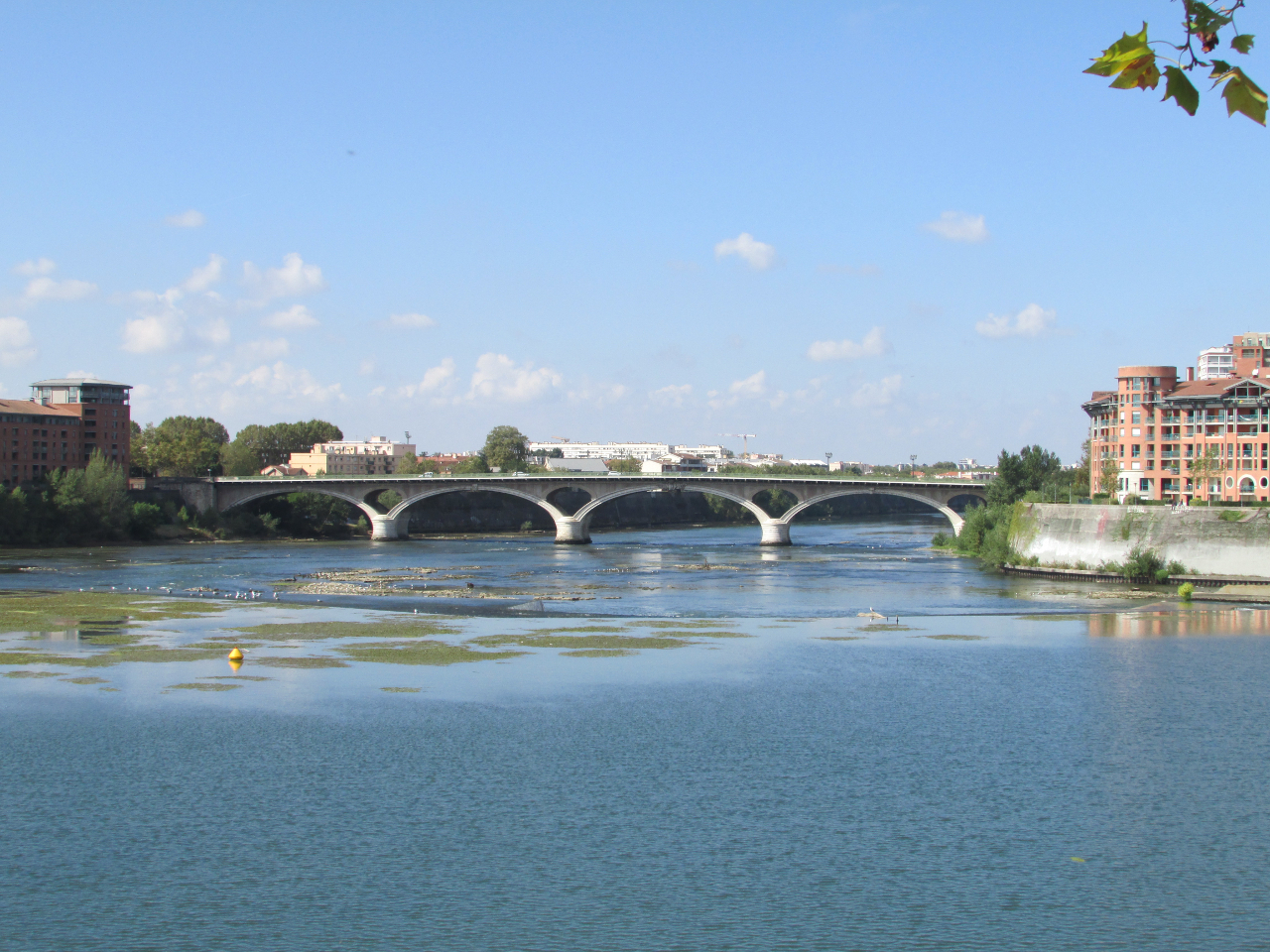 We walk to La Place du Capitole, the main square of Toulouse, to take Le Petit Tourist Train to see more of this unique city. It leaves from in front of Toulouse Town Hall and allows yout to go Toulouse sightseeing and to see the best of the best of the city.
The Le Petite Tourist Train takes us past the Les Jacobins, a church of Gothic architecture; Eglise de la Dalbade, a renaissance style church; Hotel de Pierre adorned with Corinthian columns; Museum d'Histoire that leads to the Natural Museum of Toulouse; Palais Niel, the palace of major military command; Canal du Midi built under the reign of Louis the 14th; Halle Aux Grains meaning market place, a hexagonal building; Toulouse National Theatre named the Theatre of the city and Mediatheque, a multi-media library. We love every minute with the sun shining and a cool breeze.
La Place du Capitole has many restaurants. We choose one where there are seats outside in the shade and enjoy a light lunch with a glass of local white wine.
We walk to find the gardens named after Jardine Pierre Goudouli. A poet born in Toulouse in 1580; he wrote his poems in the Toulouse dialect. His statue is located in a fountain.
There are winding paths throughout the gardens, a beautiful carousel that we watch and people sitting quietly during late afternoon. That is why this is one of the best places to visit in Toulouse.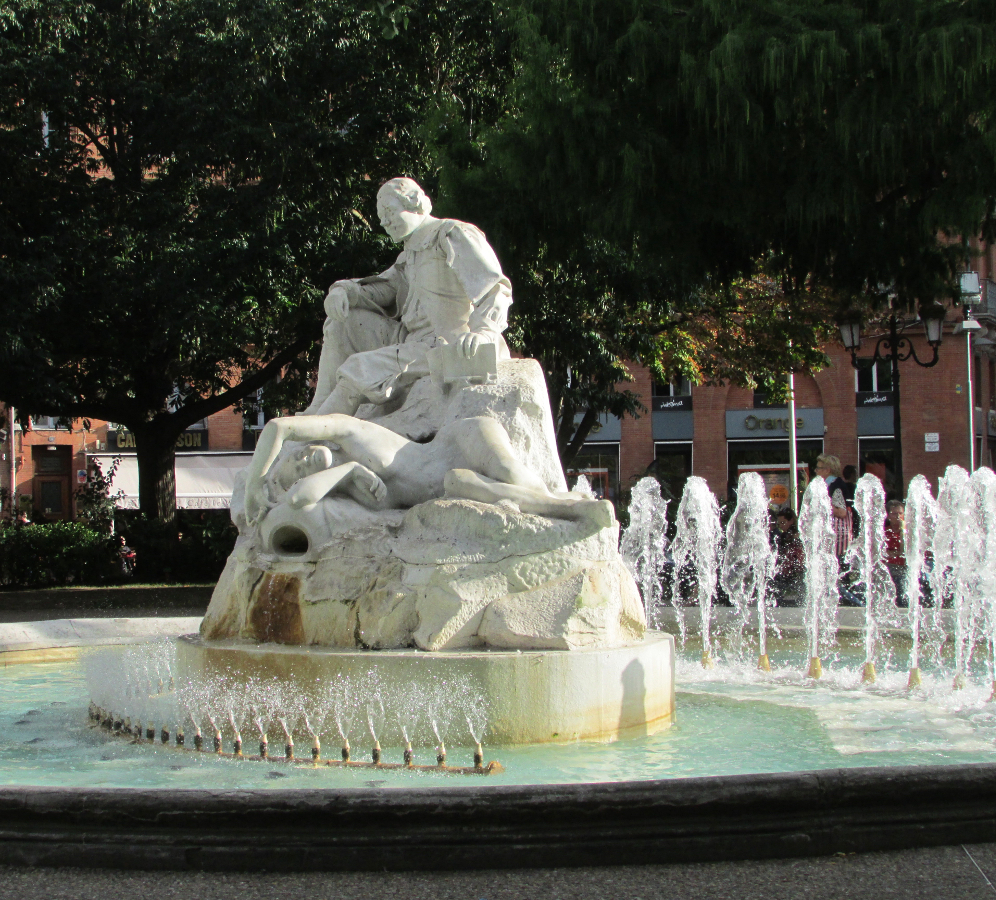 We return to our hotel to dress for dinner; lucky I brought my little black dress. We are dining at Py-r, a Michelin restaurant; located across from our hotel. We have the most amazing dining experience at Py-r. If you are wondering where to eat in Toulouse, then this is a great restaurant to check out.
The outside of the building is white and as we enter through the glass sliding door the walls inside are also white. We are taken downstairs to a cellar like area made of small bricks common to Toulouse during medieval times. They are also painted white. We are seated at a round table with white tablecloth and navy velvet chairs. The first thing we notice are the amazing plates that are designed to look broken and the beautiful cutlery that is heavy in your hand and geometric in design.
We order a glass of champagne and decide to have the degustation menu with matched wines. Now to the food! With our champagne we have a selection (group) of foods each presented in their own unique dishes delivered to our table. Much of the meal is presented in this way. It is quite an experience to sit and take in a range of dishes carefully placed in front of you for your consumption only.
The first course is pate on toast on a rectangular beige plate, a small biscuit with olive tapenade and a decorative piece of tomato, tomato soup in a tapered etched liquor glass with watermelon balls and green foam with croutons in a small round glass.
A white wine from southeast France was poured to match the next courses. The selection of foods included different types of heirloom beetroot that come in different shades of red, purple, yellow and white presented in an old fashioned soup dish.
After this John Dory fish with white bean foam and whole white beans; delicious. The quality of the food continues through the night with two more savoury dishes and dessert. Chocolate is the feature of this magical dessert with each creation presented on their own plate or bowl. The experience was unique, delicious; engaging all of my senses. I am so in the moment I don't take photos.
Day 3 in Toulouse
This Toulouse itinerary has got to the last day. Another run along the River Garrone taking in the sights. I cannot seem to get enough of this River with its peacefulness and historic buildings along both banks.
The Church of the Jacobins is of gothic design, located in the historic centre, built in 1230, and one of the most important places to visit in Toulouse. With its history and beauty we spend around three hours exploring the church, the cloister, the convent and Piano Jacobins. It is a deconsecrated Catholic Church; now a museum.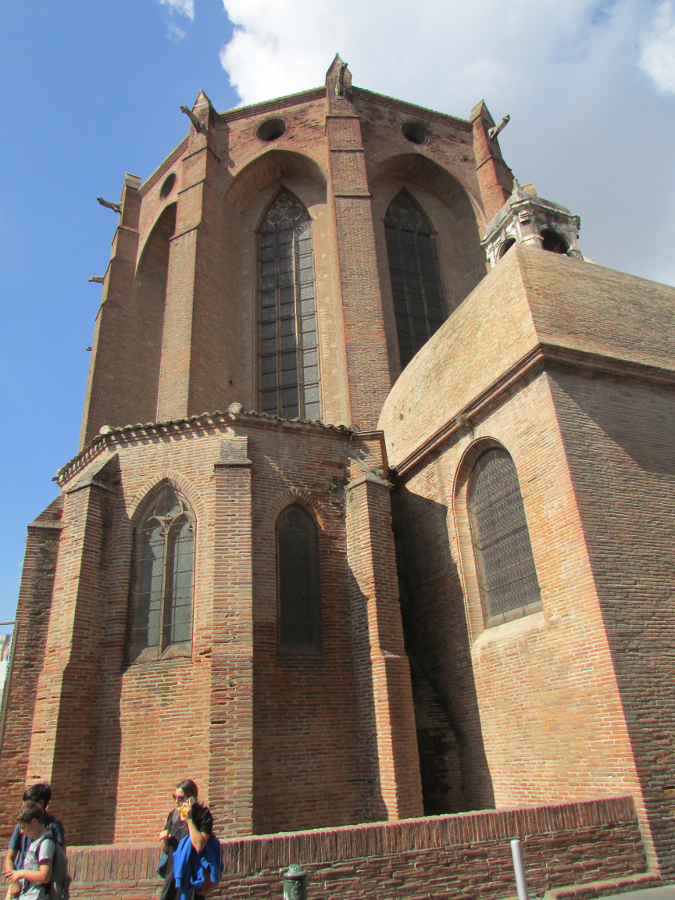 As you walk through the museum the gothic architecture of stunning ceilings, stained glass windows and marble in delicate colours of green, blue, pink and beige create a feeling of history and wealth. You will be enchanted and you'll understand why this one of the top tourist attractions in Toulouse.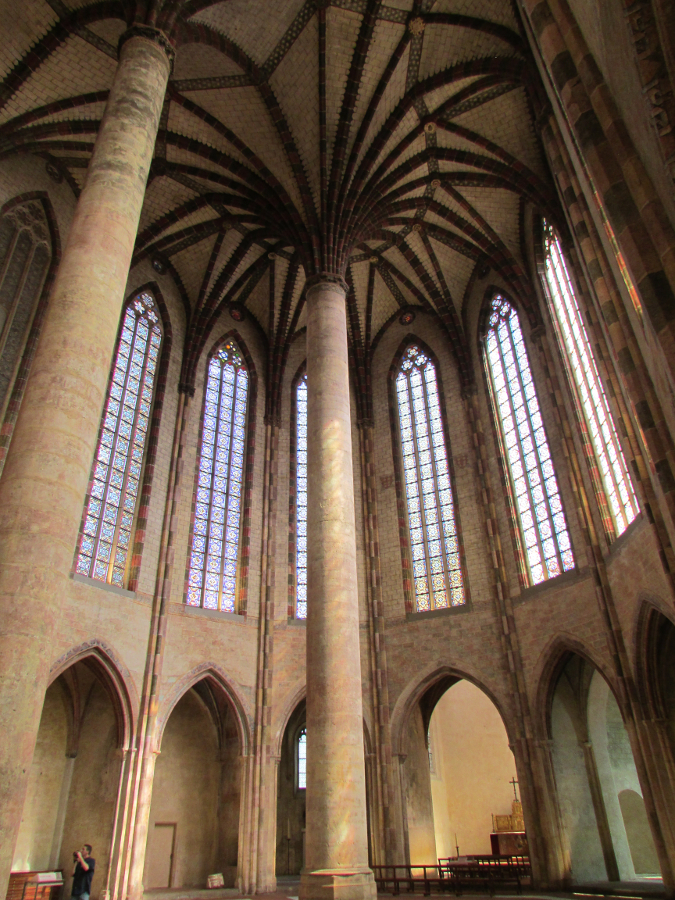 The cloister with its arches is quiet and peaceful. The bricks in a shade of pink remind us of Toulouse being described as La Ville Rose.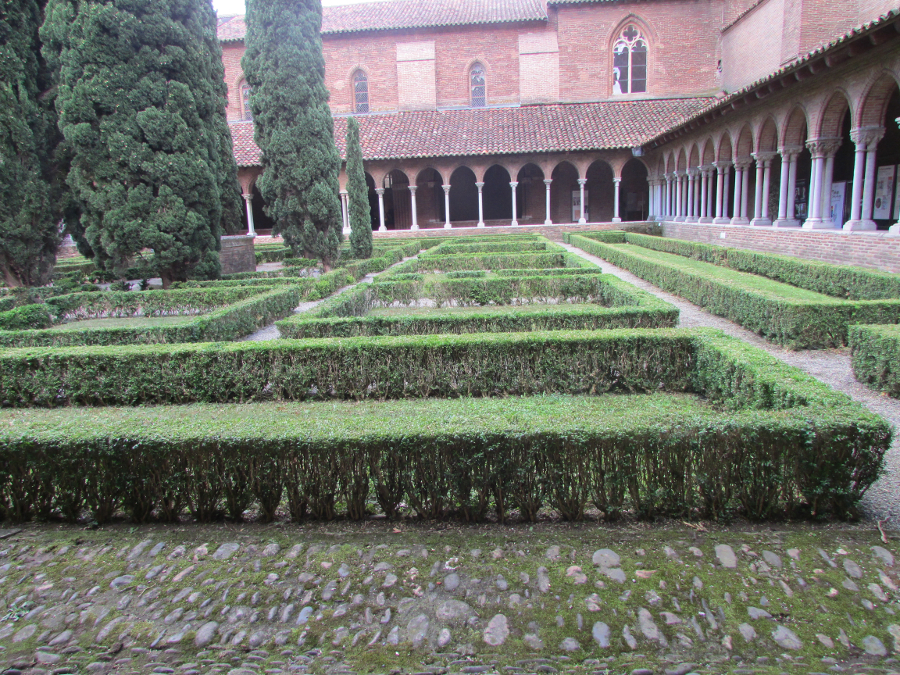 We walk through Piano Jacobins to find that there is a beautiful room with a vaulted ceiling and grand piano sitting below. Concerts are performed throughout the year. We decide to attend one tonight but there are no tickets. We are disappointed. If you are planning to travel to Toulouse information on latest performances can be found online.
Lunch at Perlette, a tea house, is quaint and has a range of French cakes and pastries; making it difficult for us to decide on what delicacies to enjoy.
We have seen a lot of blue throughout the city of Toulouse. We visit a shop that sells only blue objects: La Fleuree de Pastel – one of the most interesting things to see in Toulouse. Pastel is a plant that produces this unique blue colour dye.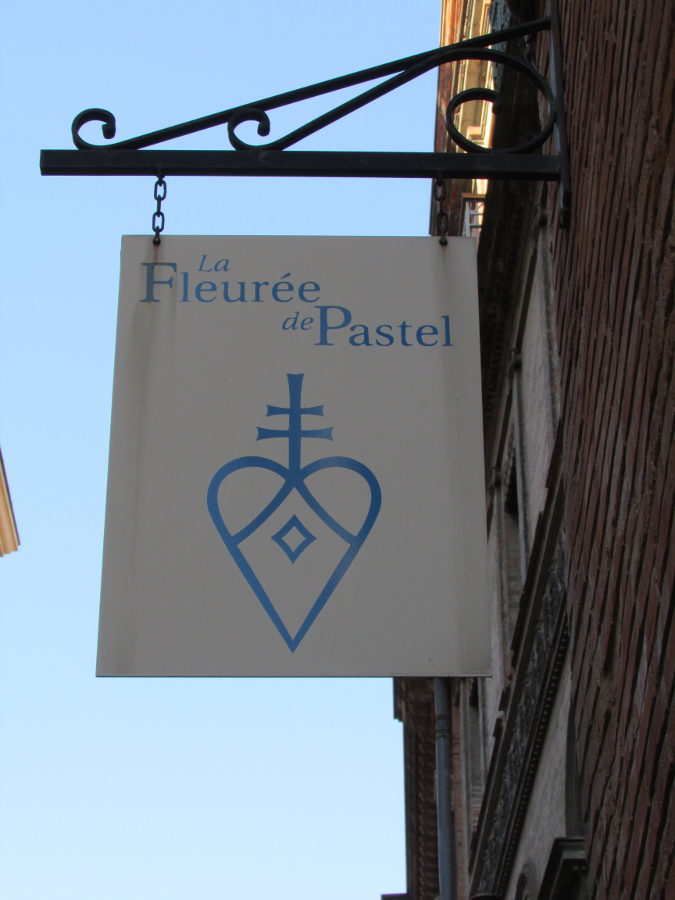 The owners of the shop take us through to the back of the shop that is enclosed on three sides with five stories and a stone spiral staircase leading to the top. This is where the blue fabric, famous in Toulouse, was made in the 12th century.
We buy a bag for bread, I buy a blue scarf and Stan a blue T-shirt to remind us of Toulouse.
As we wander we hear music and voices coming from nearby. We find ourselves in Saint-Cuprien Market with others; having fun, eating and drinking.
We return to La Place du Capitole for dinner and to view this picturesque square at night.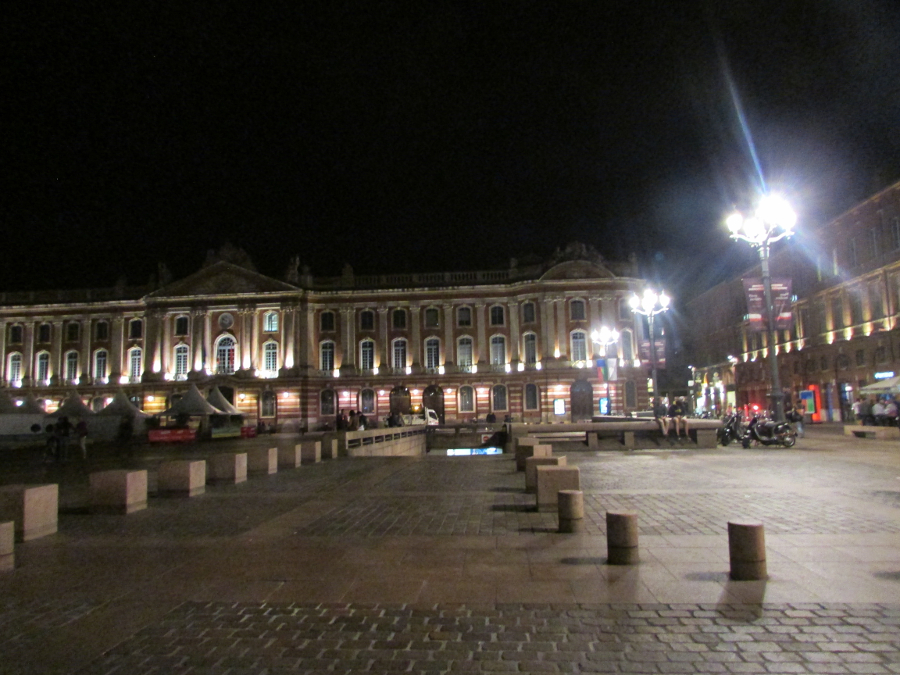 I would love to return to Toulouse and rather than taking a train from this city we would take a boat along Canal du Mil which links the River Garonne to the Mediterranean Sea. Views of boats travelling along the Canal are enticing; travelling slowly, the sun shining and a blue sky. How lovely!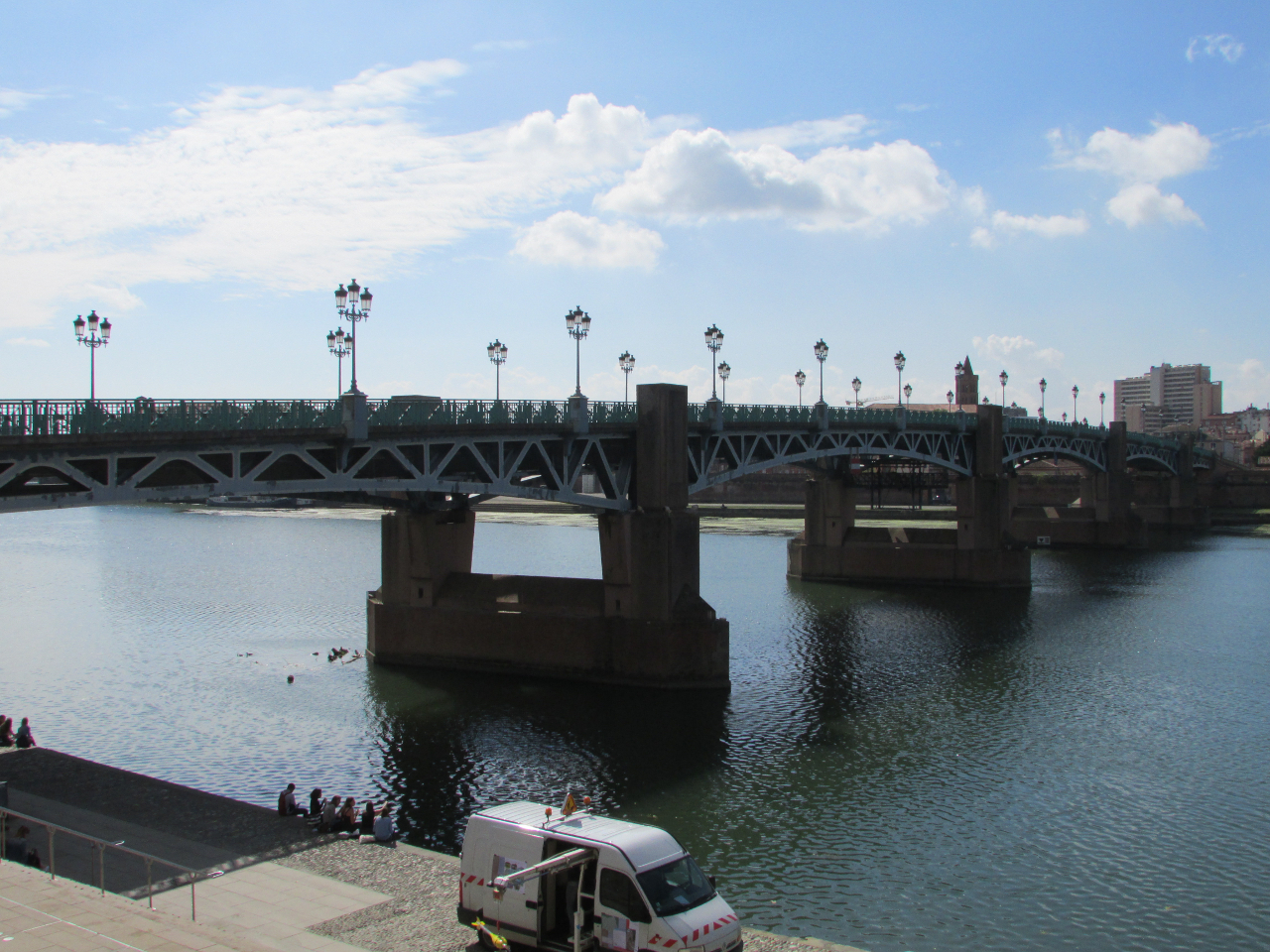 About the author
Cathy is a Melbourne based travel blogger at Cathy Travelling. She has travelled extensively in Europe, Canada, USA and recently Thailand. Cathy and her partner Stan don't do tours but prefer planning travel experiences with a high level plan in place, organising the detail as they go. They always incorporate a road trip. Toulouse is part of their travel itinerary through Spain, Portugal and Southern France. Follow her travels on Pinterest and Facebook as well.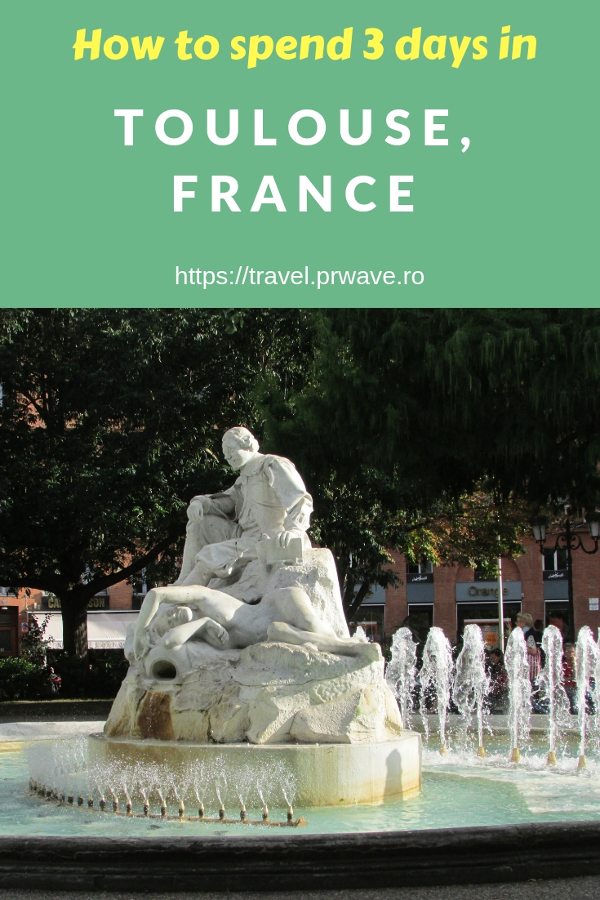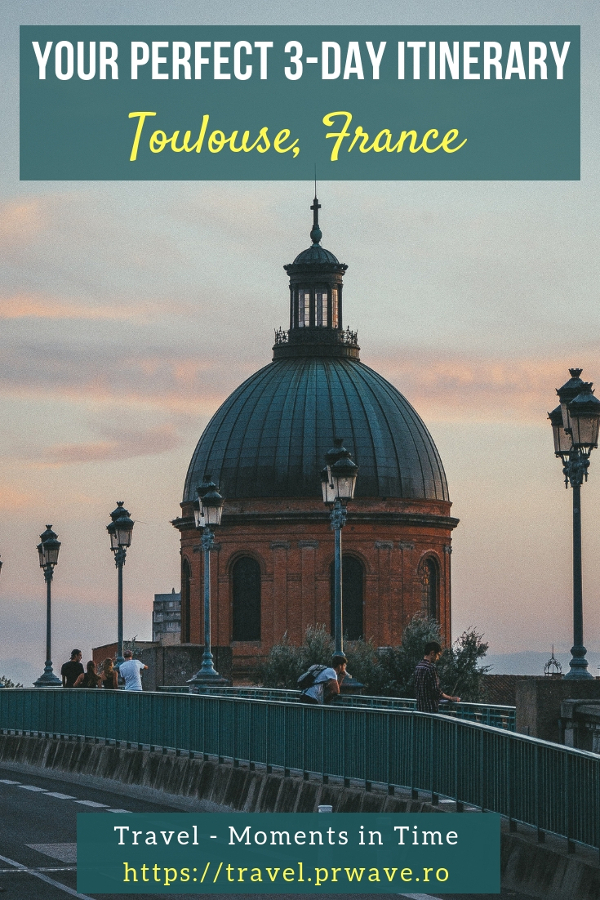 pin 3 uses a photo from Unsplash