3 days in Granada, Spain: discover what to do in Granada on an unforgettable trip
disclaimer: this article contains affiliate links which means we may earn a commission (at no additional cost to you) if you purchase something. Read more about our policy on your Terms and conditions page.
Granada is a famous Spanish city and if you visit Spain you should stop here for a while. It's my pleasure to present you a 3-day itinerary for Granada by Marcelle from Grey World Nomads with her best tips. If you only have 3 days in Granada, Spain this itinerary will help you discover what to do in Granada to have an unforgettable trip and to discover the best attractions in Granada. Use this guide if you plan a short trip or are visiting this city for the first time.
Included in this 3-day itinerary for Granada:
Day 1 in Granada

Discover the Moorish Old Town of Albaicin
Enjoy a Tea in a Moroccan Tea Room
Take a Sunset Picture of Alhambra

Day 2 in Granada

Discover Alhambra
Enjoy tranquil Carmen de los Mártires
Take a break at Hotel Alhambra Palace
Go for a Tapas Tour
Enjoy a Flamenco Performance

Day 3 in Granada

Cathedral
Souvenir Shopping Downtown
Alcaicería, the Old Silk Market
Arab Bath Saved By Catholic Monarchs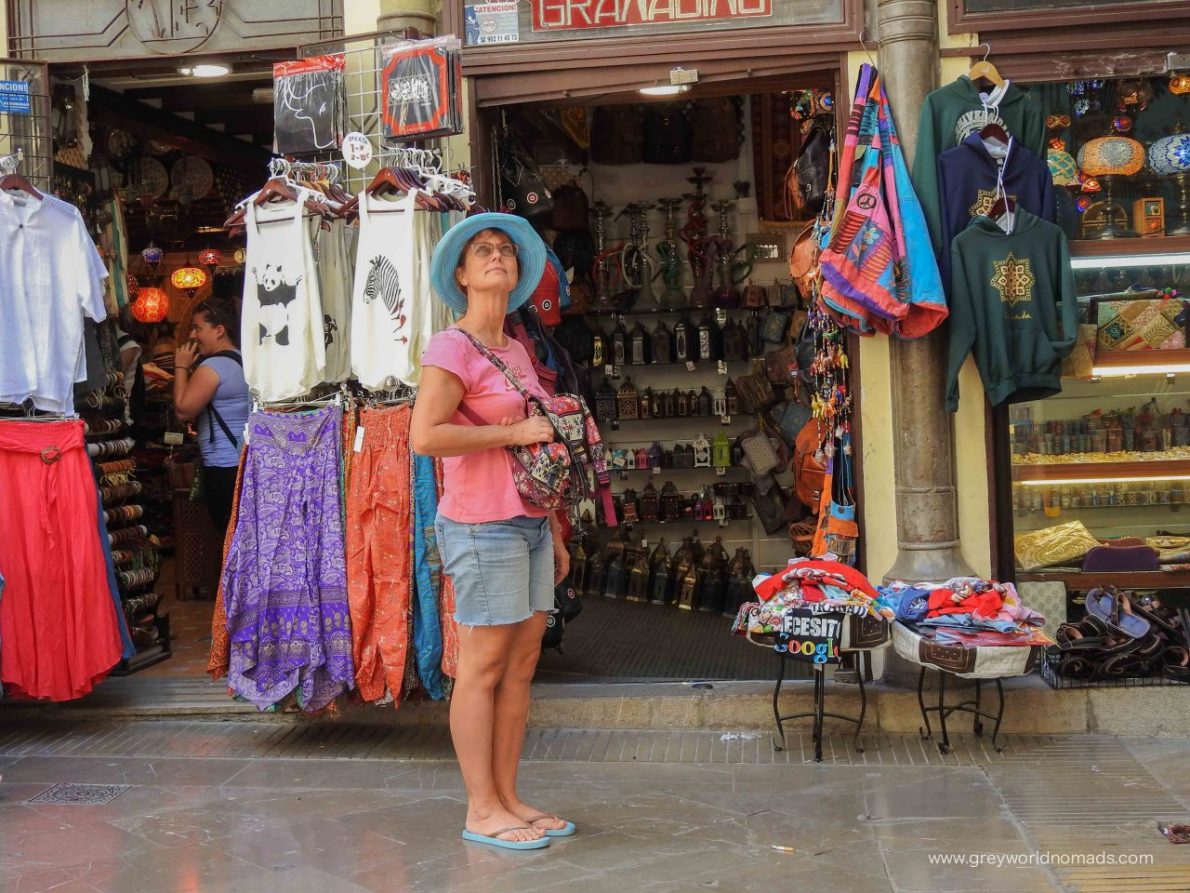 3 days in Granada, Spain: discover what to do in Granada on an unforgettable trip
Granada is a beautiful Spanish city, surrounded by the snow-capped peaks of the Sierra Nevada. The medieval architecture from the time when the Moors occupied Andalusia amazes and fascinates people to this day. Especially the fortress and royal palaces of Alhambra from the Nasrid dynasty are the reason why two Million tourists visit this most popular place every year.
We hadn't been in Granada before but my daughter had studied at the University Granada for half a year. She'd given us a ton of information about where to stay, best places to visit, tapas bars and restaurants, which made us look forward to visiting this historical place. We enjoyed Granada but we'd do a few things better on a future visit. From hers and our experiences, we clanked together our favorite three days itinerary for Granada.
Day 1 in Granada
Discover the Moorish Old Town of Albaicin
Most likely you will arrive in Granada in the afternoon, which allows you to check in to your guesthouse, refresh yourself and offload your luggage. Try to find accommodation in Granada beforehand in the most beautiful Moorish part of Granada, the Albaicin or close-by. Most of this quaint neighborhood is a car-free zone, where cobblestone alleys lead up the hill between picturesque townhouses which makes it one of the top attractions in Granada.
To get to Albaicin (or Albayzín) you can take the bus (line C1) or the Hop-on/Hop-off bus (Granada City Tour) to the upper Albaicin. Get off at Plazeta Abad to access the main squares: Plaza Larga and Plaza San Miguel Bajo with its bars, restaurants and shops. From the Plaza San Miguel Bajo you can either take the bus (C1 or City Tour) to the city or stroll down one of the many alleys. You can't get lost, because all the alleys lead down to the city center.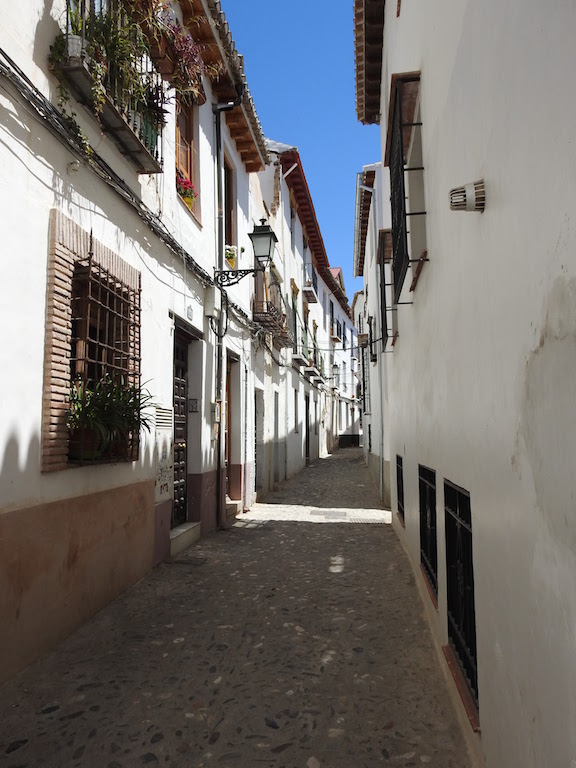 Enjoy a Tea in a Moroccan Tea Room
The two streets Caldería Vieja and Caldería Nueva in the lower part of the Albayzin (today reserved for pedestrians and the main entrance to the Albayzín) are firmly in Moroccan hands and one of the best things to see in Granada.
In the 90s, Moroccans settled in this part of the Albayzín and opened souvenir shops. Little by little, some teashops were added. If a Spaniard gave up his shop, it was taken over by a Moroccan. Only two shops are still in Spanish hands. Meanwhile, the two streets resemble a colorful Arab souk.
In addition to Moroccan arts and crafts, there are fabrics from India, aromatic teas in all flavors, incense and delicious pastries in two shops. Visit one of the popular tearooms where many students meet for a cup of tea or smoke a Shisha (Arabic water pipe) together.
Take a Sunset Picture of Alhambra
Albaicin offers the best view of Alhambra from Mirador de San Nicolás because it lies opposite but on the same level on a twin hilltop. Take some breathtaking pictures of Alhambra in the evening light, and choose one of the many great restaurants with typical Andalusian food for your first dinner in Granada.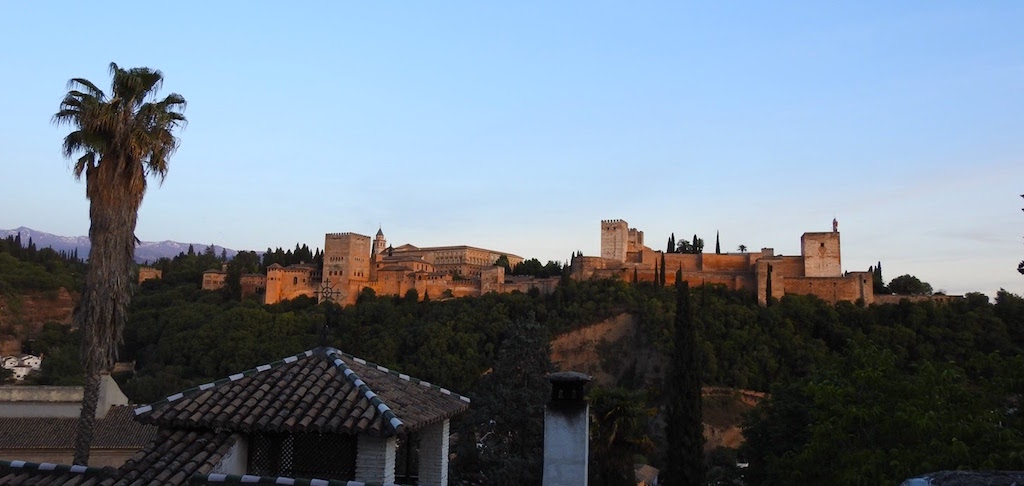 Day 2 in Granada
Discover Alhambra
Alhambra is strategically well positioned on a hilltop that overlooks Granada with its surrounding olive groves. The well-preserved ancient buildings from the 11th and 13th Century enhance quiet courtyards and orchards full of flowers. The Moors channeled water ingeniously through the gardens of Generalife, to make this a fertile place of tranquility and peace.
Book your ticket for Alhambra online and several months in advance. Especially in the summer months, you should be there with your tickets at the entrance well in advance of your reserved time. You don't want to be queuing in the blazing sun between hoards of tourists. Also, you will easily need four to five hours to visit the palaces and the gardens of Generalife. You can book guided tours or choose an audio tour in your language.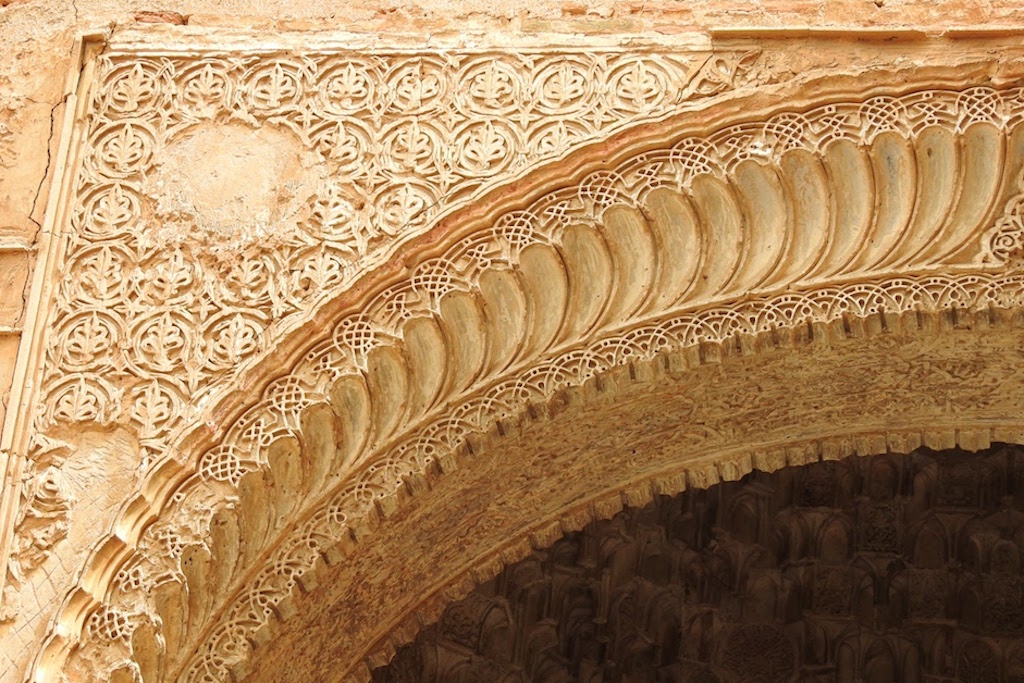 Enjoy tranquil Carmen de los Mártires
Also located on the hill of the Alhambra you'll find the Carmen de los Mártires, made up of a palace (not open to the public). Various parks invite visitors to relax from the stress of everyday life and offer a wonderful view of the city. In an adjacent garden grow aromatic herbs such as rosemary, thyme, sage, and lavender. Ducks and black swans cavort on the pond lined with trees. A tranquil and pleasant place to wind down.
Take a break at Hotel Alhambra Palace
If you don't have the money to stay in the luxury Hotel Alhambra Palace only a ten-minute walk from Alhambra, you may fancy a cup of coffee at the terrace of the hotel with unique views to the Realejo and the Vega of Granada.
With invaluable impressions after your Alhambra visit, you'll be happy to have a siesta like the locals do, to be able to tackle the evening with fresh power.
Go for a Tapas Tour
The tapas culture in Granada is unique. Here it is still the custom to give a tapa for free with every glass of beer or wine. Take a tapas tour, either on your own or as a guided tour. Go to two, three or more different tapas bars, drink something and eat tapas with it. A very entertaining and varied way to have dinner.
Enjoy a Flamenco Performance
Still wondering what to see in Granada? Zambra, a flamenco festival of song and dance dating back to the Moorish times was born in Sacromonte, the gypsy quarter of Granada, and has a great significance in the history of flamenco. Daily at 10 o'clock in the evening, you can see performances of top Flamenco artists for example at the Zambra María La Canastera Flamenco cave.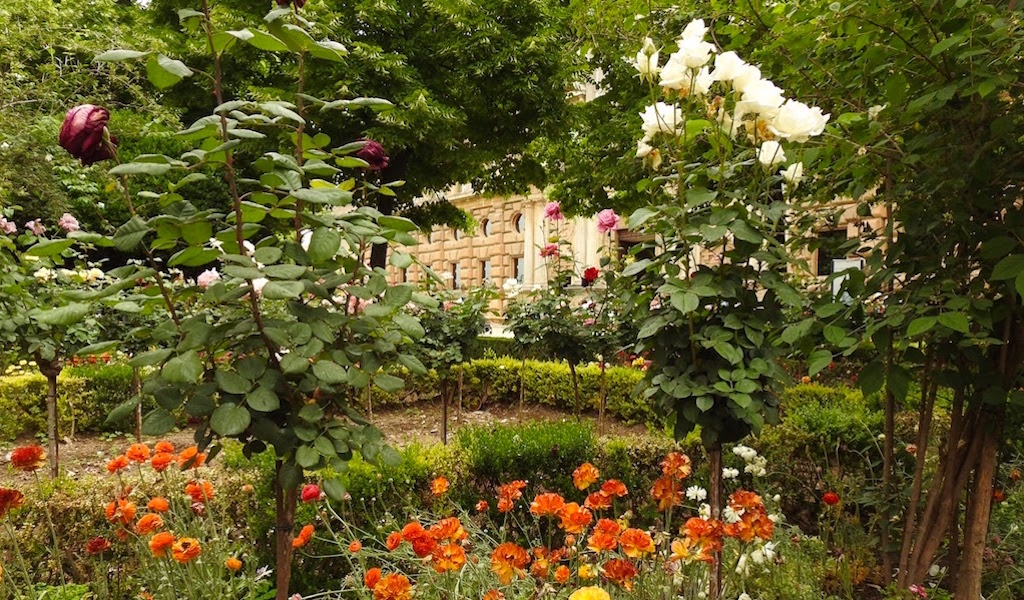 Day 3 in Granada
Cathedral
The Cathedral – one of the best things to see in Granada – is a masterpiece of the Spanish Renaissance and has an amazing interior with an enormous altar and a handful of intricate chapels. The Royal Chapel is located between the Cathedral, the Fish Market and the Church of Sagrario. This historic chapel is an important landmark as it is the resting place of the Catholic Monarchs.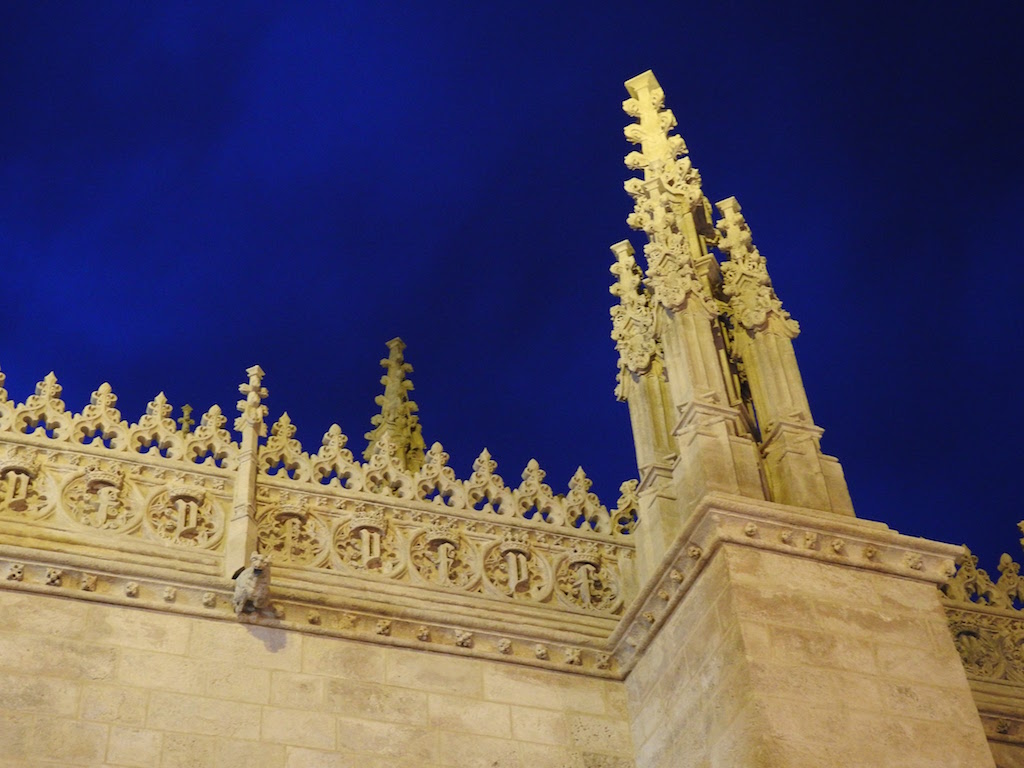 Souvenir Shopping Downtown
From the cathedral, you can reach the city center in a few minutes. Here you will not only find beautiful winding alleys, but also numerous shops with souvenirs, spices and everything that makes up the city. Colorful lamps, shishas, plates and bowls with pretty mosaic patterns and much more. If you still need a few souvenirs, you are guaranteed to find them here. Especially the great spice shops are unique.
Alcaicería, the Old Silk Market
On your 3 days in Granada you should also visit Alcaicería of Granada, the old silk market and one of the Granada points of interest. It was a protected market during the Moorish period, where silk and other precious products were traded. In the night it was guarded and locked. Today it is a souvenir market where, in addition to typical gifts, you can also find traditional ceramics and handicrafts from Granada and the Alpujarra.
The market is located above the Plaza Bib Rambla, where you will find many cafés and restaurants as well as traditional flower stands.
Arab Bath Saved By Catholic Monarchs
The Bañuelo is also centrally located and is home to a fascinating and perfectly preserved Arab bath. This is one of the only public baths saved by the Catholic Monarchs and one of the most important Spanish landmarks. Inside you will find impressive brick chambers and a unique star-shaped window in the roof.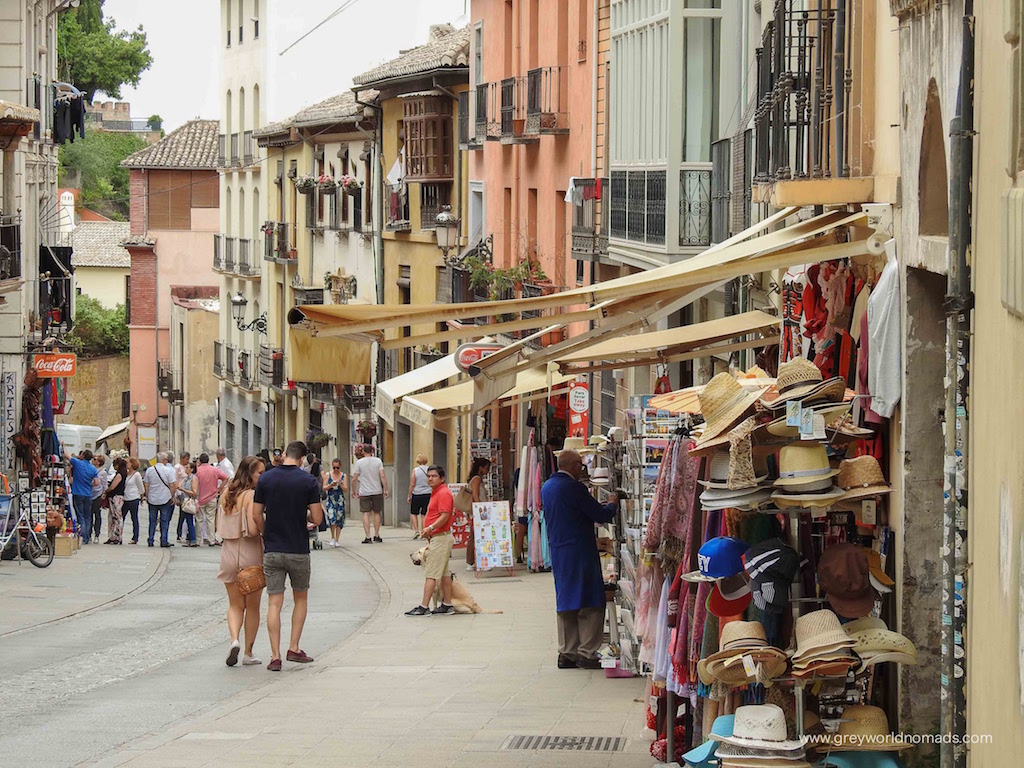 Conclusion
Mainly Alhambra attracts tourists to Granada. But if you take some time, there is much more to see. Romantic parks and gardens, colorful markets, the best tapas bars and historical architecture, such as the cathedral and the Capilla Real.
If you stay longer in Granada, you should definitely make an excursion to the Alpujarra (south side of the Sierra Nevada), for example via Lanjarón and Órgiva up to Bubión and Capileira. But if you only have three days in Granada, include the recommendations above to see as much as possible and to discover the city's spirit and history.
About the Author
Marcelle retired early at 45 to leave her interim management business in Switzerland for a life on the road. She went to South Africa where she met George who joined in with further travels to the Americas and Europe. After six years of a nomadic life, they built their home base in Burgundy France, from where Marcelle writes and tweets about the wild life of Grey World Nomads and their experiences as expats.