Travel and health 1: Lose weight traveling to high altitudes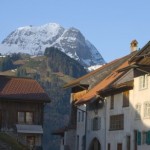 I had fun a while ago reading Andi's article "10 reasons why travel is a waste of time" and I realized that beyond a trip, fun, relaxation and all the benefits of a vacation and so on there are health problems that can be solved or at least improved by traveling. In fact, traveling to the right place! So I decided to start a small series on health issues and places to go in order to improve your health. Today an advice on how to lose weight traveling.
Perhaps you'll think it's all about walking. It's not!
In fact it's all about the air. That's right. The air.
How come? Well… it seems that the appetite decreases. Also at high altitudes blood circulation intensifies.
The idea is that the fact that people lose weigh when traveling at high altitudes has been proved by a German study (you can see all the conclusions here).