Top 25 Free Easter Greetings Sites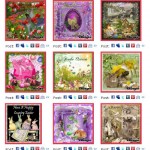 Easter is a special Christian holiday usually spent in family. There are special products – Easter eggs, Easter "Pasca" – sort of a cheese cake –, Easter candy and there is an Easter Parade in New York and the Easter bunny tradition in some parts. But when on the road – or far away for some friends and family, unable to wish them in person a "Happy Easter", beside sending an SMS, Easter ecards or Easter greetings come in handy 😉 Here are some top free Easter greetings sites that will enable you to send your loved ones your best wishes for this holiday.
A special mention fost Easter-egreetings.com, a website dedicated to Easter ecards 🙂
What other sites do you use to send Easter cards to your friends and family?