Top 25 Free Easter Greetings Sites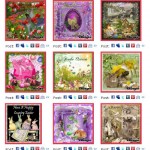 Easter is a special Christian holiday usually spent in family. There are special products – Easter eggs, Easter "Pasca" – sort of a cheese cake –, Easter candy and there is an Easter Parade in New York and the Easter bunny tradition in some parts. But when on the road – or far away for some friends and family, unable to wish them in person a "Happy Easter", beside sending an SMS, Easter ecards or Easter greetings come in handy 😉 Here are some top free Easter greetings sites that will enable you to send your loved ones your best wishes for this holiday.
Blingee – really good looking Easter ecards in several languages (German, English, Italian, Russian, etc.)
123 greetings – perhaps the most known website for greeting cards, various religious Easter greetings
Care2.com ecards – animated and static funny and religious Easter ecards
egreetings – they have traditional, religious and funny Easter
Hallmark ecards – Hallmarkcards provide some free ecards for Easter
dgreetings.com – a vast selection of Easter greetings and e-cards
Got Free Ecards – some free animated e-cards
Kisseo – has several animated Easter cards
Greet2k – free online animated and simple Easter greeting cards
Smilebox – an app allowing you to send personalized Easter cards
Easter greetings – Easter wishes and messages for those who need inspiration
The Holiday Spot offers funny, bunny, religious and wishes Easter cards
A light house – provides Palm Sunday, Lent, Good Friday and Easter greetings
Someecards – ecards in the Someecards.com style – rather funny, ironic
ecardica.com – several Easter ecards, both relious and funny greetings
RiverSongs provides some animated Easter ecards
Crosscards.com offers several Easter greetings
Regards.com also provides some free animated ecards
GreetingsIsland – some simple, but good looking Easter ecards
Funny ecards – has 12 funny Easter animated greetings prepared (right now)
365greetings – various simple and flash Easter cards
Ratlebox – some funny video-ecards
ICQ – several Easter greetings
All4love – Easter cards for your loved one
Hipster cards – like the name suggest, free hipster Easter cards
A special mention fost Easter-egreetings.com, a website dedicated to Easter ecards 🙂
What other sites do you use to send Easter cards to your friends and family?