If you have a list of places to be visited, it definitely should include Maldives. And if you've already visited Maldives, surely you'd be craving to go there again! Maldives is a heavenly place for every travel lover, adventure seeker, food maniac and the like. The gorgeous islands are simply breath taking and mesmerizing. There is so much to do and see in here that one vacation never suffices. But there are few things that you shouldn't miss when you are holidaying at Maldives, so to find out Read On!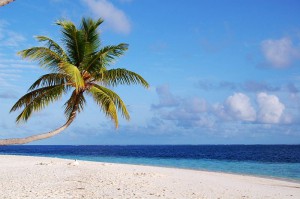 Photo by KingKurt22 on Wikipedia
1. Scuba Diving – This one's for scuba lovers. But if you haven't gone scuba diving yet, the best place to start is Maldives. With crystal clear water and luscious underwater world, it is one of the best places to dive alongside gorgeous sea turtles, sharks and rays. With more than thousand species of fish and underwater creatures, the Maldivian waters offer you immense beauty accompanied by beautiful coral reefs. The best part about diving here is you need not be a pro; even a first timer can experience the bedazzling under waters.
2. Pamper Yourself – You're at a vacation so this is the better time to relax and unwind. The best way to do so in Maldives is to choose Oceanside couples massages. Nothing better than getting a great quality massage alongside sheer beauty of the ocean. Listen to the gentle waves of the Indian Ocean and looking at gorgeous fishes swimming from the glass floor underneath your massage table. This would be an absolute blissful extravaganza for the body and the mind.
3. Counting Stars – Instead of counting Dollars, how about counting stars on a gorgeous night sky? Sound mesmerizing, right? You won't find such clear skies or unoccupied and zero light pollution place in your home city, so might as well most of it. Lie down on the beautiful white sands and gaze at the magnificent stars. In our fast paced life, we won't ever get such a chance to stop and stare, but if you are in Maldives do not miss this.
4. Book a Villa – Maldives consists of Villas or Bungalows which are mostly over the water. These villas are just splendidly fascinating. You get a private boat for accessing the nearby areas. What is better than waking up to the picturesque view of the Indian Ocean? LUX* Maldives resort offers 193 villas with panoramic view of not only the beaches but also the lagoons. You can reserve these in advance and make sure that you get the one with the best view.
The "sine qua non" of it all is that Maldives is an experience not to be missed because this vacation will stay with you for the rest of your life. If you have budget constraints, look for an inclusive package which covers attractions and offers a good deal on hotel or resorts. With a little bit of research, you will surely find special travel discounts or holiday packages which render quite cheap. Maldives is a rare beauty which can be best experienced with the naked eye. So no matter how many high resolution photos you see, it will be nothing compared to what you will experience by yourself!