Louvre Visitors to Receive Nintendo 3DS Audio Guide, Hundreds Featuring a Tracking Device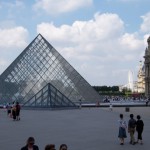 Louvre Museum makes an interesting choice as it replaces current audio devices with Nintendo 3DS. These new audio guides offer a vast collection of information and many interesting spots to visit, interviews etc. and also feature a tracking device stopping visitors from getting lost in this famous art museum.
Many visitors of the museum say they felt disoriented when visiting Louvre. It is an impressive museum and one could easily get lost. And if someone doesn't get lost, he or she might miss on some of the great and interesting exhibits. The idea of a rather comprehensive audio guide that in fact goes beyond simply audio by providing also images is a very good one.
The full price for such a Nintendo 3DS Audio Guide is € 5, and the reduced one is € 3. An interesting use for these gaming consoles.
The Louvre's new Audio Guide offers over 35 hours of audio content. In lively and informal on-the-spot interviews, the museum's curators and lecturers share their expert knowledge of the Louvre and its artworks.
Also, this guide features over 700 descriptions of the Louvre's galleries and artworks, a new interactive map on the dual screen of the DS helping visitors constantly know where they are, 3D photos of the galleries, high-definition images of the artworks and 3D reconstructions.
Sounds like a truly complete guide to the museum and I am sure it will be appreciated by museum's visitors as the price for this guide isn't high. This idea goes to show that sometimes technology can be used in the advantage of travel (I've showed you here when technology has a huge negative impact on nature).
The Louvre-Nintendo 3DS Audio Guide was created with the support of Nintendo and sponsored by Korean Air.