Ice Festival: Harbin, China, 2010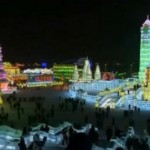 Winter equals snow, cold and ice. In China, in Harbin, each year there is an Ice Festival visited by people from all over the world.
In this time of year – January – Harbin becomes an international travel destination, attracting everyone with a spectacular ice festival.
This year Ice Festival (the 26th edition) has started on Tuesday in northern China. All buildings are made of ice – and the visitors will see this year at Harbin towering pagodas, some fairy tale palaces, and an Egyptian Sphynx.
"The Festival, established in 1985, is held annually from January 5 and lasts for over one month. Harbin is the capital city of Heilongjiang Province and this is China's original and greatest ice artwork festival, attracting hundreds of thousands of local people and visitors from all over the world.
The city's location in northeast China accounts for its arctic climate which provides abundant natural ice and snow. Subsequently, the 'Ice City' of Harbin is recognized as the cradle of ice and snow art in China and is famous for its exquisite and artistic ice and snow sculptures. The fabulous Ice Lantern Festival was the forerunner of the current festival and is still the best loved part of the overall event in the opinion of all who come to Harbin each year." (source)
This is a video from this year's Harbin Ice Festival:
I've never been to such a festival – but seeing this video and all the news on TV makes me wanna take a trip to Harbin.