Sheikh Zayed Grand Mosque – Abu Dhabi – a mosque unique in the world
The largest mosque in the United Arab Emirates (UAE) and one of the main attractions in Abu Dhabi (for this mosque is open to public).
Sheikh Zayed Grand Mosque is a beautiful monument. "The 22,412 square metre Mosque site is equivalent to around the size of five football fields, and can accommodate 40,960 worshippers – 7,126 in the main prayer hall; 1,960 in the open prayer hall; 980 female worshippers in the open prayer hall female section; 22, 729 in the open Sahan (courtyard); 682 in the main prayer hall entrance and 784 in the mosque's main hall entrance."
Also, "The main prayer hall features the world's largest chandelier under the main dome – being 10 metres in diameter, 15 metres in height and weighing over nine tonnes." (source)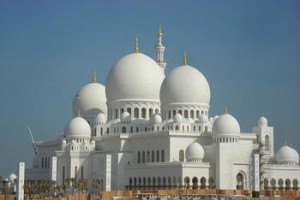 Sheikh Zayed Grand Mosque is an impressive structure (covers an area of over 22 000 m2, 33 000 tons of steel were used, 120.000 m3 of concrete, 7000 foundation piles), a great experience in Abu Dhabi.
And how words are not enough, here are 2 videos (first is short, the other one is longer) on this monument.