Vacations Are Good for Families, Survey Finds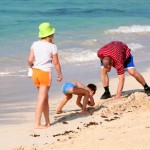 Vacations are moments of relaxation spent with loved ones. They seem to also help families bond, as a survey quoted by Fox News shows.
Even if at first – and for many – vacationing with kids appear to be trouble and require a great deal of careful planning, going on vacations with kids is in fact good for families. The poll was conducted for Disney by Kelton research firm. 97% of the 1,000 parents with kids age 5-17 who were questioned in this survey said that kids learned new stuff while on vacation.
71% of the respondents said that they want more time to spend with their kids and 96% of the parents mentioned giving up different elements (sleep, a hobby, coffee) for a year to spend one extra hour with their kids.
I believe in spending quality time with kids. Doing something the kid enjoys, spending at least a couple of hours daily would definitely lead to more solid relations and create emotional bonds. My husband and I, we take our kid – even our dog – and take short trips each weekend, or go somewhere where we can all enjoy some hours away from computers, TV, enjoying nature and have a great time. It is, perhaps, a little bit harder with a kid on a vacation, but it definitely worth the while!
Also, I don't think anyone can argue that a kid learns something – if parents explain – during trips and vacations. They learn about specific flora or fauna in an area, about seasons, a specific area, a city, etc. Visits to museums also help kids learn – and there many other things families can do while on vacation that will assure everyone has a great time, and that kids find out something new.
photo source