Protect Your Goods: Travel Underwear with Waterproof Pockets
You might remember Nigel – he recently shared here his unforgettable travel memory. Well, he contacted me and he gave me an interesting link (OK, more links :P) and I think the information could prove to be useful for many people as it is actually quite special: travel underwear with waterproof pockets!
Before I tell you more about this underwear, I have to say that I liked their launch campaign too. They have some descriptive images, but also something funny 😀 (click to see the photo in full size.)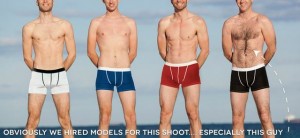 In fact, the whole concept is presented in a funny and interesting video:
This adventure underwear is made from 100% Australian, Woolmark Certified, Superfine Merino Wool which is lightweight, comfortable, quick drying and doesn't hold odours. Far superior to cotton or polyester, it keeps you warm in cold weather, and cool in hot climates.
That's something to pay attention to, I'd say. Moreover, their "4.5"x6" waterproof pockets are certified waterproof up to 600m/200ft deep by Scuba Schools International. The patented waterproof pockets are made in the USA from new age polyethylene so there are absolutely no BPA's or harmful chemicals added. The pockets are 100% recyclable and rated food safe by the FDA and NSF."
For now, the underwear is men's only, but Nigel and Franklin say they will make women's underwear too.
I must admit that I think this is a good idea and that, if we want to be funny, we could add that it will be quite a challenge: how big will the pockets be to allow women to put there everything they take with them?
Ok, the joke is just that, a joke, as indeed no one wants to loose something – money, phone, etc. – while on the beach or swimming/snowboarding etc. So Nigel's idea is quite useful and I am sure their project will be a success!
They target their underwear towards backpackers and travelers as "The Death of Money Belts", and I think this is a great niche and many will be interested as the prices are also accessible.
They actually sent me a price comparison that looks like this:
1x Money belt $15 USD
1x Pair Merino Wool Underwear $50 USD (minimum)
1x Waterproof bag $10 USD
Total: $75 USD
They also provide free shipping in the USA, Canada & Australia.
So, for more details go on kickstarter.com (link included at the beginning of the article) and read more and buy this underwear if you think it would be useful to you!