See Africa's finest flora and fauna in Namibia
Guest post by Ela Krawczykowska
Namibia, located in the south of Africa, is a huge country to travel. Except of rich culture, it has remarkable natural attractions, such as the popular Namib desert, and many parks and beautiful places. The people of Namibia speak nine different languages, but English is widely spoken, especially in the capital Windhoek, which will be your first destination whether you like it or not (the largest international airport is there).
Namibia's capital is also the largest city in the country. Most travellers start their trip there, seeing the most popular tourist destinations including the home of the National Assembly, the National Gallery of Namibia and the Christuskirche. Be sure that you check whether you can enter Namibia without a visa – British and American citizens shouldn't worry, but most Europeans should check before travelling. Also, remember to carry identification with you at all times, as you might be stopped and asked for it on the streets in Namibia.
When you leave Windhoek to travel further, you can be sure to see examples of the finest fauna and flora on the continent. In the northern parts of the country there are rare deserts with elephants. It's amazing to see those things not only on TV! The country is generally peaceful, but be aware of pickpockets. If you're looking for nice accommodation in Namibia's best hotels, there are usually many special offers all year round.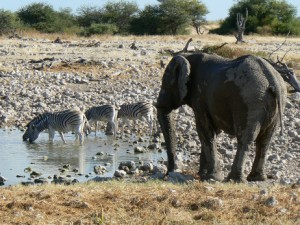 And one more thing – food! Namibians eat a lot of meat, but as a vegan I was happy to find out that Namibia offers tasty fruits and veggies. Tropical fruits are very juicy and veggies are usually served with couscous or rice. Local cuisine is definitely worth trying, but if you don't like it, you can be sure to find many restaurants with international cuisine in the cafes and restaurants, especially in Windhoek. For more information about Namibia, go to mydestination.com/namibia.
About Ela
Ela is a London-based freelance journalist from Poland. She loves learning languages, travelling, music and exploring different cultures