Canadian Tulip Festival – Ottawa, Canada
I was looking today through the amazing photos from Canada I have from our friend, Dan Mitea. Maybe because it's autumn and we don't have many flowers in parks (though it's great to see the colors of this amazing season), I looked with a bit of melancholy at the photos from the Canadian Tulip Festival – Ottawa, Canada.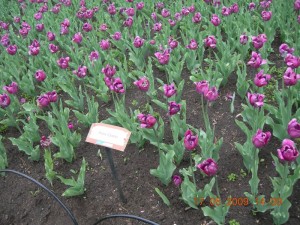 This festival is held annually in May in Ottawa (discover here a 2-day itinerary for Ottawa) and Gatineau, Canada. The Canadian Tulip Festival claims to be the world's largest tulip festival, displaying over one million tulips. The number of visitors reaches over 500,000 each year. Large displays of tulips are planted throughout the city, and the largest display of tulips is found in Commissioners Park on the shores of Dow's Lake, and along the Rideau Canal with 300,000 tulips planted there alone.
In 2011 the festival will take place between May 6 to May 23rd. It is its 59th edition and the theme is: "Kaleidoscope – a celebration of spring awakening through colour, culture and community".
There's also a very interesting history behind this large event. The festival "preserves the local heritage of Canada's role in freeing the Netherlands during World War II, and the symbolic tulip, a gift in perpetuity to the Canadian people for providing a safe harbour to the Dutch Royal Family at that time. In the fall of 1945, Princess Juliana of the Netherlands presented Ottawa with 100,000 tulip bulbs. The gift was given in appreciation of the safe haven that members of Holland's exiled royal family received during the World War II in Ottawa and in recognition of the role the Canadian troops played in the liberation of the Netherlands.
The tulips have become an important symbol of international friendship and spring, with special meaning to the people of Canada and its Capital Region." You can read the development of this great story on the official site.
But words are still only words, and photos say so much more. Here are some pictures from the 2009 edition. You'll notice the diversity of the tulips, including black tulips, and please notice as well that the festival offers complete conditions: places to grab a bite or buy something sweet, places to buy something to drink and even toilets.
Great festival, right? Have you been there? Would you like to go?