An amazing feeling: Seeing the Birds Flying BELOW us
Last Updated on
Last year a truly amazing road was open in Romania: Transalpina. We went on a day trip and had a truly great experience crossing it. It has many curves and goes as high as 2145 m, thus being the highest road in Romania.
I'll tell you more about it in a following post – but until then I wanted to share with you a truly great feeling my husband and I had.
We were staying on a plateau for a few minutes – above 2.000 meters – and just admiring the landscape as we saw a bird – an eagle I think it was – flying BELOW us. We could literally see his back! as he was letting himself carried by wind.
That moment right there was an awesome moment, an unforgettable memory!
click on the photo for full size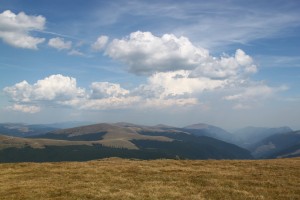 We plan to go on the Transalpina in other years too – especially since Eric was almost one year old so he couldn't really grasp the greatness of the experience and as the road is truly beautiful. As I mentioned I'll present it in a future post – with many photos. See today's post as a mere preview 😉
click on the photo for full size