15 Unusual places to visit in London that you don't want to miss
Are you planning a trip to London, UK and would like to include some unique things to do in London on your itinerary? Here are 15 unusual places to visit in London that you don't want to miss – recommended by a local: Bridget, aka The Flashpacker.
These quirky London activities will allow you to experience London in a different way and you'll see that you will have a lot of fun visiting them. All the recommendations come from Bridget, from The Flashpacker travel blog. No matter what you usually like to do in a city, you'll definitely find some unusual things to do in London you'll want to check out next time you are in the city.
Here are 5 interesting facts about the Tower Bridge in London, UK you probably didn't know.
15 Unusual places to visit in London that you don't want to miss
Let's face it. With nearly 2,000 years of history and vibrant cultural life, London isn't short of places to see and things to do. Whilst the big-ticket attractions are on the tourist trail for very good reasons, if you look beyond these, and you will find that there are many more, sometimes quirky, things to do in London.
If you need inspiration, here are 15 unusual things to do in London. From churches to cakes, temples to trains to there's something here for everyone.
1. Take a ride on London's secret underground railway
Suggest to most Londoners that a fun time could be to ride a cramped, underground train and they will think you are crazy. But this is the Mail Rail, not London Underground, and London Postal Museum's star of the show.
From 1927 until 2003, this subterranean network whizzed letters and packages from London's mainline railway stations to its six sorting offices. Today, you can take a 20-minute ride in one of its refurbished carriages whilst a virtual guide supplies anecdotes and information. Certainly not for the claustrophobic but terrific fun and one of the best unusual things to do in London.
Location: 15 – 20 Phoenix Place, London WC1X 0DA.
Cost: Adult £17; children £10 (slightly cheaper if purchased on-line). This includes entrance to the Postal Museum which I also highly recommend.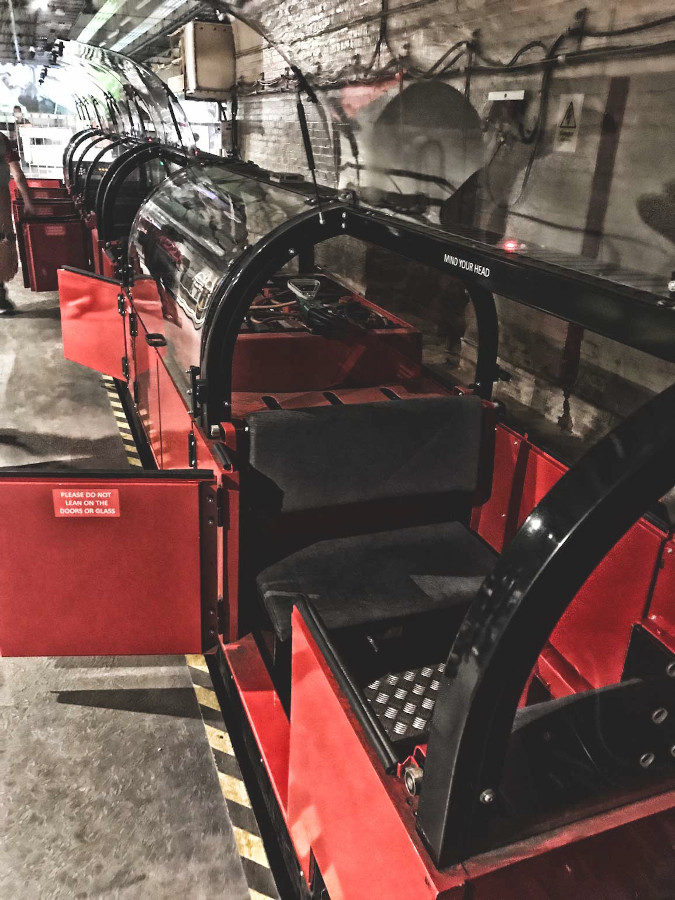 2. Meet the Horniman Museum's giant stuffed walrus
Founded by Frederick John Horniman, a Victorian tea trader, and philanthropist, South London's Horniman Museum houses a collection focusing on natural history and arts and handicrafts throughout the world.
I love the utter quirkiness of this collection, from its eternally curious stuffed owls to its bizarre merman. But the museum's scene-stealer is its giant walrus. The size of a small car, this was brought from Canada to London in the late 19th Century by the explorer James Henry Hubbard.
For art and architecture buffs, the museum building is a fine example of Arts & Crafts style. The gardens are a riot of colour and, from here, you have panoramic views of London's skyline.
Location: 100 London Road, London SE23 3PQ
Cost: Free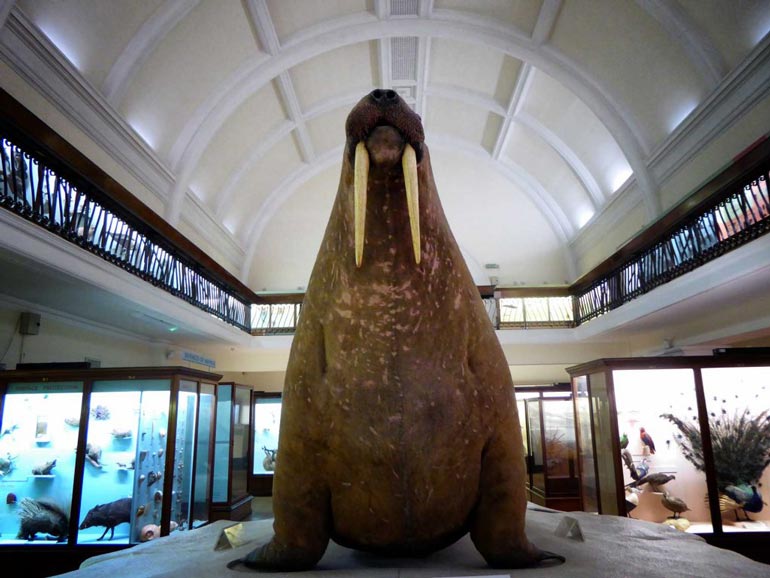 3. Visit London's Jurassic Park
Also in South London is one of the capital's most bizarre sights and one of the unique things to see in London. Dotted around Crystal Palace Park's lakes, like improbable domestic animals, are sculptures of dinosaurs.
These were the love children of the sculptor Benjamin Waterhouse Hawkins who made them with the intention of educating the masses on the emerging theory of evolution. However, this had the opposite effect and their appearance enraged Victorian society who felt that this idea was ungodly.
Location: Thicket Rd, London SE20 8DT
Cost: Free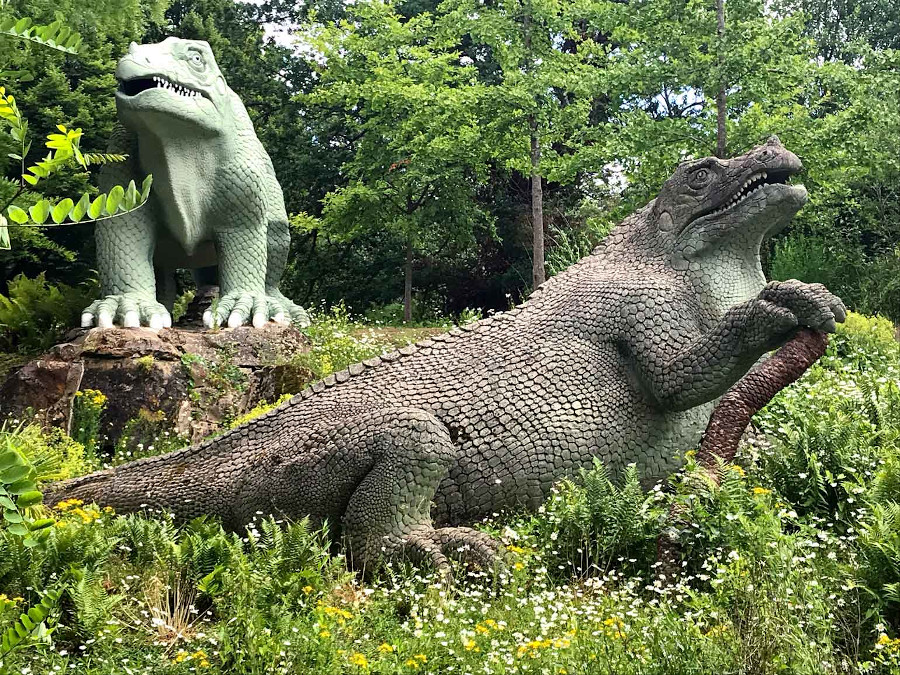 4. Step into cinematic history
The Cinema Museum is one of my favourite places in London and a must for any cinephiles out there.
Housed in a former Victorian workhouse where Charlie Chaplin once resided, this museum is a love letter to cinema-going in the early 20th Century. Sporting a Bisto-brown commissionaire's uniform from the 1940s, your guide takes you on a fascinating two-hour tour.
The Cinema Museum is a treasure trove of cinematic artefacts: projectors, arc lamps, illuminated art deco signs, velour flip-seats, and publications, including fan magazines, lobby cards, and film posters. Honouring one of London's most famous sons, there is also an impressive collection of Chaplin memorabilia.
The Cinema Museum gives you all this and a fascinating introduction to the workhouses that were very much part of London's landscape in Victorian times and beyond.
Location: The Master's House, 2 Dugard Way (off Renfrew Road), London SE11 4TH
Cost: £10. As tours are at set times based on the availability of volunteers, advance booking is essential.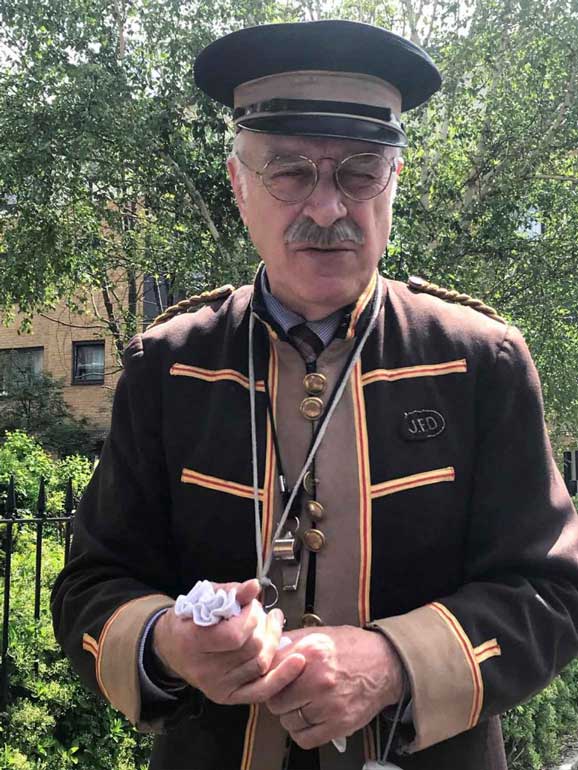 5. Journey back into childhood
Bring out your inner child by visiting Pollock's Toy Museum, one of London's hidden gems.
Tucked away in one of Fitzrovia's side streets is a pair of townhouses, seemingly lifted straight out of a Charles Dickens' novel. This houses Pollock's Toy Museum, which displays close on 2000 exhibits in its six rooms.
Walking over creaking floorboards from room to room, you'll see Edwardian board games, vintage boys' toys, glove puppets from the popular Sooty Show, dolls dressed as London Pearly Kings & Queens to name but a few. Taking pride of place are the magnificent toy theatres created by Benjamin Pollock (1856 – 1937), after whom the museum is named.
Location: 1 Scala Street, W1T 2HL.
Cost: £7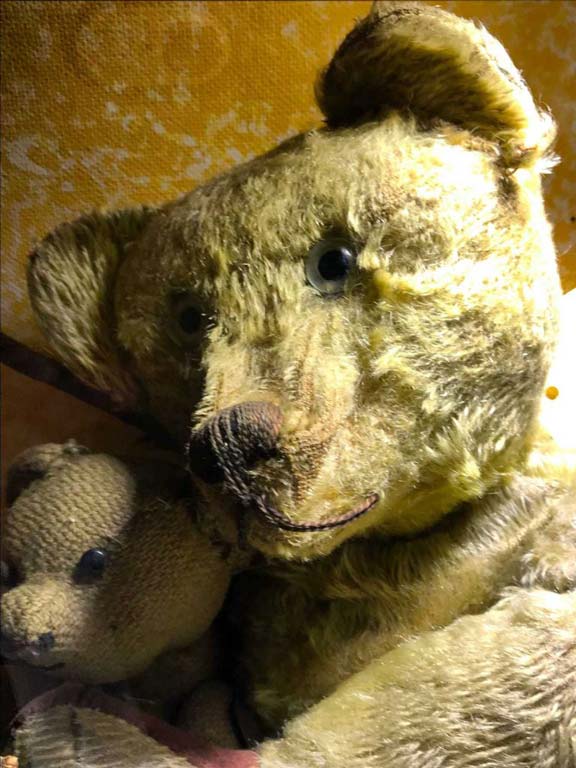 6. Meet the Magnificent Seven
This isn't another London attraction for film fans. We're not talking Yul Brenner, Steve McQueen et al but the seven Victorian cemeteries in London's suburbs. Visiting a graveyard may not appear to be an obvious tourist destination, but you'll be hard pushed to find destinations more atmospheric.
Between 1800 and 1850, London's population doubled from one million to two million, which created a problem. With London's graveyards at breaking point, what do you do with all those corpses?
The solution was to build seven enormous cemeteries on what was then the outskirts of London. These were Abney Park, Brompton, Highgate, Kensal Green, Nunhead, Tower Hamlets, and West Norwood, the so-called Magnificent Seven. These are now the last resting places of over 1.6 million Londoners who have shuffled off this mortal coil.
With their elaborate tombs, crumbling Mausoleums and watchful statues set in wild, overgrown greenery, they represent creepy Gothic splendour at its very best.
Locations: To help you, here's an interactive map of London's Magnificent Seven cemeteries.
Cost: Some are free to visit but varies between cemeteries.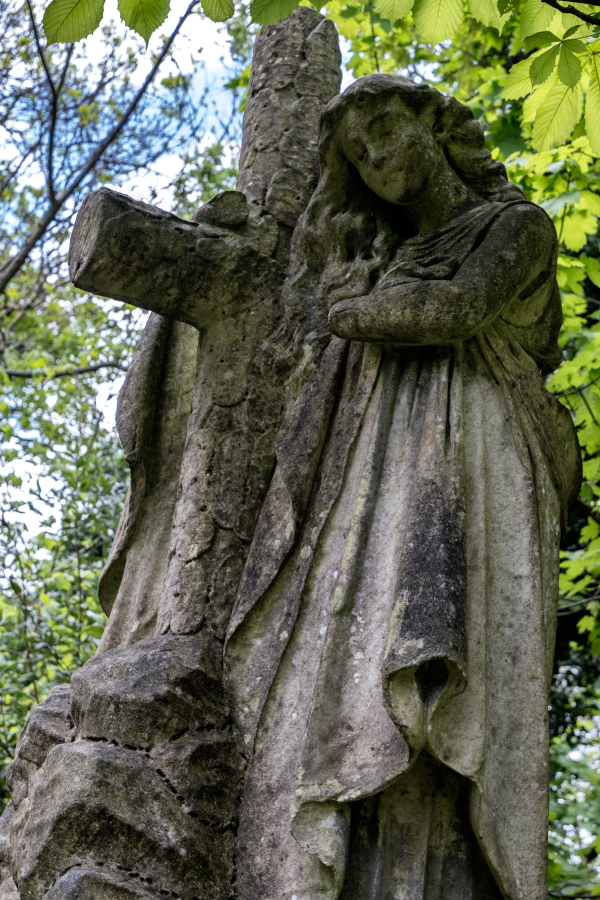 7. Get a bird's eye view of London
Many visitors to London take a boat ride along the Thames. But why not treat yourself to a bird's eye view of the city instead?
The Emirates Air Line is a cable car ride over the Thames from Greenwich on the south side of the river to Royal Docks on its north side. Gliding at a stately pace over the Thames, the 5-10-minute journey lets you enjoy fantastic views of the Millennium Dome, Canary Wharf and beyond.
After 7 pm, the slightly extended Night Flight journey (12 – 13 minutes) includes music and video in your cabin. You can easily see why I consider this to be one of the top unusual things to do in London.
Location: Stations are at 27 Western Gateway, Royal Docks, London E16 1FA, and Emirates Greenwich Peninsula, Greenwich, London, SE10 0FJ
Cost: From £3.50 using Oyster card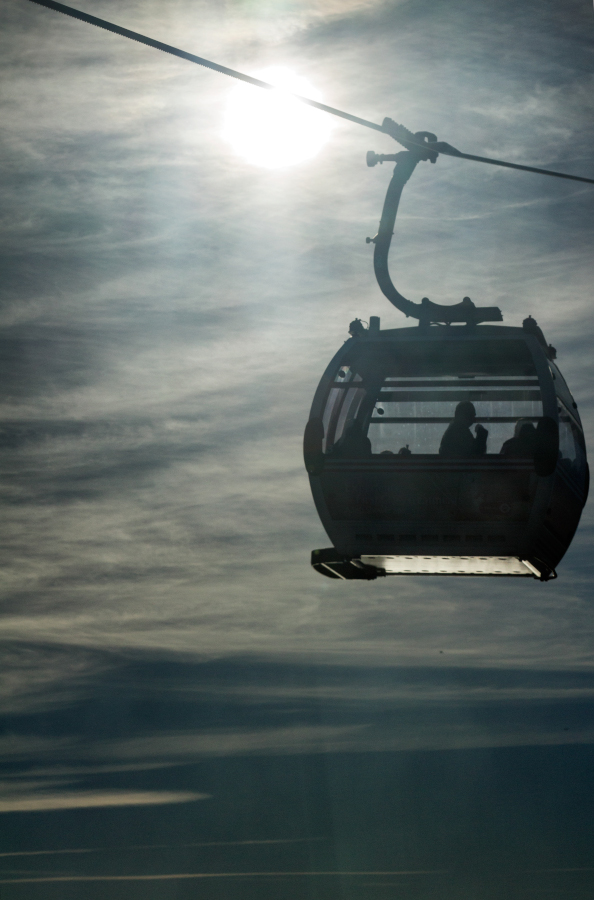 8. Check out London's flood defences
Here's one for the engineering buffs amongst you.
Built to prevent London from flooding, the Thames Barrier is a striking sight. Comprising ten moveable gates resembling metallic sails, as of March 2019, the barrier has been raised 184 times since it became operational in 1982.
Adjacent to the Thames Barrier is a small exhibition explaining the flood risk to London and the history and environment of the River Thames. Make sure to include this unique attraction in London on your itinerary.
Location: The Thames Barrier is a little awkward to get to. The closest stations are Charlton and Woolwich Dockyard, both within walking distance. Local buses also stop nearby (177, 180, 161, 472)
Cost: £4.15 for exhibition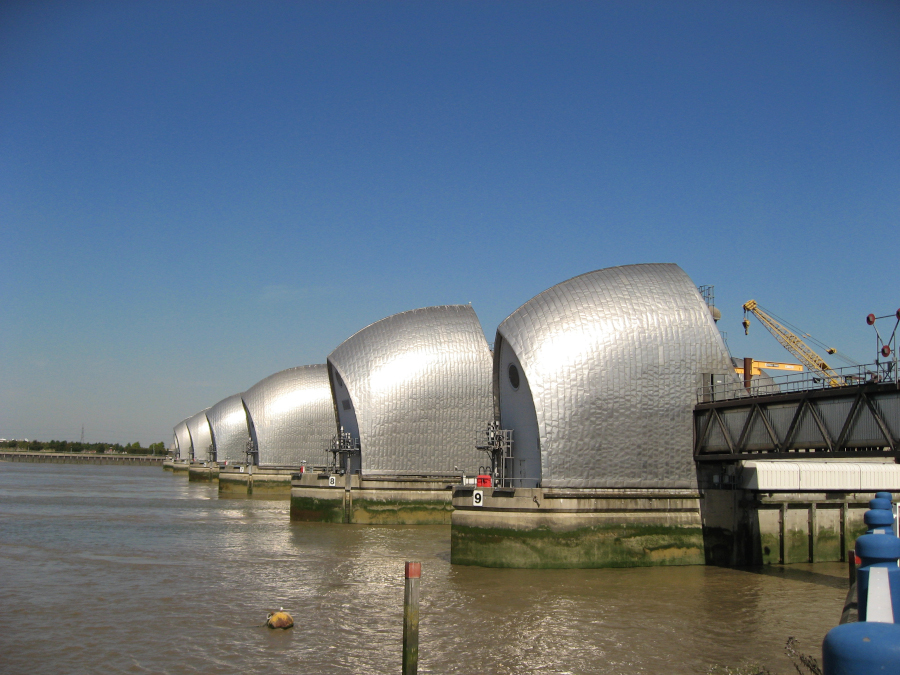 9. Have a blooming wonderful Sunday
Are you looking for a London street market that is a little off the beaten tourist track? If so, check out Colombia Road Flower Market.
Every Sunday, this East End road is transformed into a blooming wonderland, the air perfumed with the scent of flowers. Arrive early to get your pick of the blooms (the market opens at 8 am). Or if, like me, you love a bargain, arrive around 2 pm when the stall holders start to reduce their prices. The market packs up around 3 pm.
Also, this area between Shoreditch and Brick Lane is packed with vintage shops, antique shops, and fantastic cafes and delis. Perfect for Sunday brunch.
Location: Columbia Rd, London E2 7RG
Cost: Free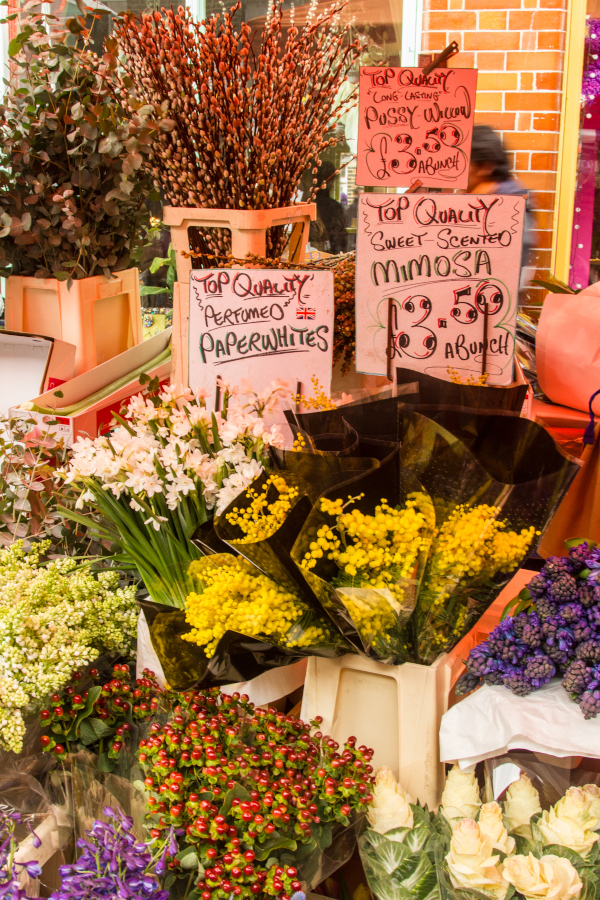 10. Explore Roman London at The Mithraeum
History buffs amongst you will know that London was founded by the Romans almost 2,000 years ago, and was known as Londinium during their reign. Although the Roman city has long since crumbled, fragments are still evident throughout the City of London.
The London Mithraeum, or Temple of Mithras, is a new addition to this legacy. Well, sort of. Originally discovered in 1952-54, to allow the development of its bombed-out location, it was shifted 100 meters down the road Cannon Street and put on display there.
Fast-forward to 2010 when Bloomberg acquired the original site and, working with the City of London, they dismantled the temple and moved it back to its original position.
Descending to the basement level of Bloomberg's new European headquarters, where the river Walbrook once flowed in Roman times, you reach the reconstruction of the ruin as it was in 1954.
The temple is brought to life by an immersive multimedia presentation. This temple is thought to have been founded in 300 AD and was a site of worship by a cult dedicated to the god Mithras, popular with 'merchants, soldiers and imperial administrators.' One of the unusual places to visit in London for sure!
Location: 12 Walbrook, City of London, EC4N 8AA
Cost: Free. As the Mithraeum has limited capacity, I recommend booking in advance to avoid disappointment.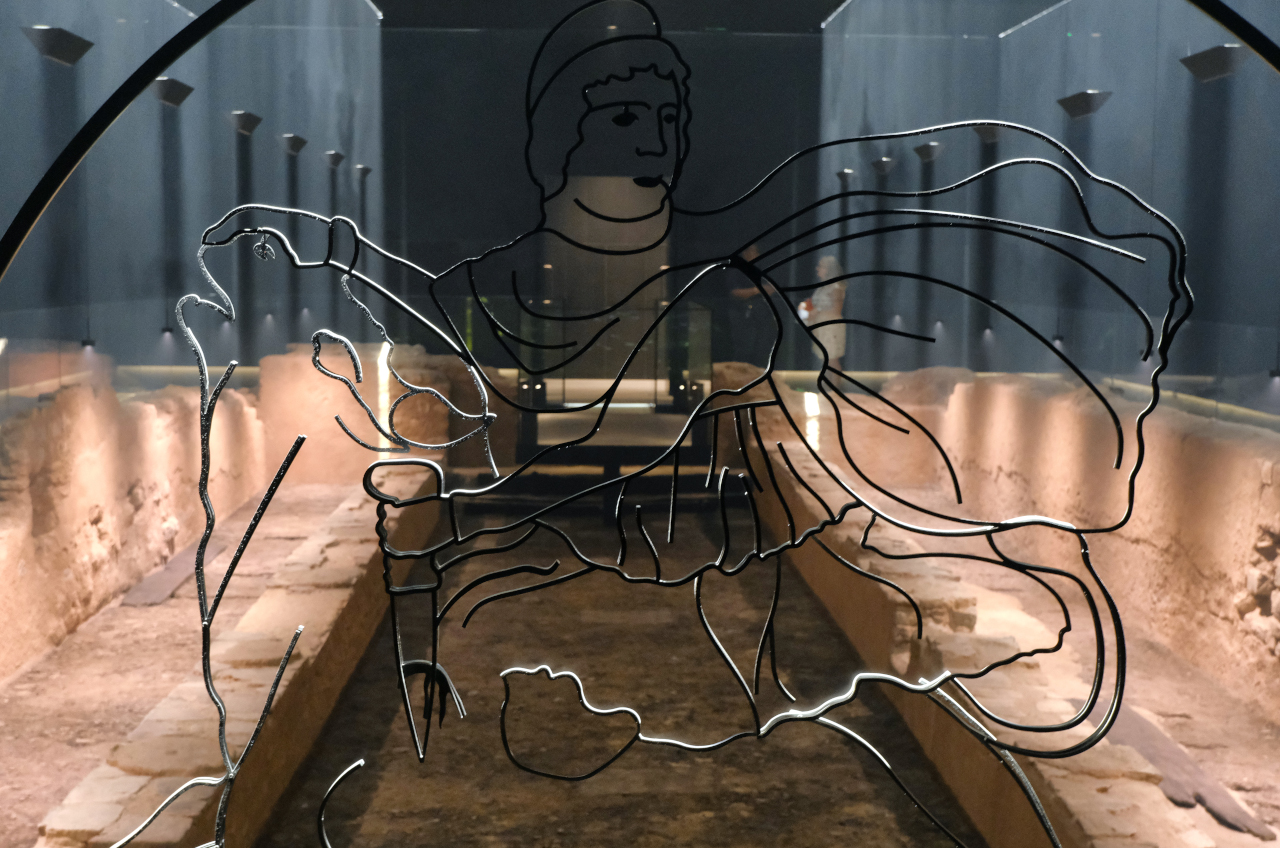 11. Check out Christopher Wren's architecture
One for you architecture buffs this time. As many of you will know, The Great Fire pretty much razed London to the ground in 166. The man tasked with rebuilding the city was the architect Christopher Wren, and some of the buildings that he designed can still be seen in the City of London.
The most famous of these is St Paul's Cathedral. But if you want to see something on a smaller scale, and for free, then why not check out some of his smaller churches?
One of my favourite Wren buildings is the small but perfectly formed St Stephen Walbrook, a few doors down from the London Mithraeum. Built between 1672 and 1679, it escaped the damage inflicted on many other Wren buildings during the bombing raids of the second world war – one of the unique things to see in London.
Location:  39 Walbrook, London EC4N 8BN
Cost: Free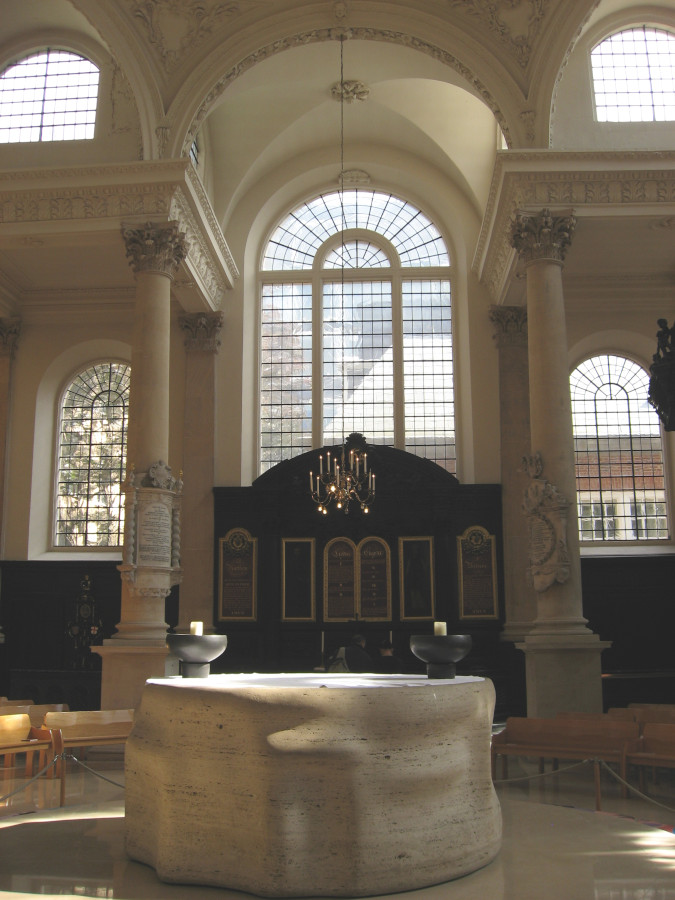 12. Learn more about Britain's favourite beverage
Is there anything more British than a nice cup of tea? The famous tea company, R Twining, started importing those magic leaves back in 1706 and established their shop on The Strand eleven years later.
Originally a coffee and tea shop – Twinings sold coffee before tea – it now sells a wide selection of teas and at the rear of the premises is the tiny Twining Tea Museum, which has to be one of the smallest in London which makes it perfect for this list of unusual places to visit in London. This is also a great place to pick up souvenirs.
Location: 216 Strand, Temple, London WC2R 1AP
Cost: Free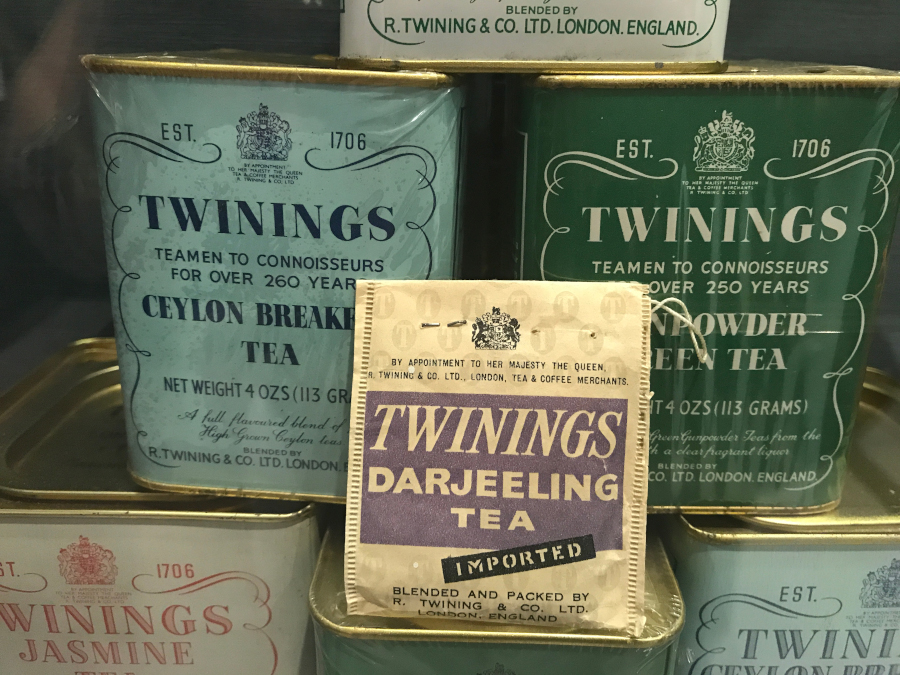 13. To add a splash of pink to your Instagram feed
Time for tea and cake? If so, head over to Peggy Porschen in Belgravia for mouth-watering, award-winning cakes, pastries and biscuits washed down by a cup of the good stuff.
Even if you are not tempted by the shop's goodies, it's worth making the journey to capture a photograph of its exterior.
Location: 116 Ebury St, Belgravia, London SW1W 9QQ
14. Snigger at Min's penis
University College London (UCL) has a few hidden gems of museums tucked away in its Bloomsbury campus. One of these is the wonderfully old-fashioned Petrie Museum of Egyptian Archaeology.
Although it has over 80,000 artefacts displayed in its dusty cases, it immerses you into the world of Ancient Egypt on a more manageable scale than the lauded British Museum. It is also far less crowded. Elbow sharpening not usually required.
Founded by Flinders Petrie, UCL's first Professor of Egyptology, it chronicles the development of Egyptian culture from Palaeolithic times to the Islamic Period.
Whilst it may not have the British Museum's famed mummies, it does boast Min's penis. Min was the Egyptian god of fertility and sexuality and a marble bas relief displays his penis in all of its erect glory.
Maybe something else to Instagram? Definitely one of the unnusual places to visit in London (plus home to some unusual things to see in London).
Location: Malet Pl, Bloomsbury, London WC1E 6BT
Cost: Free
15. Check out London's wildlife
To all you twitchers out there, pack your binoculars and head to northeast London to Walthamstow Wetlands.
This 520-acre nature reserve in the Lee Valley is just two years old and is home to migrating, wintering and breeding birds. It is London's largest urban wetland nature reserve, encompassing ten large reservoirs.
Pick up or download a map and take a self-guided walk. On a fine day, it's a beautiful place to hang out (and there's a good café!)
Location:  2 Forest Road, London N17 9NH.
Cost: Free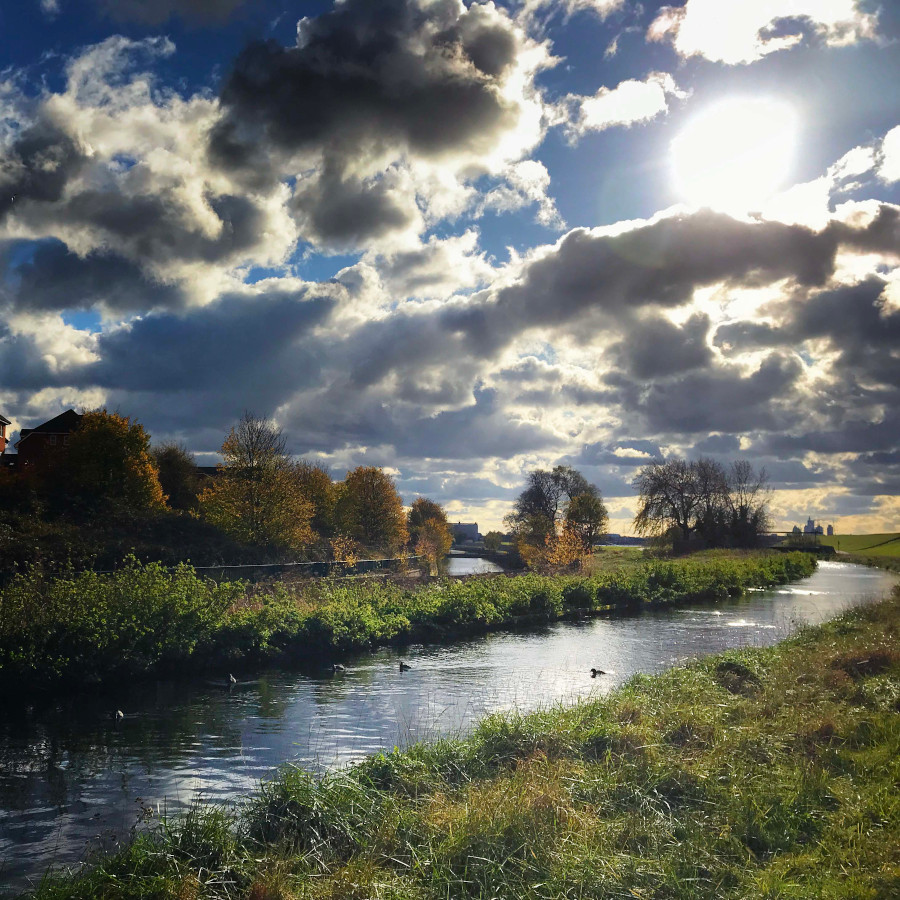 I hope that my favourite 15 unusual things to do in London will inspire you to get out and explore more of my home city. Let us know how you get on!
About the author

Bridget, aka The Flashpacker, is a London-based travel blogger and an enthusiastic part-time traveller, sharing her 30-years' experience of travelling through 70+ countries. Specialising in solo female travel for those in mid-life in affordable luxury. Follow her adventures on her blog an on Twitter and Pinterest too.