15 Best things to do in Pattaya, Thailand
Thinking of a Thailand trip any time soon and looking for more amazing places to visit in Thailand? Then you should visit Pattaya, a vibrant coastal city famous for its beaches. There are numerous activities in Pattaya that you'll enjoy and this article presents you the 15 best things to do in Pattaya, Thailand beside Pattaya walking street.
If you want to explore Pattaya, then these recommendations from Vinod from Budget Travel Plans are perfect for you! Many of these are free things to do in Pattaya. Some are adventoure activities, while others are perfect things to do in Pattaya with kids. Discover them all!
What you need to know about Pattaya, Thailand: where is Pattaya and things to know before visiting Pattaya
Pattaya is a beautiful city in Thailand, located around 150kms from Bangkok. From a sleepy fishing village in the early 1940s, it has turned into a bustling tourist destination due to its scenic coastlines, happening beaches, and tourist attractions.
Here are the do's and don'ts in Pattaya in this infographic: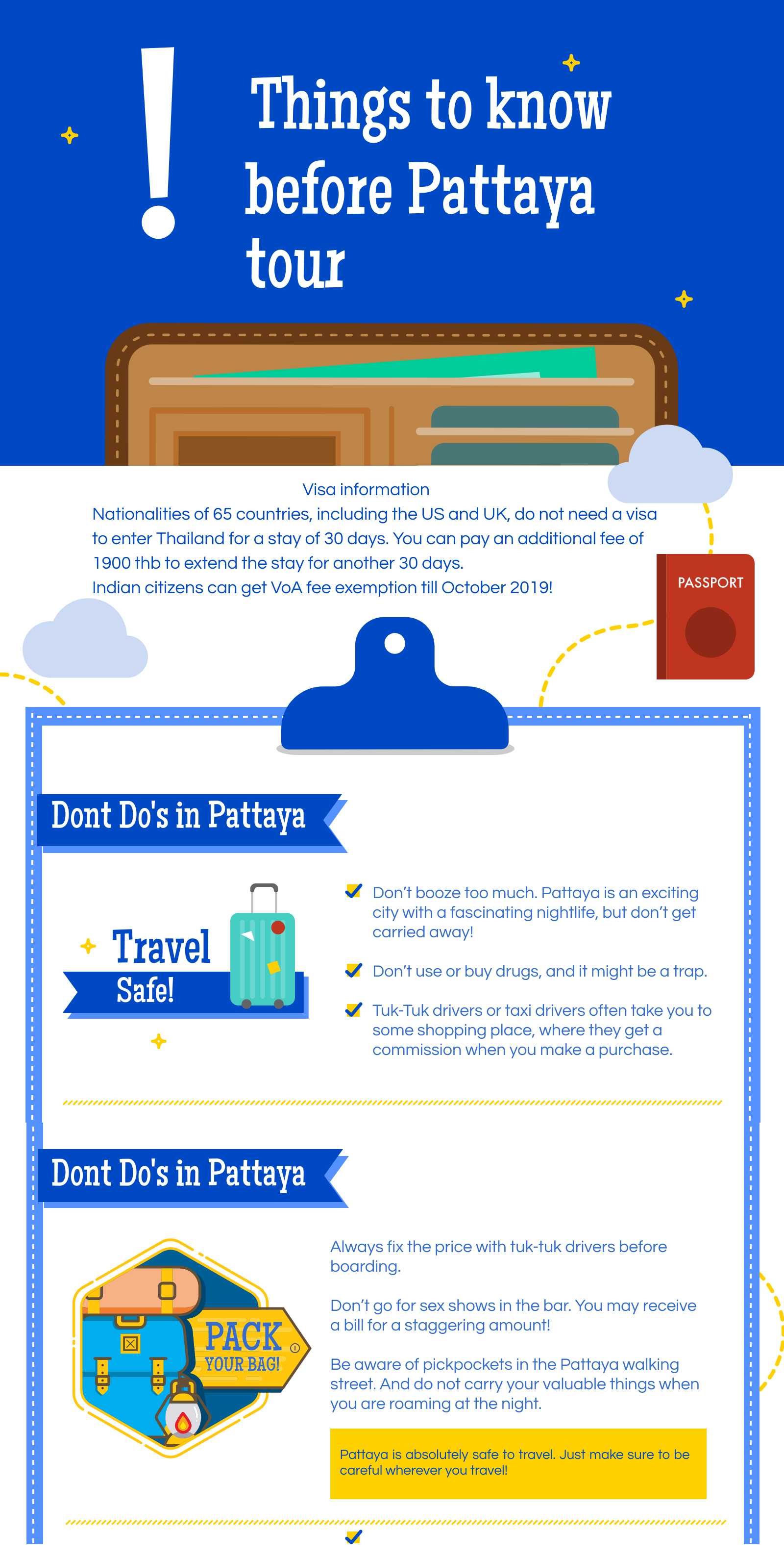 It has transformed itself into a go-to destination for families with all its unique attractions and man-made developments. Here are some of the places that make Pattaya stand out as a must-visit destination in Thailand.
15 Best things to do in Pattaya, Thailand
Here are the top attractions to see near Pattaya and the best things to do in Pattaya.
1. Nong Nooch Tropical Botanical Garden
Scattered over an area of 600 acres, the Nong Nooch Tropical Garden is a must-visit place in Pattaya. It is a beautiful landscape with many exotic varieties of tropical flowers.
The garden has sections for different flowers, a butterfly hill, replicas of animals and birds, and Thai cultural extravaganza. You can also find a lake where you can hire a boat for a ride. It is a great place to spend time and click cute pictures with your family.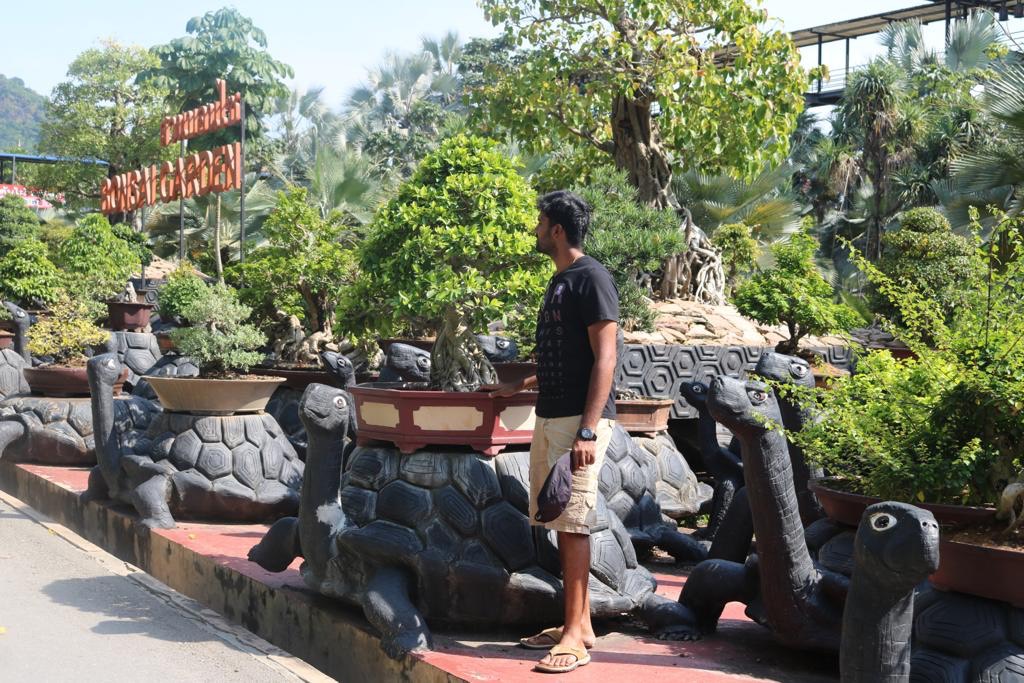 Tickets to the garden start at 300 THB. The fare, along with cultural shows costs 500 THB.
The Nong Nooch Garden is open between 8:00 AM to 6:00 PM
The Nong Nooch village is located about 20kms from Pattaya city and is one of the best things to do near Pattaya.
Tip: Ticket cost is much small for local people for most tourist attractions in Pattaya. We came here by tuk-tuk, and the driver bought the ticket for us for a lower price.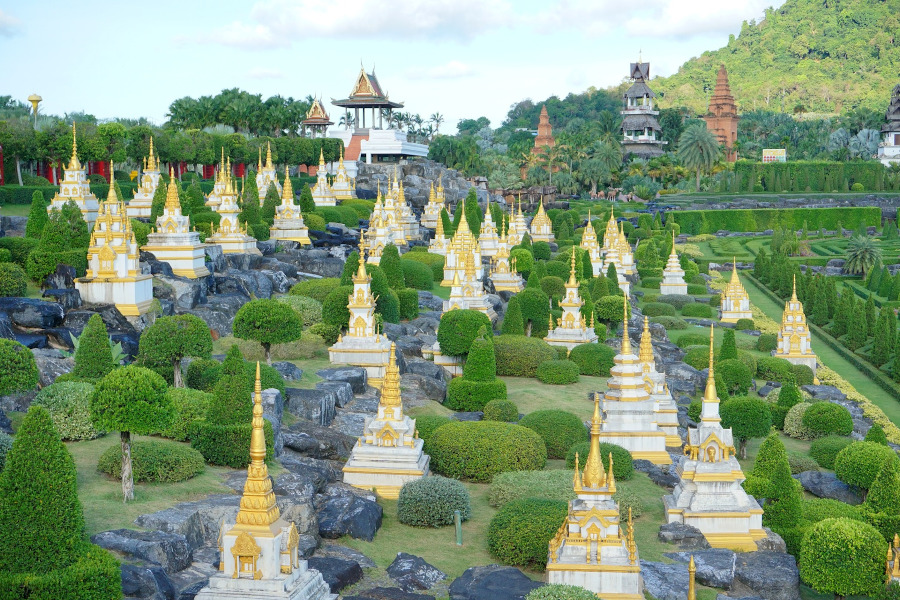 2. Floating Market
Next on this list of Pattaya, Thailand things to do is the floating market.
The Pattaya floating market is a 100,000 sq m riverside market that sells the local food, handicrafts and Thai sspecialtieson boats that float on water. You can see around 100 stalls selling all kinds of Thai items, and you could even get a quick Thai massage done here. Four seater boats can be hired for ha alf-hour tour to go around the market.
Cultural shows featuring dances and sea boxing are performed every afternoon. It is a lovely way of experiencing authentic Thai life and one of the must do things in pattaya.
The entry charges are 200 THB per person.
Don't miss out to try the local cuisines like the Pad Thai Noodles, Papaya salad and Coconut pancakes.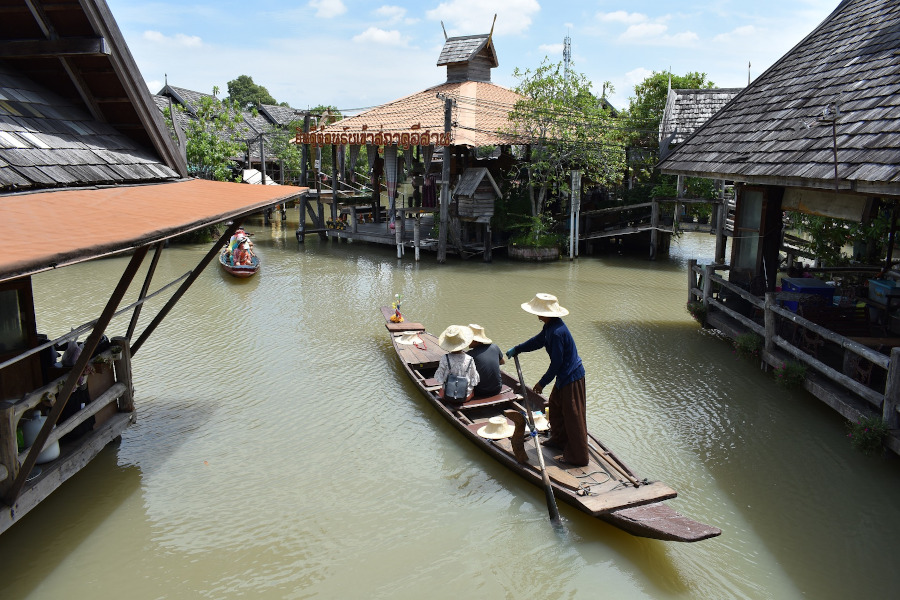 3. Art in Paradise
As you continue to explore Pattaya, head to Art in Paradise, an art gallery with a difference. It features 3D paintings in different themes that make it a fun place to visit with kids.
Through clever use of paints and shades, artists have created images that make us think the wall paintings are actual events happening in front of us.
Photography is allowed so ensure to take a good camera and click hundreds of memorable photos at this place. As you can easily see, Art in paradise is one of the best places to visit in Pattaya.
Entry tickets cost THB 500 for adults and 300 THB for Child.
The Art in Paradise is open between 9:00 AM to 9:00 PM.
Art in Paradise is located in Pattaya 2nd street, which is just around 1.9 km from the Central Festival Pattaya Mall.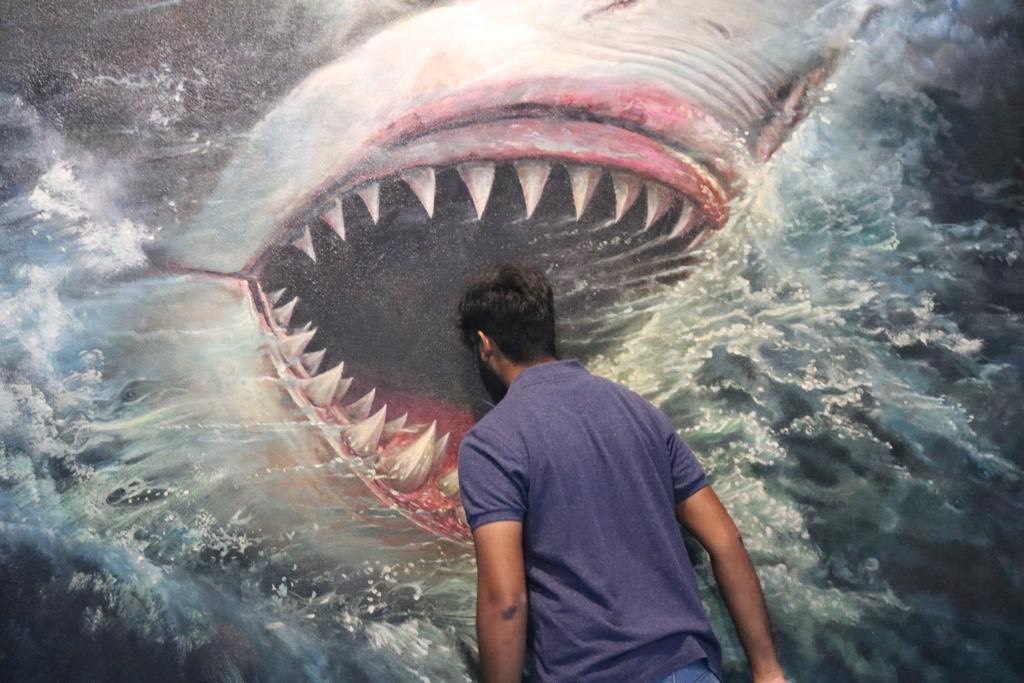 4. Ziplining in Pattaya
Flight of the Gibbon is the closest zip line canopy from Bangkok or Pattaya. It offers the most popular and scenic zip lining experience if you are travelling to Pattaya.
The zipline is located on the border of the Chompoo Wildlife Reserve, which is a classical rainforest region filled with spectacular jungle views and diverse wildlife.
The zipline tour takes you in groups to the forest and lasts for around 2-3 hours. Extremely safe procedures are followed, and it is a fun thing to do with family and friends.
It is easily accessible from Bangkok and Pattaya by road and takes approximately an hour of travel time.
One trip can cost 3999 THB per adult.
5. Tiffany's Cabaret Show/ Alcazar Show
These are out of the world events that could only be imagined in a place like Vegas! Tiffany's Cabaret and Alcazar Show are speciality shows performed by the ladyboys, as they are called in Thailand, at marvellous sets, in spectacular costumes and with complete abandon.
It is a treat to watch the performers dressed in flowing gowns, skimpy swimsuits and feather dresses dance with more grace than could be done by their female counterparts. These events are a landmark in Pattaya and have been going on for more than 30 years.
There are around 17 performances, and the show lasts for about 70 minutes.
Entry tickets cost THB 650 upwards.
6. Sanctuary of Truth
One of the most interesting things to see in Pattaya is the Sanctuary of Truth. This is a structure, neither a palace nor a temple, but a place for amalgamation of philosophy, art and faith.
At 105 metres tall, it is one of the most exemplary structures in Pattaya. It is made out of teak wood, with intricate carvings of Thai mythology both on the interior and the exterior.
The wooden surface is not entirely protected, and therefore, parts of the structure keep getting replaced and rebuilt.
It has the hushed aura of a monastery and is a place to visit, to admire the beautiful sculptures and also to find peace amidst the hustle and bustle of Pattaya.
Entry tickets cost THB 500 for adults. You can also watch the Thai dance, which is performed twice daily.
Ensure that you do not wear shorts or any see-through dresses. Full skirts can be rented for 200THB if required.
7. Mini Siam
Mini Siam is a famous and well laid out garden in Pattaya with a miniature collection of the iconic structures of the world and one of the Pattaya attractions you don't want to miss.
A day spent here, and you get to see replicas of Angkor Wat, Eiffel Tower, Marble Throne Hall of Bangkok, Leaning Tower of Pisa, The Opera House, Sydney and more!
Entry tickets cost THB 300.
Mini Siam is open between 9:00 AM to 10:00 PM.
8. Coral Island – Koh Larn
Coral Island is a picturesque location just 7.5 Km away from the main town of Pattaya. This is a perfect tranquil Pattaya getaway where you can escape from the hustle and bustle of the city.
You could take a glass-bottomed ferry to Coral Island and spend the day sunbathing, parasailing, speed boating, snorkelling and jet skiing. Definitely one of the beat things to do near Pattaya.
Food stalls are available on the beach, although the choice of cuisines is less.
You can take a guided half-day or one-day tour to Coral Island.
The package costs 2000 THB on an average, but use your bargain skills for better cost ?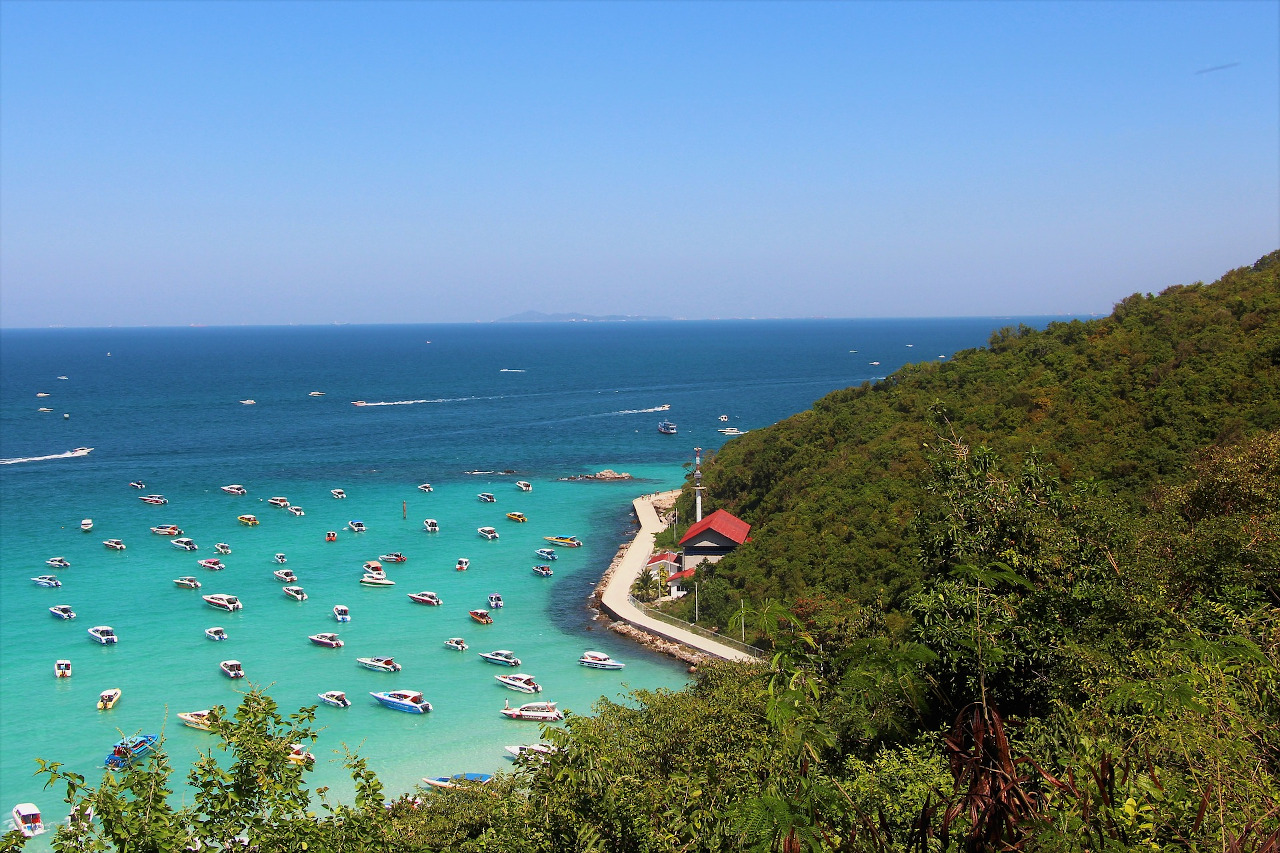 9. Water Parks in Pattaya
One of the best waterparks in Thailand, Cartoon Network Amazone Water Park, is the world's first Cartoon Network themed park in the world. It is designed with famous characters such as Powerpuff girls, Ben10, Johnny Bravo etc. in mind. It is an enjoyable way to spend the day with water slides, a winding river, an aqua pool and more!
Tickets for Cartoon Network water park start from 790 THB.
The Ramayana waterpark is the biggest park in Thailand and has a range of water rides, pools and games for adults and kids. It is located 15 Km from Pattaya city and it is a must visit one if you are traveling with kids!
Ticket cost: The Ramayana water park ticket cost starts from 1190 THB.
You can also check other significant places to visit in Thailand here.
10. Buddha Mountain
The view of the revered Buddha, engraved on the Mountain Khao Chi Chan is an amazing one indeed. The image has been carved out on the mountain using laser technology and filled with gold to enhance its beauty and it is one of the Pattaya landmarks.
The Khao Chi Chan limestone mountain in its earlier days supplied construction materials to Thailand's industry, but its ethereal beauty and the surrounding scenery made the then Monarch of Thailand decide to turn it into a tourist spot, to commemorate his golden jubilee.
The 109 metres tall and 70-metre wide sculpture draws hundreds of tourists and Buddhist monks every day. There is also an extensive garden, lotus pond and shops where you can buy offerings to Buddha. Entry is free.
You can also visit the Silver-lake Vineyard, which is about 500 meters from the Buddha mountain.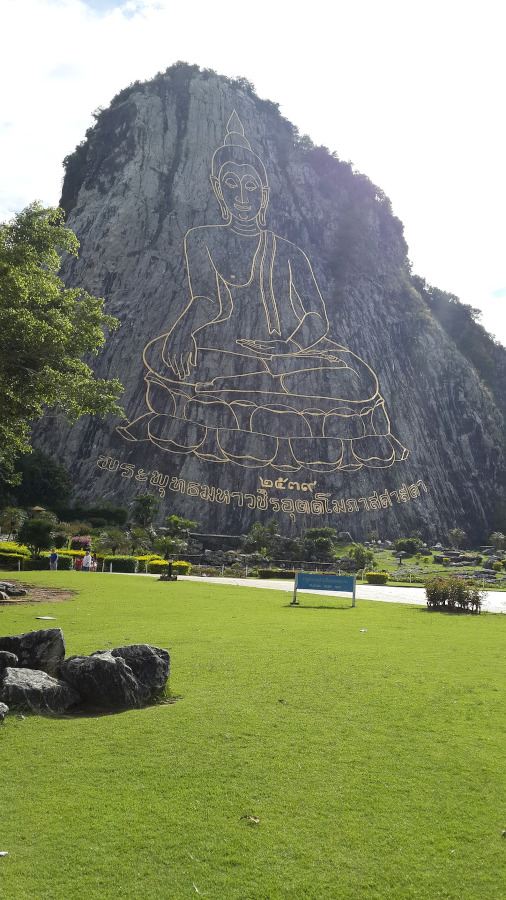 11. Frost Magical Ice of Siam
The Iceland of Thailand, this place is a paradise for lovers of the Arctic cold. There are ice sculptures of igloos, polar bears, penguins and even some mythological Thai creatures. The temperature inside the ice dome is a chilling -10-degree celsius.
Don't miss to take a seat on ice armchairs and drink juices from ice glasses; the Magical Ice of Siam gives you plenty of opportunities to take beautiful photos and it is one of the fascinating places to visit in Pattaya.
Winter clothes are available here, and tickets can cost 320 THB upwards. Check online for great deals and discounts.
The Frost Magical Ice of Siam is open between 9:00 AM to 9:00 PM.
The Frost Magical Ice of Siam is located in Bang Lamung district and is about 18 km from Pattaya city.
12. Ripley's Believe it or not Museum
Have a fancy for odd and spine-tingling things? Well, the Ripley's Believe it or not museum gives you jitters when you enter its strange chambers. It houses more than 300 pieces of oddities like a shrunken head, a sculpture covered by actual human skin and more. You should definitely include this museum on your Pattaya bucket list, maybe under the unusual things to do in Pattaya section.
There are seven sections in the museum:
The vault laser challenge
Odditorium with its macabre exhibits
A ride into Scream in the dark which makes you scream out loud for the visuals you see
Haunted Adventure room
9DX Moving theatre with the wildest simulator ride
Louis Tussauds Wax Museum
Infinity maze which takes you into a puzzle with atmospheric effects, sounds and lighting effects
There are tickets for each section in the Museum. The fare starts from 650 THB upwards.
The museum is located in Royal Garden Plaza in Pattaya beach road.
The museum is open between 11:00 AM to 11:00 PM.
13. Teddy Bear Museum
Heaven for young children, the Teddy Bear Museum has hundreds of teddy bears in different varieties, shapes and sizes. There are various themes inside the museum, such as:
The Inca Zone which shows teddies in the ancient American civilisation structure
The dinosaur zone which has teddy bears cuddling menacing dinosaurs
The fossil zone which is for digging of the dinosaur skeleton.
The Africa zone which has teddy bears in African dress wielding hunting gear and in African dance poses!
There is also the Thailand zone, Eskimo zone, Santa zone, underwater zone, space zone with Jedi teddies and more with the teddy bears in similar themes.
The museum also has a shop so you could purchase these quirky teddy bears. Tickets cost THB 500
The Teddy bear museum is open between 9:00 AM to 10:00 PM
14. Big Buddha
The 18-metre tall statue of the Buddha towers out of trees on the Pratumnak Hill. It is a religious sculpture in the Wat Phra Wai Temple which is one of the first temples built in Pattaya in the 1940s.
The temple is famous due to its intricate carvings and mosaic paintings. There are small figurines of dragons, the Buddha and other religious symbols which create a peaceful aura in the region. The ringing of bells is practised in the temple which adds to its spiritual atmosphere.
The entry to the temple is free
You will be awestruck by the sunset/sunrise view from the hilltop.
Dress conservatively. Shorts or skirts above the knee is not allowed. You will be provided with a wrap at the entrance.
The temple is approximately 3 km from the Pattaya city.
15. Mimosa
Mimosa is located near Jomtien beach, the less crowded cousin of the main Pattaya beach. It is the recreation of the European village Colmar, a small French town.
The atmosphere is quaint and charming, with renaissance era styled buildings that house shops and restaurants selling handicrafts, souvenirs and jewellery.
There are cabaret shows every day, and an amusement park provides a great attraction for families. Restaurants are offering a variety of cuisines, including dessert and snack options.
Entry tickets cost around 200 THB. You get great deals online.
Mimosa is open between 11:00 AM to 9:00 PM. The shows start at 5:00 PM.
Mimosa is located 10km from Pattaya city.
Pattaya has much more to offer for any kind of travellers. And it is one of the must-visit places in South East Asia. Please do comment if you like this article.
About the author
Vinod & Divya, parent of a three year old kid, are Software Techies by profession gradually driven towards travel by passion. They are the founder/editor of the travel blog 'Budget Travel Plans' and are based in India. They have travelled across exotic destinations including Mauritius, Singapore, Malaysia, Thailand, Sri Lanka, Bhutan and the Middle east. They aim to share their budget travel experience,Travel tips & tricks and also advice on travelling with little kids. Follow them on Facebook and Twitter as well.