Easiest saltines recipe: a delicious pastry
I recall growing up and, on New Year's Eve, helping my mother prepare some delicious saltines (helping to bake or to eat :P). I always loved them – and the smell in the house so I wanted to make some this year. But I had to try the recipe before the big moment so to say – so I did that last week. And the saltines were simply delicious. As the recipe is very easy to make – and the result is awesome – I decided to share it here with you – maybe give you a thought on what to bake these days, or whenever you feel like eating some homemade tasty pastry.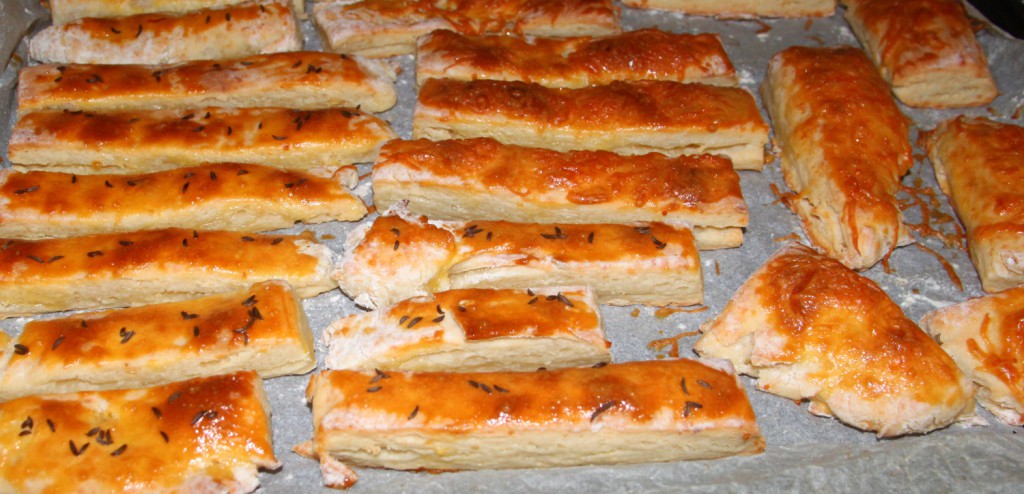 Ingredients (for two oven trays):
400 gr. cottage cheese
180 gr. cream (a cup, not very full)
250 gr. cow cheese/feta cheese (not extremely salted)
80-100 gr. cheese
3 eggs
200 gr. of butter (one pack) – if you don't have butter, margarine works too
about 1 kg. flour. Weight may vary depending on the consistency of the composition. For instance, I needed 1.2 kg.
1 baking powder
a pinch of salt (if the cheese is unsalted, you might have to add more salt)
For anointed:
4 yolks (even 5 if the eggs are small)
caraway
poppy seeds
50 grams grated cheese
Preparation:
First, grate the cow cheese/feta and the Swiss cheese.
Then, the cottage cheese, feta (cow cheese), Swiss cheese, sour cream, eggs and soft butter (I admit that I melted it – I stored it in the freezer and I melted in a "bain marie", hence the extra flour, but you can use usual butter and leave it several hours in the kitchen, until it becomes) mix with a pinch of salt.
After that, add gradually the flour and baking powder and mix until you obtain homogeneous dough that does not stick to hands.
On a surface in your kitchen of your choice – I put some aluminum foil on the table – sprinkle a little flour and then place the dough. Lay the dough until it has 0.5 cm in height.
Cut the dough as desired – I used a knife with a longer blade, but you can a  pizza wheel if you have one or you can make round shaped saltines  with a glass.
Put a baking sheet pan on the oven tray and then place on it the saltines.
Using a brush, brush with eggs the saltines (each one) – to acquire that beautiful golden color – and sprinkle some topping: Swiss cheese, caraway or poppy seeds. You can also make combinations or use other toppings – emmentaler is a choice.
Preheat the oven to 200 degrees and bake for 25 minutes at 190 degrees (depending on the oven, check the looks of the saltines after 20 minutes) .
And that's all! Enjoy your homemade saltines!
You can eat them warm from the oven, or cold – we liked them hot, but we loved the more when they were cold.