Le cinque Stelle: Taste Authentic Italian Food in Schweich, Germany
If you get in Treves (Trier) or in the area and are in the mood for some good Italian food for dinner, than you should take in consideration Le cinque Stelle restaurant. Launched by Mario di Criscito in the summer 2012 in the former location of a not so great Greek restaurant, Le cinque Stelle manages to draw both locals and tourists with its tasty dishes, lovely decor and friendly personnel.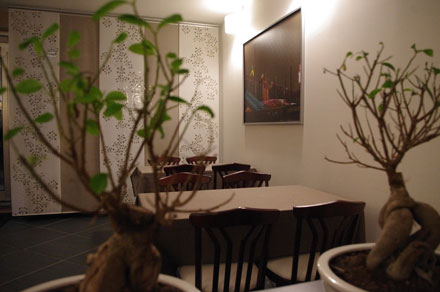 The name of the restaurant comes from the five children of the owner: Francesco, Sara, Chiara, Laura and Davide. The inside of the restaurant is white, simple, but the flowers placed at every turn and artistic images of Treves landmarks give it a special touch. Combined with the warm and welcoming personnel – as a special mention you should know that Mario greets every client with a cheerful Ciao 😉 – they all make this restaurant a pleasant one. The restaurant is located on Brückenstraße 30, the main street that goes through the heart of the town, known for its official landmarks (the City Hall is a few meters from the restaurant).
In what the prices are concerned, everything is transparent. You can check the menu on the website. You will find fine Italian wines and prosecos from Venice, Emiglia Romana and Toscana and homemade gnocchis, pansotti and ravioli. As main dishes Le cinque Stelle provides pizzas, pastas, meats and fish. Pizza prices range from €8 for Bella Napoli to €13 for the restaurant's signature creation, Pizza Cinque Stelle, with rocket and with shaved Parmigiano-Reggiano. Make sure to also try the restaurant's homemade desserts – Italian classics like panna cotta, tiramisu and gelato – perfect for any season. Le Cinque Stelle is the only restaurant in town to serve a delicious, fresh fish soup on Friday night.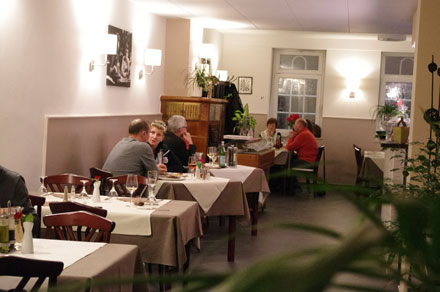 Le cinque Stelle welcomes its guests at any time, from Tuesday to Sunday, after 17:30. No reservations required.